Layering Green in a Girl's Bedroom
See how 11-year-old Zoe Kon gets a nature-inspired bedroom with shades of green.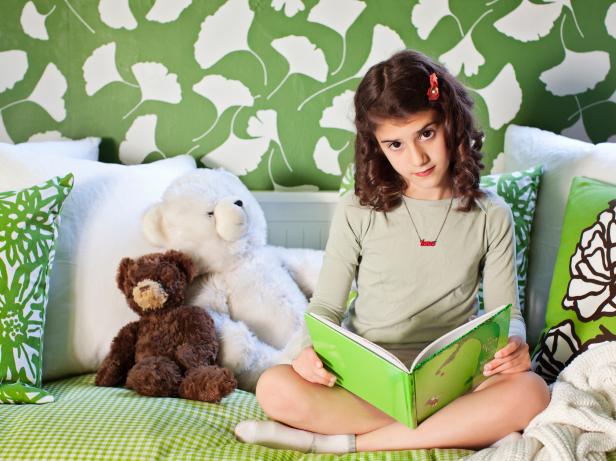 Green and White Girl's Bedroom with Comfy Daybed
Zoe's daybed is the focal point of her room. To tie together the different shades of green used throughout the space, the daybed was dressed with bedding and pillows featuring kelly green, grass green and lime green, with a gingham duvet cover and throw pillows made from botanical print fabric.
Zoe Kon loves all things green. When the girl's parents promised her a new bedroom a few months before her eleventh birthday, she loved so many different shades of the color, it was nearly impossible to choose just one.
When decorating children's rooms, designers tend to favor green not only for its ability to be soothing and calm, but also for its gender-neutral characteristics. Depending on how different greens are applied, they can take on masculine or feminine personalities.
Olive greens paired with brown and orange are an earthy choice for a masculine, organic space. On the other hand, softer greens such as celery or seafoam take on a feminine vibe when paired with yellow and white. Since Zoe's room is often occupied by her little brother, Mino, and her dad, Danny, as well as her best friends, Olivia and Caroline, it was important to keep the room girly, but not full-on feminine.
In order to keep the space energetic, soothing and enjoyable for everyone, several shades of green were layered in different design elements. "My favorite thing of all is the wallpaper," Zoe says. "I told my parents how badly I wanted wallpaper in my room, and they were totally cool with it. My mom always has green tea in the house, as well as ginkgo leaves. When we found the wallpaper, which has white ginkgo leaves set against a grassy green backdrop, we were both equally in love with it."
Green didn't stop with the walls. Zoe's ceiling was painted the same shade of green as the wallpaper's backdrop, and the baseboards, casings and doors were all painted two shades darker with semigloss paint. Next, a lime-green-and-white gingham duvet cover was brought in for Zoe's daybed. "The daybed completely changed how I use my room," says Zoe. "It's like a sofa right smack in the middle of the room."
To keep the room from being too green, the new daybed was chosen in a white finish. Since white is a neutral, it works as a mediator between the various green tones used throughout the room.
The Scope of This Teen's Green Project
To give Zoe's room a designer-caliber green update in one week with $6,000, the tween and her parents created a punch list, which included the following:
Paint the walls and ceiling with wall-covering primer
Replace a ceiling fan with a chandelier
Add a custom Roman shade
Tear out wall-to-wall carpet and replace it with gray engineered hardwoods
Add bookcases to display Zoe's books and favorite things
Incorporate task lighting
Create a homework station
Install hooks on walls for jackets and cheerleading uniforms
From the start, the project was fun, but there were a few hiccups along the way. Removing the existing wall-to-wall carpet and installing gray engineered hardwoods took just four hours, but the wallpapering wasn't as quick. The wallpaper hanger had to take down and then re-install the first two strips after realizing Zoe's plaster walls were badly damaged.
The years of dings that caused the wallpaper paste to bubble weren't apparent to the naked eye. The wallpaper hanger filled the imperfections with a light coat of drywall mud, then sanded it to create a smooth surface.
Zoe's green update had two other design elements that were more involved than others: installing the chandelier and building the kelly green bookshelves.
The chandelier was brought in to give the room proper lighting. Instead of going green again with the light fixture, the designer chose a wooden chandelier with mirrored detail. Not only did this help break up the room's heavy use of green, but also the mirrors play with light and add a glamorous, girly touch to Zoe's room.
To make room for Zoe's huge collection of books, ready-made bookcases were assembled and installed on the right wall of the room, a few feet from Zoe's daybed.
Now that Zoe's room is complete, she's enjoying green 24/7. Not only is Zoe in love with her green room, but her friends, parents and brother Mino have started to make it the most popular hangout in the home, due mostly to green's ability to make people feel at ease and in tune with nature.
"I live in Los Angeles where we have sunshine almost every day, plus everything stays green year round," says Zoe. "But on those few days when it's too hot or even raining, I come inside my room and everything is cheery and lush."
Learn why green, a soothing shade of nature, is a neutral that is ideal for any space.