This common wood needs a little de-mystification.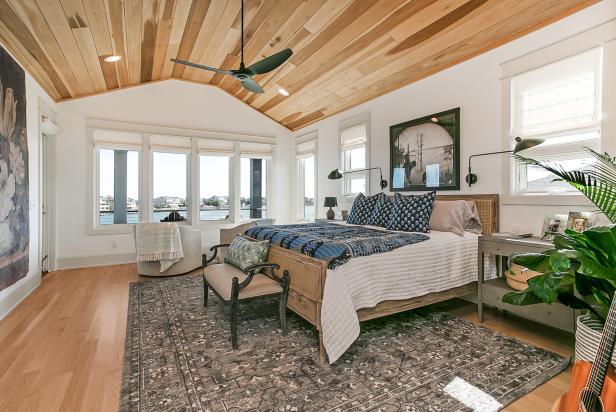 Contemporary Bedroom With Poplar Ceiling
A star feature of this master bedroom: its vaulted poplar ceilings.
Intracoastal Realty Corporation, a member of Luxury Portfolio International
A star feature of this master bedroom: its vaulted poplar ceilings.
Poplar is a hardwood, but it's not very hard. That's because the terms "hardwood" and "softwood" are rather misleading. Botanically speaking, poplar is an angiosperm, which is referred to as hardwood. The gymnosperms, which include conifers such as pines and cedars, are called softwoods.
Although it's technically a hardwood, poplar is one of the softest commercially used woods available. It's easy to cut and nail and has uniform grain patterns. But, it doesn't take finishes very well and is rarely used for cabinet-grade woodworking or where a natural wood appearance is important. Instead, it's often used to make crates, pallets, furniture frames and paper. It's readily available at lumber stores and home improvement centers and is one of the least expensive woods you can buy. Painted, it can be a DIY-friendly wood to use for home projects such as shelves and simple trim.
To get an idea of the hardness of various woods, look to the Janka scale, a measurement of hardness developed by the wood products industry. A high Janka number is a good indicator that the wood species will make tough flooring, countertops or fine furniture. Red maple, for example, is used for gymnasium floors and butcher blocks and has a Janka rating of 950. Poplar slides toward the lower end of the hardness scale with a rating of 540.
Here are Janka numbers for some well-known woods. Higher numbers mean harder woods:
Apple: 1730
Ash, white: 1320
Basswood, American: 410
Cedar, yellow: 580
Cherry, black: 950
Hemlock, western: 540
Hickory, shagbark: 1880
Oak, northern red: 1290
Pine, eastern white: 380
Red cedar, western: 350
Spruce, Sitka: 510
Walnut, black: 1010
For a little perspective, ipe is an imported exotic wood that has gained some popularity for use as decking. It has naturally occurring oils that resist moisture, and an off-the-chart Janka hardness rating of 3680!
Janka numbers don't necessarily tell the whole story, however. A good example is Douglas-fir — one of the most widely used construction woods in the world. With a rating of 700, Douglas-fir sits between hard and soft on the Janka scale. It's soft enough that it's easy to cut and shape and isn't too heavy, yet it has amazing strength for framing and other structural uses.
One head-scratching thing about poplars is that some poplars aren't really poplars. True poplars belong to the scientific classification Populus, which includes aspens and cottonwoods. But what's commonly called "yellow poplar" belongs to the genus Liriodendron, which means "lily tree." Its springtime blossoms look a lot like tulips, earning the tree its other misleading nickname, "tulip poplar."
As a yard tree, true poplars are fast-growing and tough. They tend to grow tall and upright as opposed to spreading out, and the leaves turn vibrant yellow in the fall. When mature, they are impressive landscape features. However, they have an aggressive root system that tends to crowd out other plants and may play havoc with sewer and drain lines. In the fall, the female version of the tree produces enormous quantities of fluffy seeds that blow around and are a hassle to clean up. So if you buy a poplar tree from a nursery, make sure you get the male variety.