Best Ways to Heat and Cool a Garage Workshop
Working in your garage during the summer and winter months doesn't have to be a miserable experience. There are lots of options available for heating and cooling your garage workshop. Here's our breakdown and the pros and cons that come along with each.
There are two basic styles of heating and air conditioning units. We'll take a look at both styles and lay out some of the pros and cons of each.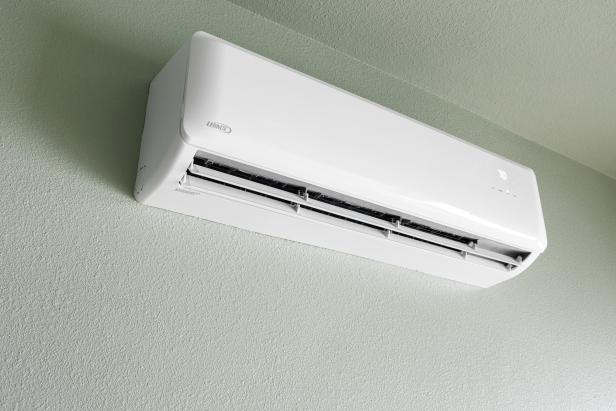 Year-Round Cool
This sleek and contained indoor air conditioning unit provides year-round temperature control to the indoor garage space.
Robert Peterson, Rustic White Photography
These are units that will provide both heating and air conditioning out of the same unit. These are the best options for efficiency and saving space.
The popularity and convenience of ductless mini-split systems can't be overstated. They give you all of the benefits of a normal heating and air conditioning system in a very small package. They're capable of being operated by a thermostat, and many models even have dedicated apps that can be controlled from your smartphone.
The biggest downside to the mini split is the cost and the installation. Costs can easily exceed $1,000 for the unit alone, and that cost could escalate if an electrician is required to install the outlet. Typically, a mini-split system will require a 30-amp 220-volt circuit and professional installation by a trained HVAC technician. They're not easily installed by the average homeowner, and building codes in some areas will require professional installation. You'll also need to have room outside for the bulk of the unit, and it does require you to put a large hole in the wall to make the connection to the inside.
Gone are the heavy and leaky window units of the 1990s. Today's window units are energy efficient, capable of providing air and heat, and easy to install in a weekend. If you've got a standard-sized window in your garage, you could have heat and air conditioning for well under $1,000 with minimal effort.
Window units aren't perfect, and they tend to have a messy-looking installation. Window units basically hang out of the window with the help of a bracket. This allows them to eject the hot air and condensation they generate without the need for ductwork and plumbing. To condition a 25' x 40' space, you'll also still need that 220-volt outlet and breaker, which may require an electrician if you don't already have one in your garage. Window units also tend to make a fair amount of noise while they're running, so they're one of the least silent options.
These are units that only provide one function, either heat or air conditioning. These are great if your budget is modest or if you live in a climate that only requires one condition (heat only or air only). They're not the most energy-efficient options, but for the most part, they simply plug in and can be stored away when not in use.
Portable Air Conditioners
These are plug-and-play style appliances that are portable and require zero installation. They're generally priced under $600 and are capable of cooling a 20' x 25' room. They're not quite as efficient at the mini-split, but they're getting better all the time. They're not permanently installed, so they're easy to store in the winter months and can be used in other parts of the house if needed.
The downside is that they require an exhaust pipe, much like a dryer, that's vented to the outdoors. They almost always have a basin to catch the condensation they generate, and that needs to be drained periodically. This will probably be a nuisance for anyone living in a humid climate.
There are a number of options for standalone electric space heaters. They're usually the safest option for space heaters because they don't have an open flame, and they don't require ventilation the way gas or kerosene heaters do. There are three basic types of electric heaters:
Radiant Heaters (Radiator Style): These use a sealed heating oil that transmits a super safe and very pleasant amount of heat. These are great indoors in a living room or a bedroom but might not work as well in a garage. They're slow to heat large spaces but are definitely the most inexpensive option.
Forced Air Heaters: These heaters blow air across a super-hot electric heating element to produce a high volume of hot air. They provide rapid heat and can heat large spaces quickly. These are ideal for a garage and can be found in a wide range of styles and voltages. Wall-mounted forced-air heaters are extremely popular in garages thanks to their rapid start-up.
Infrared Heater: These heaters turn electricity into infrared radiant heat. They can reach their peak temperature very quickly and can be a good substitute for a radiator-style heater. They can get hot enough to cause some severe burns, so they should be used with care.
Gas-fired heaters have been around for a long time and can heat a space rapidly. They're great for working under carports or other large, well-ventilated spaces. Gas heaters that do not vent to the outdoors should not be used in enclosed spaces. All gas-fired heaters produce harmful gases like carbon monoxide and need to be safely ventilated with no exception.
Propane Heaters: These are the most common type of gas-fired heater and can run off any standard propane cylinder. Most all shop-style propane heaters require some form of electricity for the ignition switch. Because these heaters are fired with an open flame, they should not be used while working with solvents, paints or any other combustible fumes.
Natural Gas Heaters: These are the same basic principle as any propane heater, with the added advantage of being plumbed to your home's gas line. They still require ventilation and still employ an open flame to power it. These can be an ideal option for anyone with a large shop in a very cold climate. Like any of the other open-flame heaters, these should not be used around combustibles.
Kerosene Heaters: While these heaters are capable of very long run times, we don't recommend them for working in your garage. Kerosene fuel is messy, leaves lingering odors and is notorious for emitting black soot and heavy fumes.
Wood-Fired or Pellet-Fired Heaters
These stoves use wood or any other suitable material to generate heat. Classic wood-burning stoves are still available and are great for heating a barn or a shop that has lots of open space or has limited access to power. They're affordable and easy to operate, and you can often find fuel for them just by walking around the area. While they might be the cheapest option, they're likely to be the least environmentally friendly. They also tend to require a fair amount of space, a chimney vent to the outside and some fire-retardant surroundings to be safely operated. But, in a super cold location, it's hard to beat the ease and warmth of a good old-fashioned stove if you've got the space for one.
A Note on Shop Heater Safety
Any shop heater should be UL listed or certified by a national safety laboratory to avoid any violation of your homeowner's insurance policy. Always make sure your heater has a wide and safe space to operate that is free of debris and combustibles. Make sure your heater stays clear of blowing sawdust and remains properly ventilated.
Never plug your heater into a power strip or any overloaded socket. When in doubt, make sure your heater has an outlet all to itself. Be sure that your heater's safety guards remain in good working order and that pets and children can't reach the heating elements or controls.
More Garage Planning Advice