Easy-to-Craft Fall Leaf Centerpiece
Looking for an inexpensive, seasonal centerpiece that will last through the fall? All you need is some patterned scrapbook paper, twine, glitter spray and a few branches from your backyard.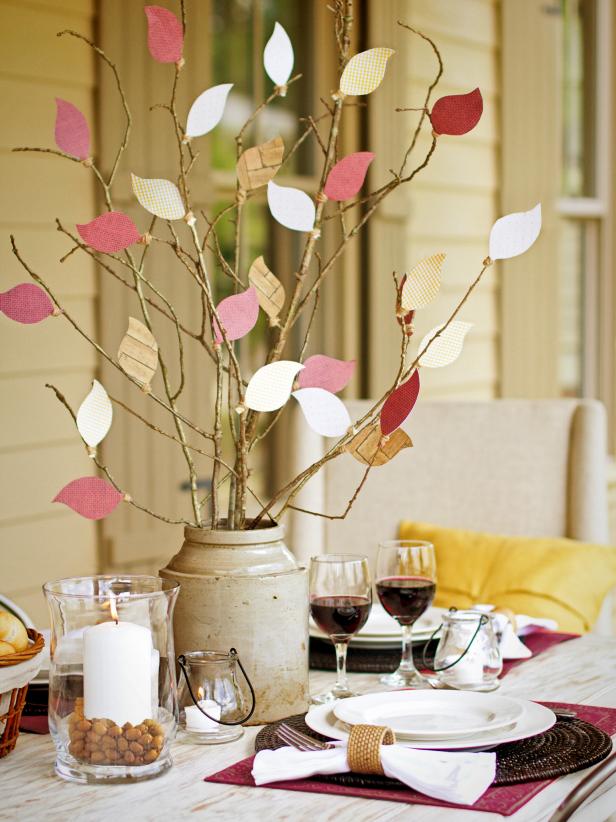 Dining Table With Paper Leaf Centerpiece
Get a little help from the kiddos to craft this easy focal point. Use our free template to cut leaf shapes from colorful card stock you can attach to bare branches gathered in the backyard. Before dinner, ask your guests to write what they're most thankful for on the leaves or just leave them blank. Get crafting with our step-by-step instructions.
thin fallen branches
scissors
twine
variety of fall-colored, double-sided scrapbook paper
pencil
hot glue gun and glue sticks
gold glitter spray
vessel or vase of your choice
Gather thin branches from your backyard; remove any attached leaves then coat them with gold glitter spray.
Cut Out, Trace and Glue Leaves
Print out the leaf template attached above and cut it out with scissors (Image 1). Use a pencil to trace several paper leaves onto a variety of double-sided, patterned scrapbook papers (Image 2). Use a hot glue gun to attach paper leaves randomly to all sides of the branches (Image 3).
Wrap the base of each leaf with twine as shown below, then arrange branches in the vessel/vase of your choice.