Food Network's Jeff Mauro of The Sandwich King shares his recipe for the perfect football snack.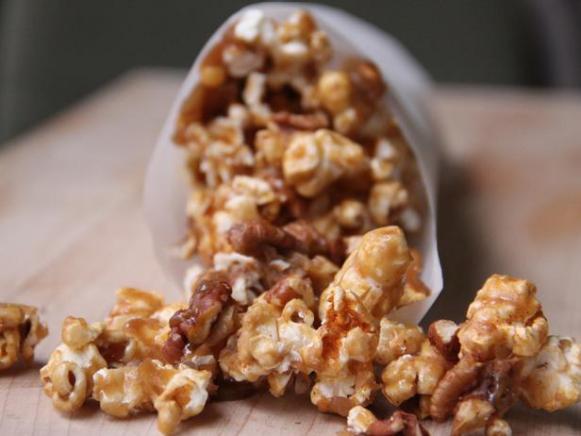 Maple-Nut Popcorn
The sweet-and-spicy snack mix is seriously addictive. Place bowls of this nutty mix around your holiday party and watch it disappear. Get the recipe.
Courtesy Kelsey Nixon, 2012 CookingChannelTV.com

1/2 teaspoon table salt
1 teaspoon chili powder
1/2 teaspoon paprika
1/2 cup of popping corn
3 tablespoons of peanut oil
1 teaspoon table salt
4 tablespoons of salted butter
2 tablespoons of maple syrup

Combine salt, chili powder and paprika in a bowl. Heat large pot over medium heat, add oil until shimmering. Put few kernels in the oil and if they pop, it's ready to go. Add remaining kernels, and cover with lid slightly ajar, Shake constantly using a towel while kernels pop. Once popping slows down, take off heat and leave cover on, giving it a couple more shakes.

Combine butter and maple syrup and microwave until melted, about one minute.

Toss the popcorn with the maple butter and chili powder, salt combination. Adjust seasoning if necessary. Enjoy it warm.

Yields 6 cups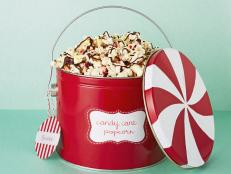 HGTV Magazine shares this recipe for a festive holiday treat that makes an adorably delicious gift.