How to Hang a Heavy Mirror
Follow these step-by-step instructions on getting the weight distribution right when hanging a large, heavy mirror.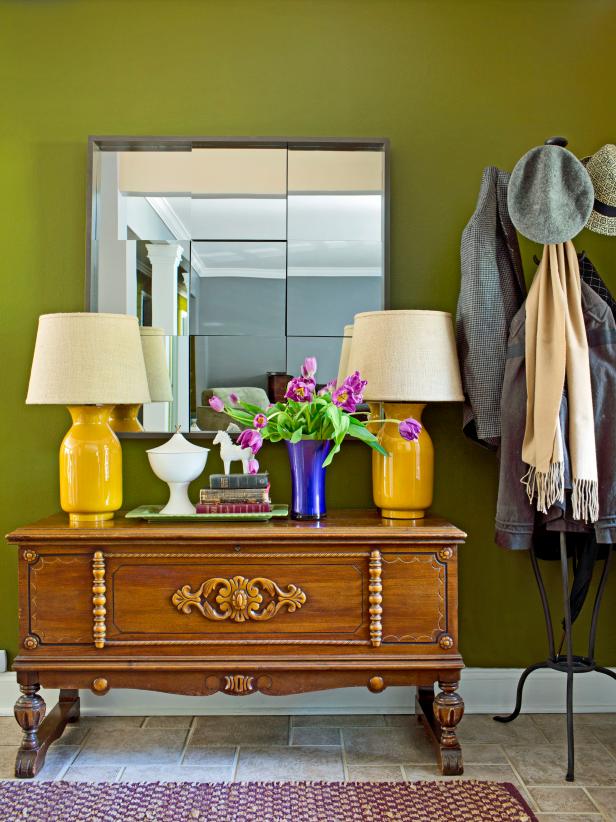 Bold Green Foyer With Handmade Mirror
Once you've finished and hung up your homemade mirror project, all that remains is to stand back and admire your handiwork. Here, the mirror has been hung on a green wall and positioned behind a side table on which are two yellow lamps, a bouquet of magenta flowers and a small green tray.
level
tape
screwdriver
hammer
pencil
awl
wire cutters
tape measure
carpenter's square
stud finder
18-gauge single-strand wire
D-rings and screw eyes
screws
1. Locate the exact mounting point. If you're hanging the mirror above a mantel, locate the center point above the mantel. Or center the mirror on a wall.
2. Locate studs on the wall using a stud finder. Mark both edges of each stud, and then place a piece of tape to mark the center of the stud between the marks. Locate all the studs in the area where you'll hang the mirror.
3. Measure your mirror to find the center.
4. Mark positions for D-rings on either side of the mirror, about 6 inches from the top. Use a carpenter's square to mark mounting points in the center of the frame.
5. To distribute the weight more evenly around the frame, insert screw eyes near the bottom of the mirror. Again, position them in the center of the frame.
6. Pull off a copious amount of wire, double it up and feed it through one of the bottom screw eyes, up through the D-rings and down to the screw eye on the opposite side of the frame. Do not pull the wire taught, leave a bit of slack.
7. To secure the first end, create a restraint with a bit of scrap wire. This will keep the wire from separating. A final crimp with the pliers will keep it nice and tight. Repeat this process at each junction of the wire. This will keep the separate strands together and make it easier to handle.
8. Loop the wire through the screw eye and tie it off.
9. Lift the mirror into position to see how it's going to fit in the space. When it's in the desired position, mark the wall at the top of the mirror. Set the mirror back down and draw a level line across the wall.
10. Pick two adjacent studs and draw lines along the center of the studs up to the top line. Measure down about 4 to 5 inches from the top line along each stud centerline. Mark this point and secure your hangers. Make sure to use hangers that are rated to handle the weight of your mirror.
11. Hoist the mirror back into place and run the wire through the hangers.