What Your Personal Style Says About Your Decorating Habits
The two might have a lot more in common than it seems.
While shopping for clothes can easily become difficult and frustrating — you have to wait for fitting rooms, tailor what doesn't fit and exchange anything that doesn't work — shopping for some fun new interior items isn't always as much of a hassle.
Home decorating is fun. It's an amazing method of self-expression that doesn't test confidence or perception as much as it provides a safe outlet for individual aesthetic preference. You don't wear your fave purchases out for the world to see, instead they provide you with a personal space, rest and relaxation.
By now you've probably developed your sense of personal style to help streamline the process of shopping for clothes. If you know your signatures then you can get in and out. But how does your style connect with your decorating?
The two might actually have a lot more of a direct relationship than it seems. Here's how your personal style speaks to your interior decorating habits, and how you can optimize the relationship between the two.
1. If your personal style is chic, muted and minimal...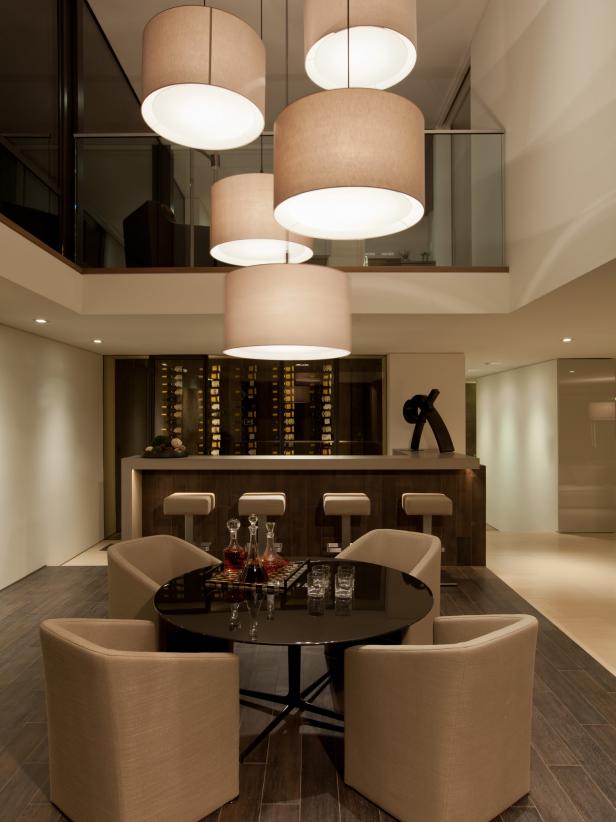 Neutral Modern Bar Area
Cascading pendant lamps enhance the height of the space in this modern bar area.
You're probably a fan of modern decor. You're most likely to be found sifting through all of the black and white in your closet, sticking with the safe leather jacket when the weather gets cold and trying to decide how to innovate without leaving your signature color comfort zone. This all translates almost seamlessly from your wardrobe to your decor, as your love for neutral tones and sleek shapes makes for a stylish, but not too flashy, home.
2. If your personal style is free-spirited, eclectic and colorful...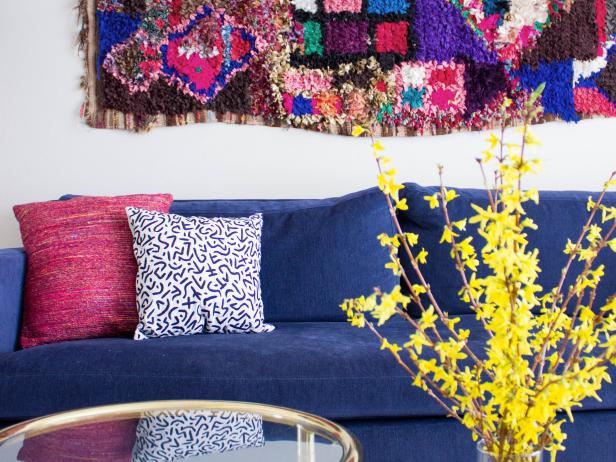 Contemporary Living Room with Bohemian Rug
This cool contemporary living room with a bohemian vibe trades in traditional art for a graphic rug to hang on the wall.
You're a lover of bohemian homes. You can't find enough international-inspired tchotchkes and trinkets, and you aren't scared to add fun shades, seemingly-random accessories and interesting ideas to your decorating regimen. You don't mind if it means your home looks a tiny bit cluttered, it's the artistic tradition, and perfectly mirrors your layered wardrobe.
3. If your personal style is trendy, avant-garde and daring...
You don't follow the traditional rules and your decor doesn't either. Millennial pink? Everywhere! No white after labor day? Says who!? You don't worry so much about the usual, run-of-the-mill items, you gravitate towards things that stand out, even if it means adding a little bit to your growing collection every season.
4. If your personal style is classic, wholesome and bright...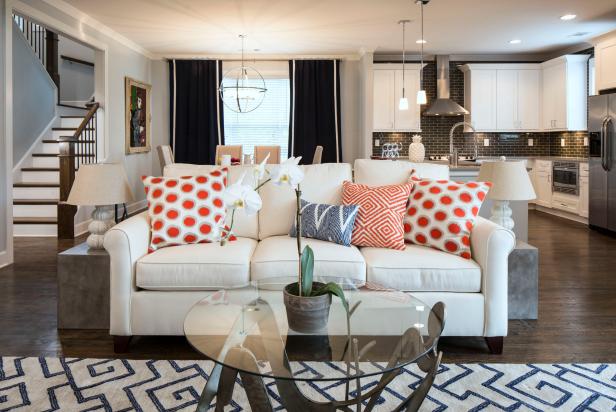 Classic, Colorful Living Room
By using bold pops of red, blue, and yellow as well as furnishing and accessorizing the entire space with bright colors and a bold design, this living room is a unique and one of a kind space.
Adam Pendleton Photography
You love an old-fashioned home. You can practically smell the apple pie before you even open the white picket fence and what other people might think is outdated, you find charmingly vintage. You'll keep your tried and true faves over some trendy fads any day.