Forget living large: small dwellings are big news as design fans look for creative ways to live in tiny spaces.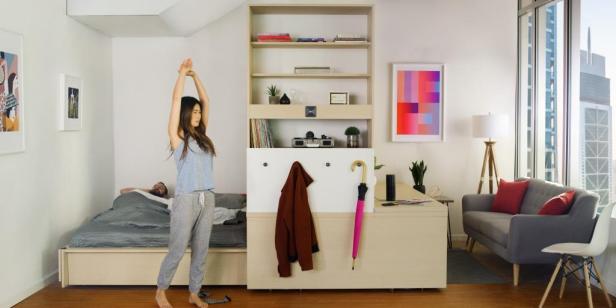 Ori Systems Robotic Modular Furniture
Photos courtesy Ori Systems
Though the enormous home in the suburbs has been synonymous with the American dream for generations, a new crop of homeowners is changing that equation. Gen X and millennial home owners are looking to do more with less and some baby boomers are trading a large space in the suburbs for a downsized home in the city. And there's no denyin that the tiny home trend has taken the country by storm.

Tiny, whether tiny homes, tiny apartments, tiny cars or tiny hotel rooms are convincing many that bigger isn't always better. We found several cool new examples of tiny living that show the creativity involved in going small.
On the hospitality front, capsule-style hotels are big. The international Yotel chain opened a 42nd Street hotel with rooms at 170 square feet in 2011.
Yotel/Scott Frances
The spare, futuristic lobby of New York City's Yotel—inspired in part by Japanese capsule hotels—with its self-service Ground Control kiosks and Yobot robot that stores guests' luggage, embraces the future-is-now.
Pod Hotels has recently added to its growing number of offerings with a new iteration of its tiny hotel room concept, Pod Times Square. This super stylish, modern gem is located in the heart of Manhattan and boasts 28 floors and 665 rooms. The rooms are small—115 square foot small—but sleek and come complete with everything you need for a comfortable hotel stay without all of the stuff you don't need.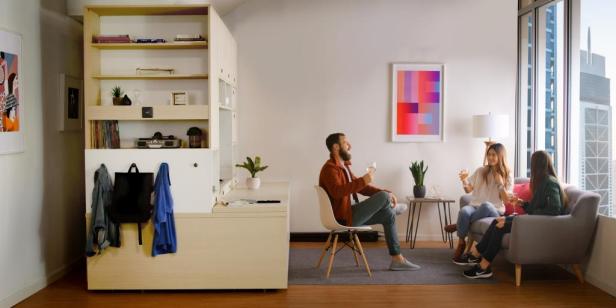 Ori Systems Robotic Modular Furniture
Photos courtesy Ori Systems
Expanding on the tiny living concept, the latest Pod hotel also features Pod Pads, living solutions for extended stays or long-term leases. These spaces of 600-800 square feet are designed in the same manner as the rest of the hotel, but on a slightly larger scale. Residents will enjoy on-site restaurants and exclusive access to the top floor guest lounge and fitness center.
Ori Systems Robotic Modular Furniture
Photos courtesy Ori Systems
If one of these New York City spaces is not an option for you, have no fear. There is more than one way to squeeze lots of living into a tiny space. The new Ori system is one big, tiny solution.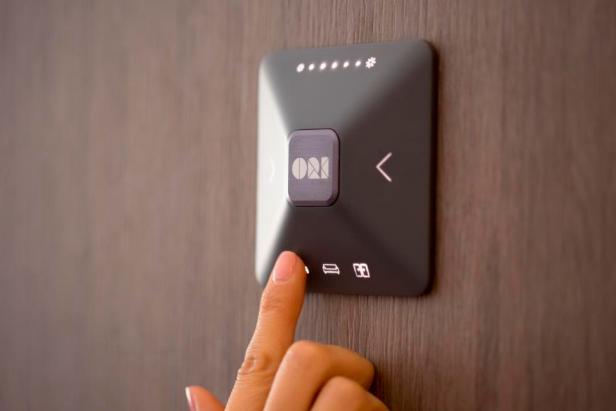 Ori Systems Robotic Modular Furniture
Photos courtesy Ori Systems
Created by CEO Hasier Larrea and his team at MIT, Ori makes it possible to live comfortably in even the tiniest of apartments. This highly adaptable and customizable system— which can be controlled by the press of a button or voice command—can transform one small space into a bedroom, office, walk-in closet, or living room.
The system operates on a wall-mounted track. The robotics lie underneath the structure and allow the furniture to move smoothly across the floor. This modular piece has desk tops that pull out, plenty of hidden storage, and a bed that appears on command. It consumes very little electricity and requires no additional wiring…just plug it in to a standard wall outlet. Additionally, there is no need to worry in the event of a power failure. The system can also fully operate manually.
Currently the product is only available to developers and will soon begin showing up in space-challenged cities such as New York, Boston, San Francisco, and Seattle. Availability for consumers in on the horizon, although no definitive date has been established. Pricing for consumers will vary depending on the materials and finishes of the furniture component of the system.
Ideas like these challenge the traditional approach to space—that more is better—and make it feasible to have a well-designed life in a very small space. Further innovations and thoughtful designs are making it possible to live out your big dreams…in a tiny way.