Boxy, low-slung prairie architecture was originated by Frank Lloyd Wright in the Midwest.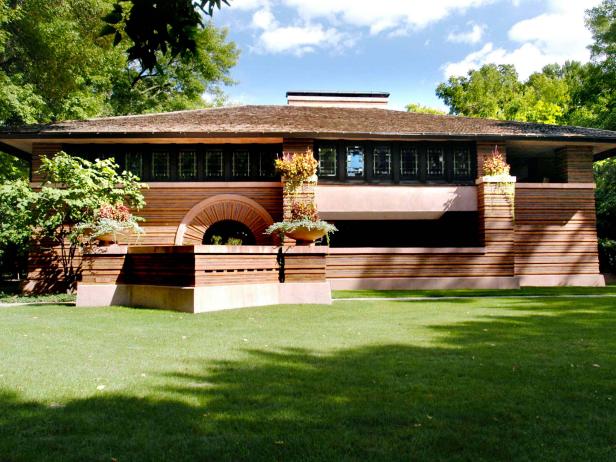 Historic Prairie-Style Home
Popular in the Midwest, the prairie home is known for its defining horizontal lines. Prairie was influenced by the Arts and Crafts Movement and features many of the same concepts such as built-in furniture, simple materials and open floor plans. Prairie-style homes also feature long flat roofs, rows of windows, horizontal lines and organic patterns.
The low-slung, open prairie style was developed in the Midwest primarily by Frank Lloyd Wright based on the premise that dwellings should serve human needs without being too showy.
Influenced by the Arts and Crafts Movement, Wright was seeking an architectural alternative to the excesses of the Victorian era and the machine-based lifestyle of the Industrial Age.
"Typical homes of the day had many small rooms," explains Ken Dahlin, an architect at Genesis Architecture in Racine, Wis. "Wright sought to 'destroy the box' with the prairie style."
To Wright, "destroying the box" meant creating a flow inside the house. He thought of the entire first floor as one room, and like all of his work, form followed function. In his autobiography, Wright says that in the prairie style, "the outside of the house was all there, chiefly because of what happened on the inside." The house starts like a tree, and branches out as the space allows and sees fit, explains Dahlin.
The style was dubbed "prairie" after Wright published building plans he called "A House in a Prairie Town" in 1901. The style became popular among other architects, particularly in the Chicago area, and inspired the similar America foursquare or prairie box style.
Horizontal lines. Wright was strongly influenced by linear Japanese prints, so everything about a prairie home -- trim, bricks, cedar siding -- is horizontally oriented.
Built-in furniture. Wright rejected the Victorian notion of decorating with unrelated art. Prairie homes have mostly built-in furniture and precise decoration.
Simple materials. Prairie style explores the nature of materials and uses natural stains to let the character of wood show through.
Cantilevered, flat roofs. The long, horizontal roofs on prairie houses had a large, straight overhang, sometimes up to four feet.
Open, flowing spaces. Since Wright saw a home as a public space for entertaining, prairie homes were typically centered on the living and dining rooms.
Rows of windows. The style often features several windows in a row, placed together for the appearance of a glass wall.
Organic patterns. Prairie windows often had window mullions, or dividers, with geometric patterns based on plants like wheat.
Frank W. Thomas House (1901). This Oak Park, Ill., house is considered Frank Lloyd Wright's first prairie house. He used stucco rather than wood to focus on geometric forms.
Frederick C. Robie House (1908). This Chicago house is Wright's most famous prairie home. It is well known for its low profile and cantilevered roof.
Practically Speaking: Hassles and Headaches
Like most older homes, prairie houses often need updates to bathrooms and the kitchen. Wright favored a living-room central house, and families today think of the kitchen as their home's hub. That means opening it up to the rest of the house and installing current appliances.
Dahlin also emphasizes that there is a difference between a prairie home and a modern-looking facade.
"There are a lot of cheap takeoffs on the prairie style -- exterior plans that have no relationship to the interior," says Dahlin. "A real prairie home emphasizes the flow of space throughout the house and from inside to outside."
If your heart is set on a home designed by Frank Lloyd Wright, get ready to take out a jumbo mortgage. Though he designed hundreds of homes around the country, only a few homes come on the market each year and they generally go for a high dollar.
Because the style started in the Midwest, the majority of prairie homes are located there, especially in Illinois and Wisconsin. If you'd rather live on the coast, there are many firms that use the principles of the prairie style to design new homes. And the Taliesin School of Architecture, which has schools in Arizona and Wisconsin, teaches Frank Lloyd Wright's style.