Herringbone vs. Chevron: What's the Difference?
It's easier to spot than you think.
Herringbone is having a moment, guys. The pattern is popping up all over the place. Kitchen backsplashes, hardwood floors, upholstery galore – you name it, herringbone is there. Or, is it?
You see, herringbone is easily and often confused with a similar, stylish zig-zag pattern: chevron. Those herringbone accents you're lusting after for your home may, in fact, be chevron. Don't feel bad, even I'm guilty of mixing-up the two on occasion – and I write about design for a living, folks! It can be tricky to know which of the two zig-zig patterns you're admiring without knowing their distinctions. Lucky for both of us, the confusion ends here. I did a little digging and I'm here to present the must-know differentiating factors between the two, fashionable patterns.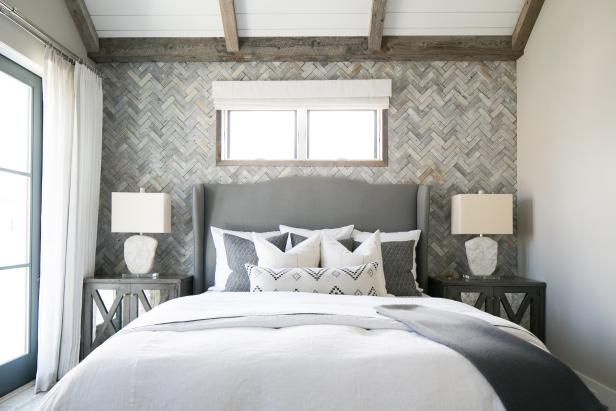 Master Bedroom Features Herringbone Textured Accent Wall
Shades of gray and white create a calm and stylish look in this master bedroom. A herringbone accent wall brings texture to the design behind a gray upholstered headboard and layered throw pillows. Two stone-based lamps add a unique touch, and light from the window and French doors creates a natural brightness.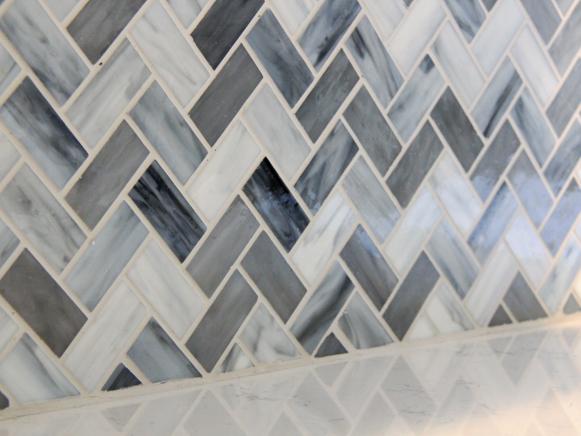 Blue-Gray Chevron Glass Mosaic Backsplash
The chevron glass mosaic backsplash in varying hues of blue and gray adds the perfect amount of texture and pattern to this transitional kitchen.
Principle Design & Construction
Herringbone is a pattern made up of equal-size, rectangular pieces, arranged in a staggered zig-zag pattern. The distinct characteristic of herringbone is that one rectangle is cut precisely so that the end of one plank or tile meets to the side of the other. This technique creates a beautiful, "broken" zig-zag design that makes for ultra-elegant flooring, masonry and tiling for the home.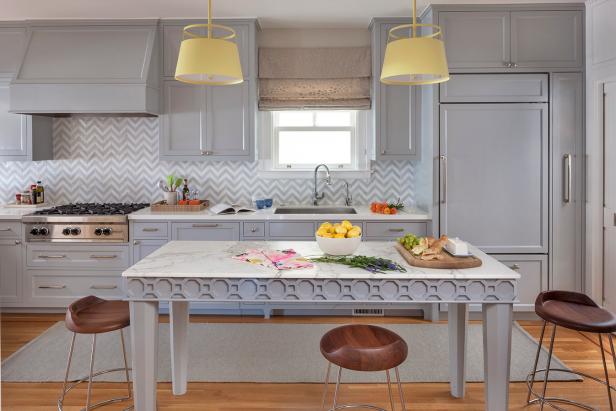 Transitional Kitchen Featuring Gray and White Chevron Backsplash, Marble Topped Table and Wood Stools
Gorgeous gray cabinetry is complimented with a white and gray chevron backsplash in this spacious eat in kitchen. A stylish dining table features a decorative border and white marble tabletop. Simple wood stools surround the table and pale yellow pendant lights hanging above.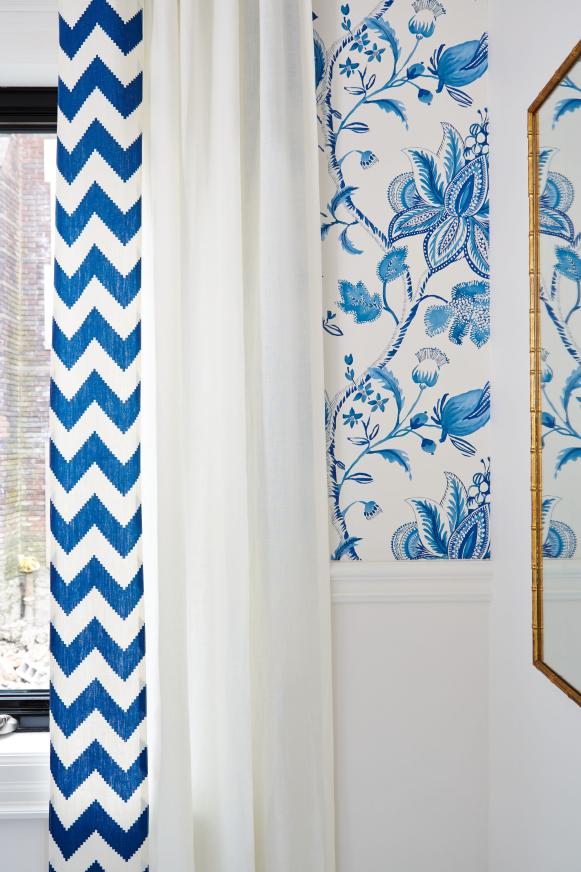 Bold Chevron-Patterned Drapery From Sarah Sees Potential
As seen on season one of Sarah Sees Potential, designer Sarah Richardson installed bold, chevron-patterned floor-to-ceiling drapes to highlight the kitchen's tall ceilings and create a stunning modern contrast against the room's traditional blue and white floral wallpaper.
You may remember chevron's "shining moment" circa 2011-2013 and questioning how and why I'm comparing the two and I get that, but just hear me out. As it turns out, there's much more to chevron than the that obnoxious, black and white version you saw plastered everywhere eight years ago. Chevron is an inverted V pattern, with each side meeting at the point without interruption. The results are a seamless zig-zag pattern that is popular for backsplashes, bathroom tiling and bedding alike.
So, did we all learn something today? Do we, collectively as a society, have a newfound respect for chevron? Are we all itching to remodel our kitchen and/or bathroom with one of these patterns, ASAP? My work here is done, dolls.