7 Bright Color Ideas Inspired by San Francisco's Color Factory
Take design inspo from this trending pop-up museum and add a punch of bold color to your home.
If you're like most of us, you've been experiencing a serious case of #FOMO while scrolling through Instagram coming across images of the Color Factory that's currently taking place in San Francisco. This 12,000-square-foot, two-story interactive exhibition full of wonderfully bright colors, sold out so quickly that it made our heads spin. Featuring works by several notable artists including Jacob Dahlgren, Tom Stayte and Geronimo Balloons, the Color Factory pop-up experience is a bright color lover's fantasy come true.
The Color Factory is steps ahead when it comes to impressing Instagrammers and tech-geeks alike: Attendees are given a polka-dot ID card which is used to activate cameras in each of the rooms. One quick pose in front of a camera, a scan of your ID card and the photo instantly goes to your inbox. With a scratch and sniff room, to a room full of gorgeous blue orbs hanging in the air, the Color Factory truly has something for everyone.
After the popularity of the pop-up experience caused them to extend the opening dates twice already (currently through mid-November), the tickets have gone like hot cakes, selling out within hours. Although rumor has it they might bring the pop-up to NYC eventually, we went ahead and put together a list of rooms inspired by the Color Factory that will make you want to incorporate a bit of boldness and fun into your current home design!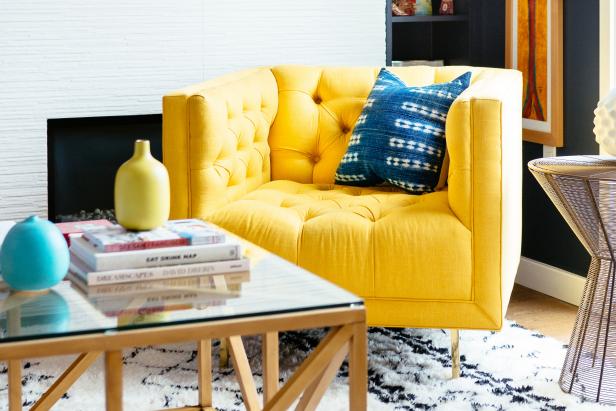 Yellow Armchair and Blue Pillow
Bright hues infuse this living room with life and cheery personality. The yellow armchair has a handsome partner in a blue-patterned pillow.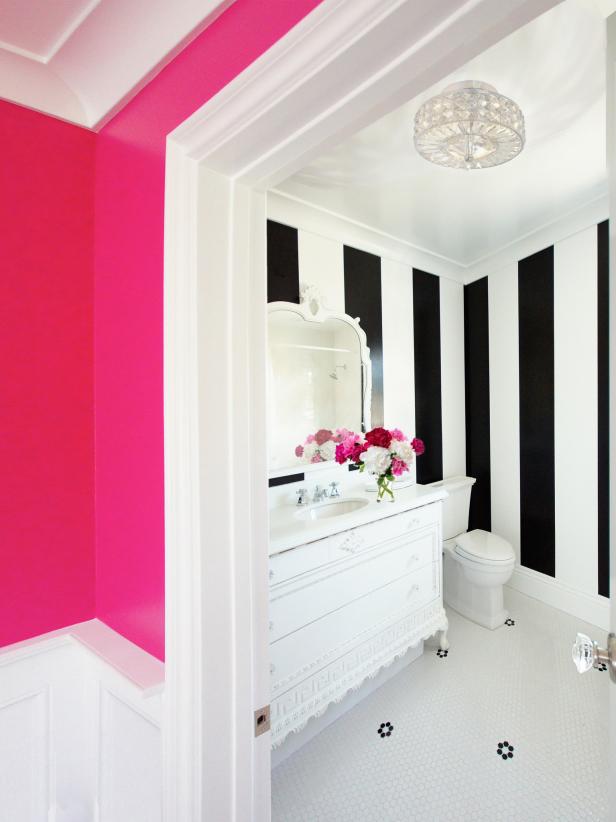 Black-and-White Hollywood Regency Bathroom With a Pop of Pink
Hollywood glamour is given a lady-like treatment in this bold, graphic bathroom. Vintage floor tile with black florets adds texture, while the sink is cleverly disguised as a dresser. A pop of pink in the floral arrangement echoes the bedroom wall color.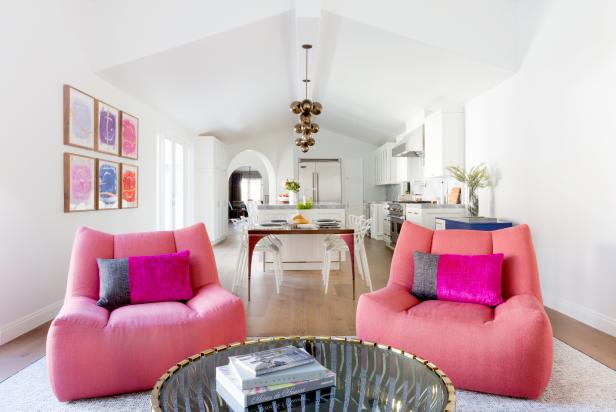 Pink, Oversized Swivel Chairs in Small Family Room
A small family room is nestled at the end of the kitchen. To bring this space to life, designers brought in a pair of bright pink, oversized swivel chairs to help make the small space cozy and welcoming.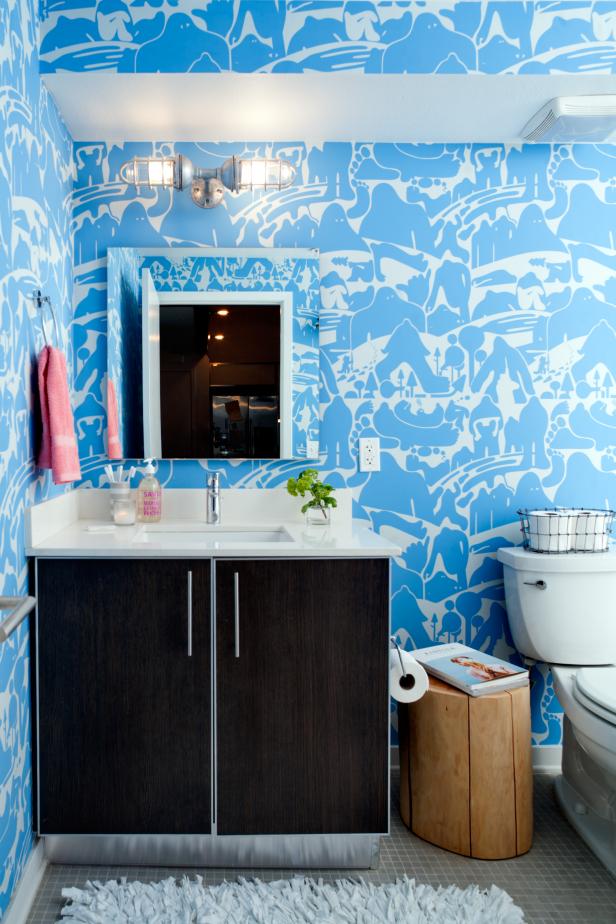 Eclectic Powder Room With Bright Blue Wallpaper
This powder room gets a lively dose of color from a vibrant blue and white patterned wallpaper. A dark brown vanity with a white countertop and metallic accents adds a sleek touch to the space.
Make a Statement
A vivid cobalt sectional delivers a declaration of style in this playful, patterned living space. Replicate the look with a bright blue sofa, tufted ottoman or arm chair and let guests know you are as design-savvy as they come.
Bold Backsplash
What's worse than bland food in a kitchen? A bland backsplash! This bright blue subway tile is anything but, and delivers striking contrast against an otherwise white-on-white kitchen.
Work It
Designer Britany Simon's use of this bold blue hue delivered a hip and high-contrast workspace for clients. Copy-cat this cobalt look to energize your home office and up productivity, all in one fell swoop.
Add Personality
Saturated walls shine in this romantic master bedroom designed by Joanna Gaines. Crisp, white bedding pair with handcrafted furniture for an understated elegance, while bold blue walls grant the space a pop of personality.
Up the Drama
Looking to turn heads? Add some drama to your design. A few coats of cobalt are all that's necessary to add dimension and enhance unique architectural details of a space.
Set the Tone
Use a bright color palette to evoke a playful tone in your space. A vibrant cobalt rug mimics the fun-loving energy of this contemporary dining table that doubles as a regulation ping-pong table.
Layer It
We're obsessed with the way designer Brian Patrick Flynn used the same blue hue for the walls and this vintage dresser from the 1970's. Not only does this fresh, layered-look create tons of visual interest for the space, but it screams "design know-how". That's the always the end-goal, right?
Mix Styles
Use this energized hue to tie different design styles together. The High Low Project used a pretty, patterned rug and matching cobalt walls as a contemporary compliment to a wood and leather rustic-industrial dining set.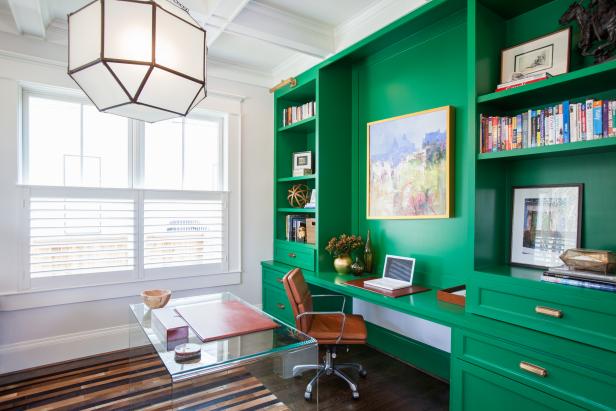 Emerald Green Built In Desk in Contemporary Home Office
The contemporary home office serves as a bright and bold jewel box at the front of the home. A coffered ceiling nods to traditional style, while the oversized geometric light fixture adds a modern touch.
Fern Green Color Palette
This saturated green hue livens up any indoor space, from the kitchen to the closet. For fall, we love to pair it with navy and lighter colors like salmon and white. To get a similar look, try (from L to R) Behr Paradise Of Greenery (P400-7), Sherwin-Williams Adriatic Sea (SW 6790), Valspar Ultra White 7006-24 and Glidden Coral Beach 10YR 38/318.
Tropical + Sunny
An accent wall with pineapple wallpaper is the focal point in this cheerful bedroom. The green in the pineapple design is picked up in the bold green armchair and artwork.
Love of Lacquer
The glossy sheen of this bold living's room green walls and orange stools is a tribute to a lacquered look. Furnishings and fabric are durable for pets and kids.
Sophisticated Bedroom
Navy accents and a mirrored nightstand create a dazzling space against a deep green backdrop.
Modern, Built-In Desk
The contemporary home office serves as a bright and bold jewel box at the front of the home. A coffered ceiling nods to traditional style, while the oversized geometric light fixture adds a modern touch.
Standout Vanity
A bold green floating vanity is the star of this bathroom design. All-white walls and tile flooring allow the vanity and multicolor rug to really pop in the space.
Green + Aqua
The beauty of fern green is you can decorate with it year round. To transition from fall and winter into spring, pair the color with aqua and peach. To keep the overall look layered, introduce some dark wood tones and be sure to layer several shades and tints of these hues to add depth.
Dramatic Breakfast Nook
The fern green L-shaped tufted bench makes a vibrant statement against the bold, thick wall stripes in this breakfast nook. An orange floral centerpiece and brass light fixture finish the chic design.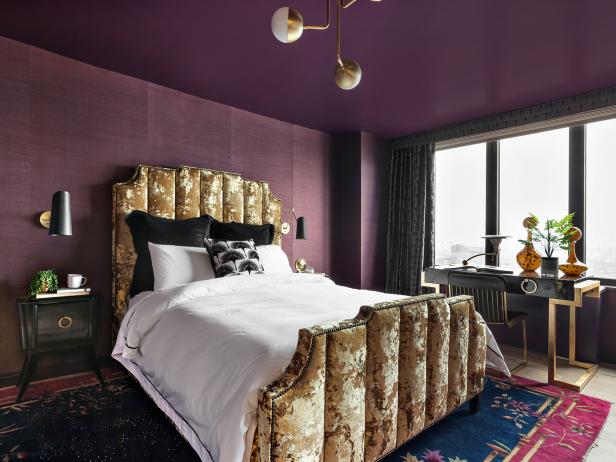 Purple Contemporary Bedroom With Gold Bed
In a smaller bedroom, a dramatic color can have the cool effect of making the space feel cozier. Eggplant purple coats the walls and ceiling in this apartment bedroom with surprisingly intimate results.
Prince Purple Color Palette
The blue and purple color palette, combined with layered patterns, creates a serene girl's bedroom that's equal parts whimsy and style. For a similar look, try (from L to R) Glidden Regal Purple (56RB 09/302), Behr Island Aqua (P450-5), Glidden Heavenly Blue (70BG 68/056) and Sherwin-Williams Flashy Sapphire (P520-7).
Purple Contemporary Bedroom With Gold Bed
In a small bedroom, a dramatic color makes the room feel cozier. Prince Purple coats the walls and ceiling in this apartment bedroom, creating an intimate feel.
Rich, Colorful Kitchen
A young family wanted an open kitchen perfect for entertaining. For a colorful surprise, the designers went with a rich purple island accented with brass details.
Moody Purple
The moody hues of this master bedroom perfectly offset the sweeping artwork that fills the wall above the bed.
Inviting Wine Bar
Once a storage closet, the loft bar at the 2016 San Francisco Decorator Showcase is now fit to provide homeowners an easy spot to mix a cocktail. Designer Linda Sullivan shows how good design can happen in unexpected places by pairing blue, lacquered cabinetry with Timorous Beasties' purple and indigo Colonnade Blotch wallpaper and brass hardware.
A Pop of Purple
A pop of purple behind these built-in shelves makes a basic white bookshelf stylish.
Eclectic Guest Room With Asian Accents
Asian-inspired patterns adorn the custom upholstered headboard and an antique armchair in this eclectic bedroom. A vibrant purple folding screen complements the colors in the fabric and brightens an otherwise dark corner.
Colorful Outdoor Room
This outdoor pavilion is complete with a bar, refrigerator and a wide-screen television accented with a Prince Purple accent wall. The two banquette seats have storage areas underneath to hold all the entertainment supplies.
Bold Dining Area
A wallpapered accent wall adds a decorative pattern to the elegant look of this transitional dining room. A large turquoise rug grounds the dining table, and the blue and deep purple stripes on the curtains tie in the rug and the purple tufted chairs at the end of the table.
Refreshing, Bright Nook
Prince Purple, light blue, and orchid colors on the patterned daybed fabric give the space a punch of color while coordinating with the teal paint on the wall. White built-ins provide a clean, structured backdrop, so the colors stand out even more.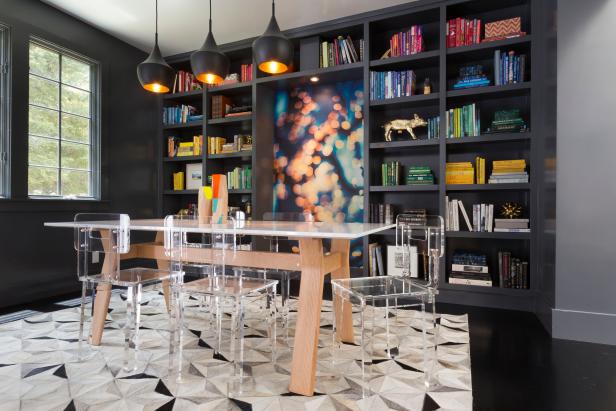 Sleek Modern Dining Room With Multicolored Book Display
A modern dining room turns its book collection into an eye-catching design statement by organizing them by color in the space-saving built-in bookshelf. A simple picnic table and ghost chairs let the striking dark walls and rainbow colors do the talking.