7 Bright Color Ideas Inspired by San Francisco's Color Factory
Take design inspo from this trending pop-up museum and add a punch of bold color to your home.
If you're like most of us, you've been experiencing a serious case of #FOMO while scrolling through Instagram coming across images of the Color Factory that's currently taking place in San Francisco. This 12,000-square-foot, two-story interactive exhibition full of wonderfully bright colors, sold out so quickly that it made our heads spin. Featuring works by several notable artists including Jacob Dahlgren, Tom Stayte and Geronimo Balloons, the Color Factory pop-up experience is a bright color lover's fantasy come true.
The Color Factory is steps ahead when it comes to impressing Instagrammers and tech-geeks alike: Attendees are given a polka-dot ID card which is used to activate cameras in each of the rooms. One quick pose in front of a camera, a scan of your ID card and the photo instantly goes to your inbox. With a scratch and sniff room, to a room full of gorgeous blue orbs hanging in the air, the Color Factory truly has something for everyone.
After the popularity of the pop-up experience caused them to extend the opening dates twice already (currently through mid-November), the tickets have gone like hot cakes, selling out within hours. Although rumor has it they might bring the pop-up to NYC eventually, we went ahead and put together a list of rooms inspired by the Color Factory that will make you want to incorporate a bit of boldness and fun into your current home design!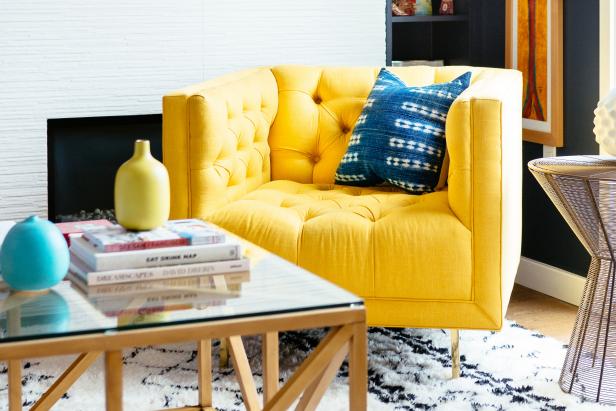 Yellow Armchair and Blue Pillow
Bright hues infuse this living room with life and cheery personality. The yellow armchair has a handsome partner in a blue-patterned pillow.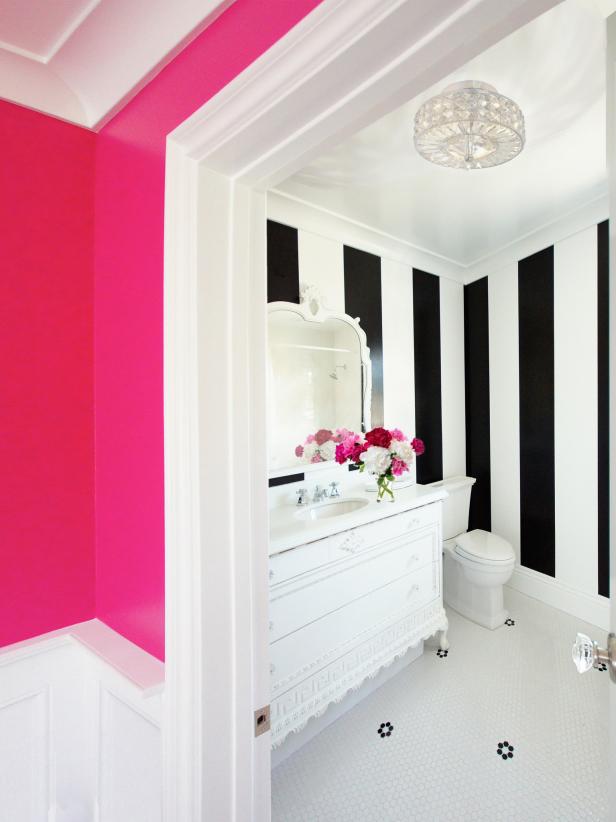 Black-and-White Hollywood Regency Bathroom With a Pop of Pink
Hollywood glamour is given a lady-like treatment in this bold, graphic bathroom. Vintage floor tile with black florets adds texture, while the sink is cleverly disguised as a dresser. A pop of pink in the floral arrangement echoes the bedroom wall color.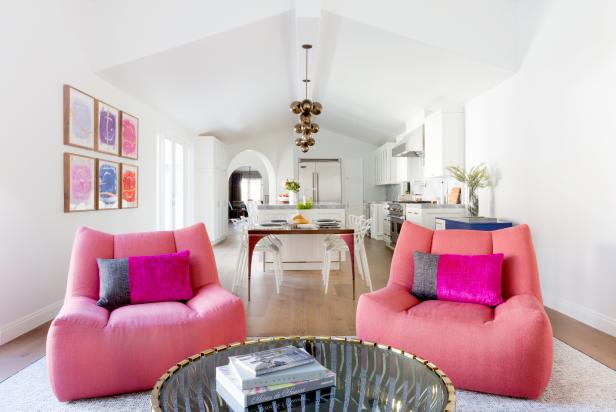 Pink, Oversized Swivel Chairs in Small Family Room
A small family room is nestled at the end of the kitchen. To bring this space to life, designers brought in a pair of bright pink, oversized swivel chairs to help make the small space cozy and welcoming.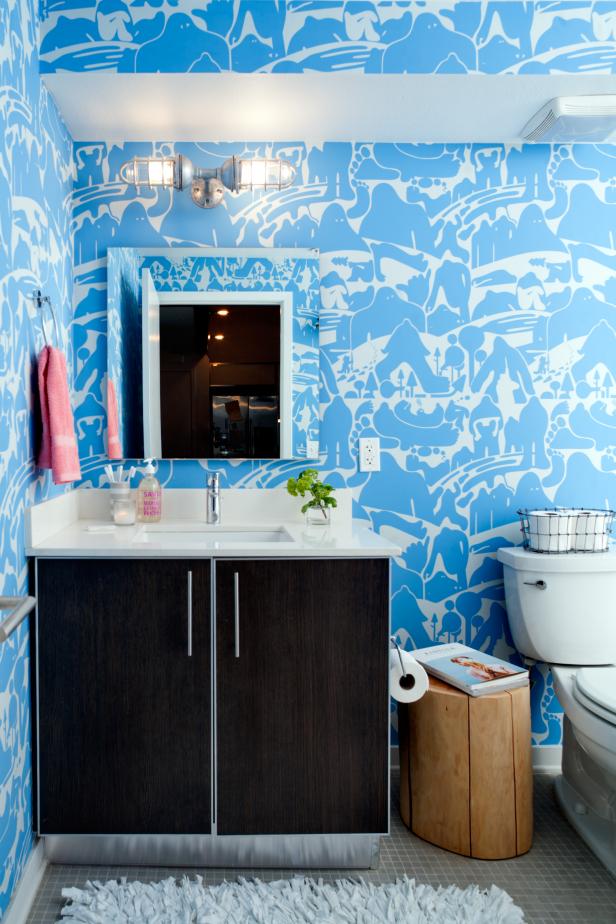 Eclectic Powder Room With Bright Blue Wallpaper
This powder room gets a lively dose of color from a vibrant blue and white patterned wallpaper. A dark brown vanity with a white countertop and metallic accents adds a sleek touch to the space.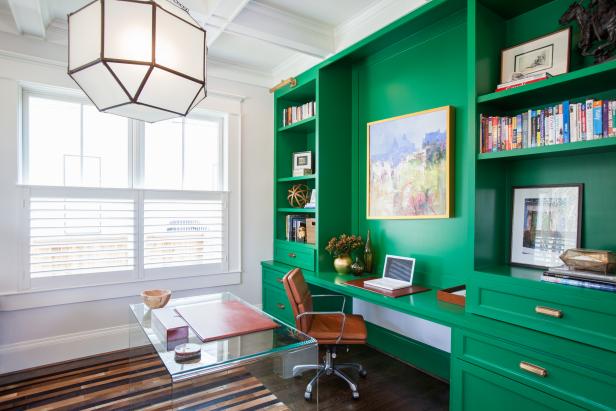 Emerald Green Built In Desk in Contemporary Home Office
The contemporary home office serves as a bright and bold jewel box at the front of the home. A coffered ceiling nods to traditional style, while the oversized geometric light fixture adds a modern touch.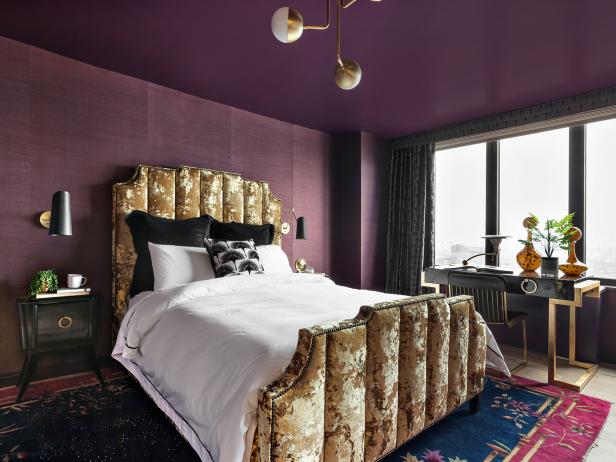 Purple Contemporary Bedroom With Gold Bed
In a smaller bedroom, a dramatic color can have the cool effect of making the space feel cozier. Eggplant purple coats the walls and ceiling in this apartment bedroom with surprisingly intimate results.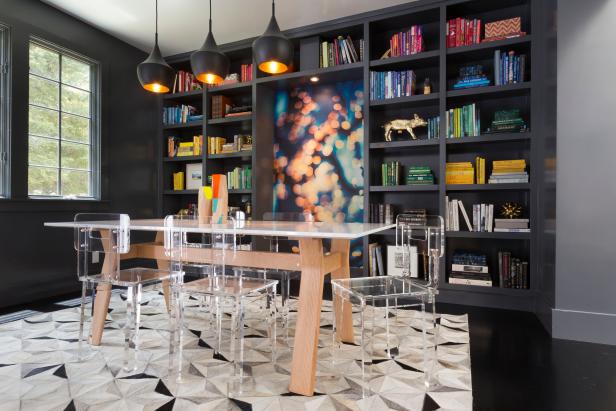 Sleek Modern Dining Room With Multicolored Book Display
A modern dining room turns its book collection into an eye-catching design statement by organizing them by color in the space-saving built-in bookshelf. A simple picnic table and ghost chairs let the striking dark walls and rainbow colors do the talking.