13 Cool Puzzle Designs You Can Buy Online
Need a meditative pastime that doesn't involve a screen? Puzzles have been trending in the last couple of years, and they're way cooler than you remember from your childhood.
Keep in mind: Price and stock could change after publish date, and we may make money from these links.
When life gets busy, stressful or both, the more we realize we need to step back and find some peace and quiet — or should we say, piece and quiet. (We couldn't resist.) It can be hard to realize how much we need that until we stumble into it, as did the founders of a new puzzle company called Inner Piece, which was founded by husband-and-wife Amanda and Chris Kahle after they got a few puzzles as holiday gifts in 2018.
They got lost in them, Amanda Kahle says, and found them to be a great way to spend quality time together away from technology.
"People are totally inundated with screens and we're starting to feel the effects and take stock," Amanda Kahle says. "We're seeing this boom in the wellness and mindfulness spaces as a result. While those spaces offer many solutions that are cost-prohibitive or inaccessible to the average person, puzzles are this simple, fun way to embrace quiet time, whether you're alone or with a crew."
Each of Inner Piece's 500-piece jigsaw puzzles is designed by a different artist, and you'll definitely want to frame them when you're done. The company also has a unique guarantee: they'll replace any missing pieces for the life of the puzzle.
They're not the only art-forward, mindful-striving puzzle company to pop up recently. Piecework also pegs itself as an answer to the noise. The company started after one of its founders, Rachel Hochhauser, booked a cabin in Yosemite after a few stressful weeks at work. She had been hoping to spend a weekend hiking, but a major thunderstorm kept her inside. She stumbled upon a stash of old jigsaw puzzles in the cabin and started working on them by the fire with a glass of wine.
"I ended up spending the whole weekend working on puzzles and was so surprised to find it was super meditative," she says. "It was a lightbulb moment, reminding me of the feeling you get after a good yoga class — the activity was somehow both stimulating and calming simultaneously."
She and co-founder Jena Wolfe, who's also her business partner at a creative agency they run together, started Piecework to create more aesthetically pleasing puzzles and to inspire people to slow down. Piecework sells 500- and 1,000-piece jigsaw puzzles made in the U.S., which come in boxes reminiscent of classic old games. Each features a funky scene fit for framing, like a super-meta, mind-bending puzzle of a puzzle. But to Hochhauser and Wolfe, it's all about the process, not the end result.
"There's a haptic response of placing a puzzle piece into the right spot," Hochhauser says. "It literally feels good to do a puzzle. There's also a common goal — unlike some board games, you're not playing against anyone else. There's no shouting at someone or getting upset or trying to compete. You're always on the same team, which brings people together. It slows down time, and there's no better feeling than placing that last piece into the final spot."
Here are a handful of beautiful jigsaw puzzles we love that are perfect for winding down after a stressful day or for a fun family activity.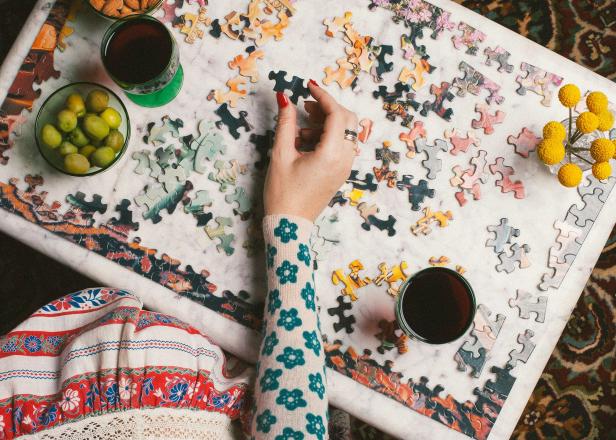 This puzzle within a puzzle is sure to be a challenge to work on. We love how utterly frame-worthy it is, and it'd make a great gift for a friend or family member.
Buy It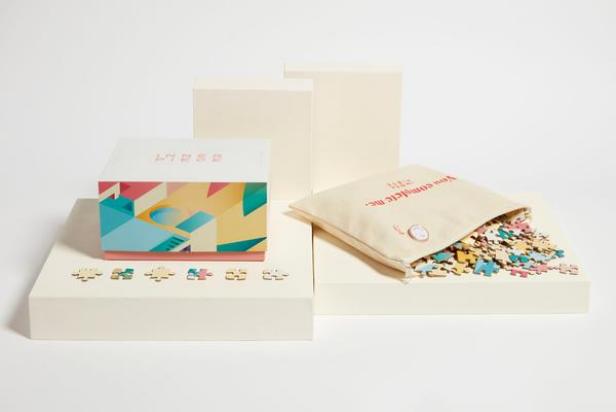 Inner Piece's first set of puzzles is all inspired by the feeling of home. We love the calming color scheme of this one by artist Ray Oranges.
Buy It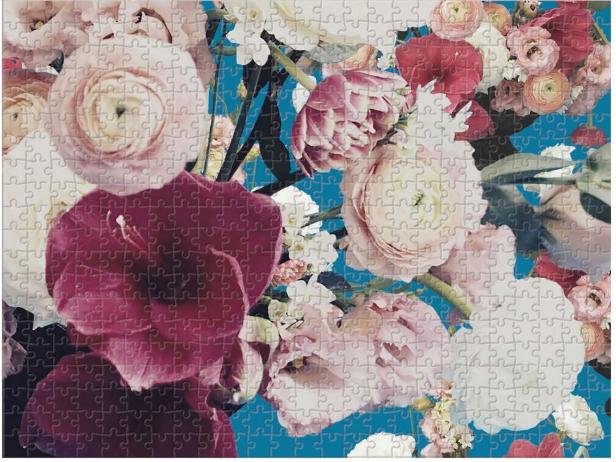 Designed by Ashley Woodson Bailey whose wallpaper was featured in HGTV Urban Oasis 2017, this two-in-one puzzle has floral designs on the front and back. One side is matte and the other is glossy so it's easier to know which side is up when you're flipping over the pieces.
Buy It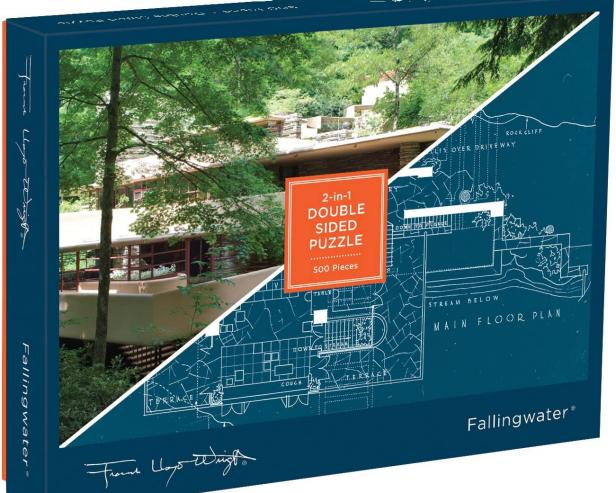 Another two-in-one puzzle option perfect for architecture lovers, this 500-piece puzzle features an exterior photo of Frank Lloyd Wright's Fallingwater on one side and an aerial blueprint of the grounds on the other.
Buy It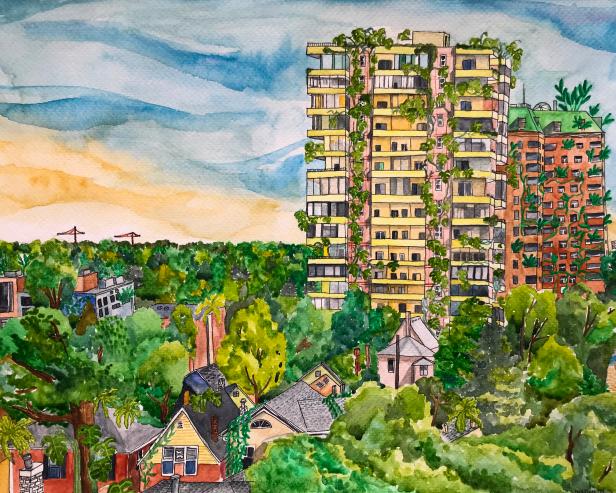 Photo By: Latasha Dunston
I love my friend Latasha Dunston's watercolor paintings and couldn't help but imagine this one here as a puzzle when I saw it in my Instagram feed. I reached out to her to ask if she'd be willing to let me purchase a digital copy of this jungle-fied painting of downtown Denver, and she loved the idea. You can see more of her artwork on her Instagram, @jitterbug_art, and contact her directly about pricing if you see something you like. Other artists you follow may be open to the idea, too. Shopping for a friend or loved one? A custom puzzle from their favorite artist would make an incredible gift.
Buy It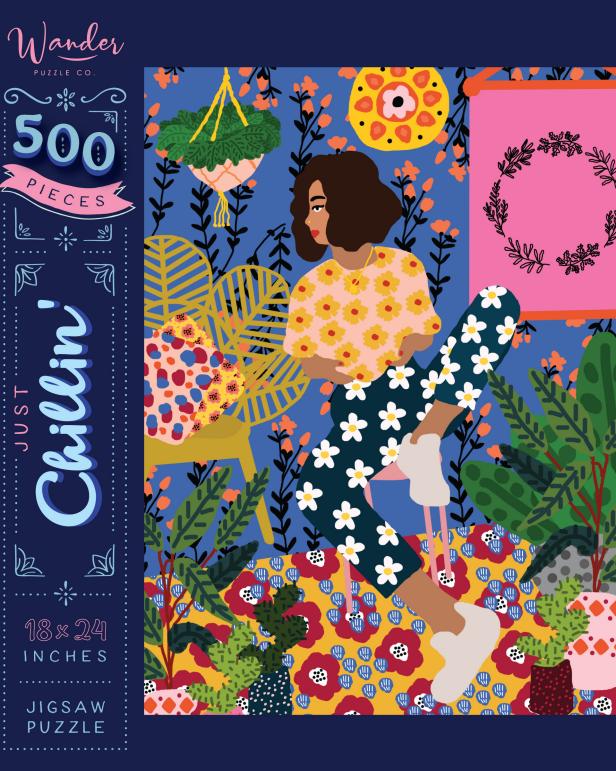 This 500 piece puzzle from the brand-new Wander Puzzle Co. was designed by Brazilian artist Rafaela Mascaro.
Buy It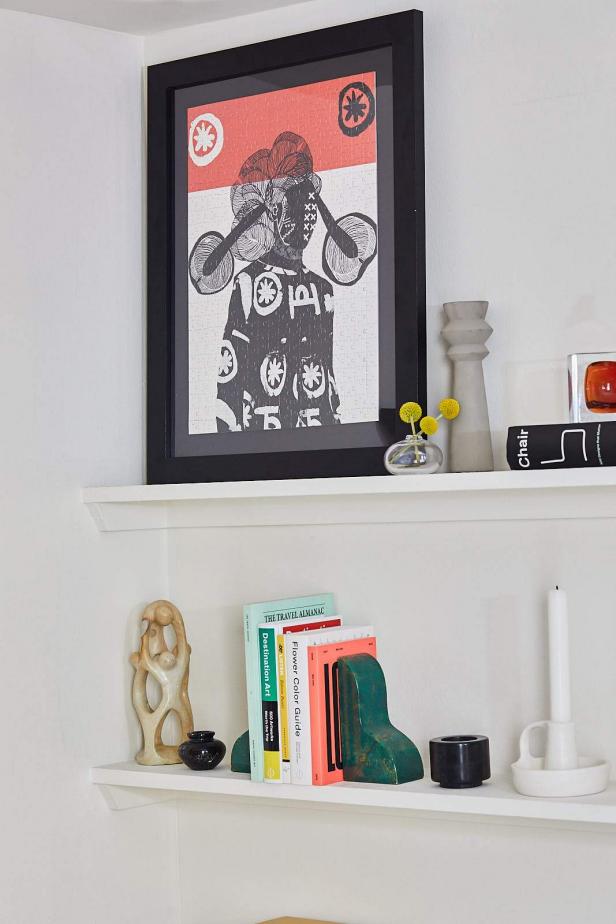 Jiggy's puzzles, each designed by a different artist, are specifically made to be displayed: each one comes with a tube of special glue so you can easily frame it when you've completed it. This puzzle was designed by illustrator Diana Ejaita.
Buy It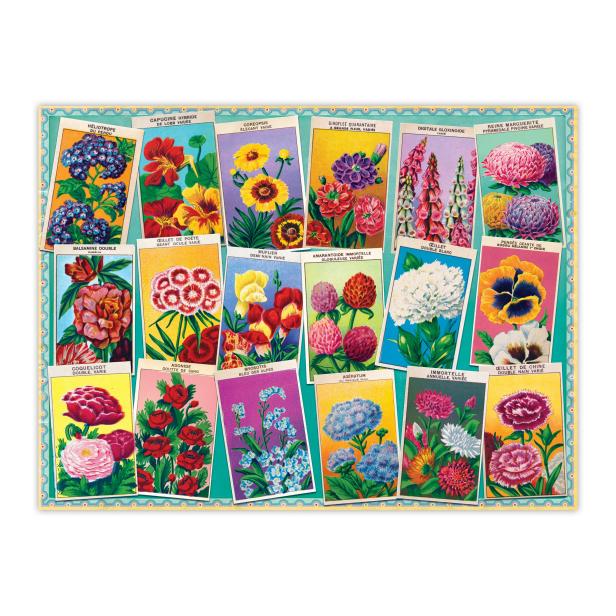 eeBoo makes puzzles for the whole family, starting with 64-piece, kid-friendly jigsaws all the way up to 1,000 pieces. Each one is made from 90-percent recycled materials and printed with soy-based ink. This 500-piece puzzle features a collage of vintage flower seed packets from France.
Buy It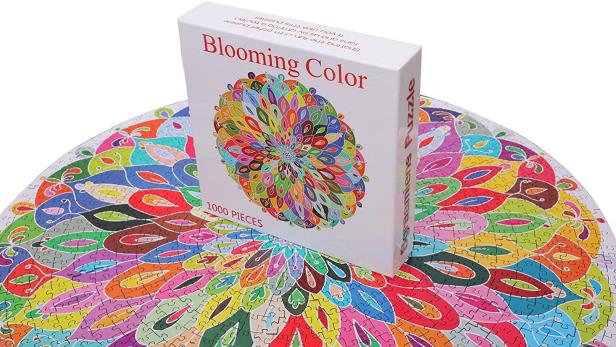 This 1,000-piece puzzle is circular, which adds a new level of complexity to your standard jigsaw. It's bursting with color and sure to keep the whole family entertained.
Buy It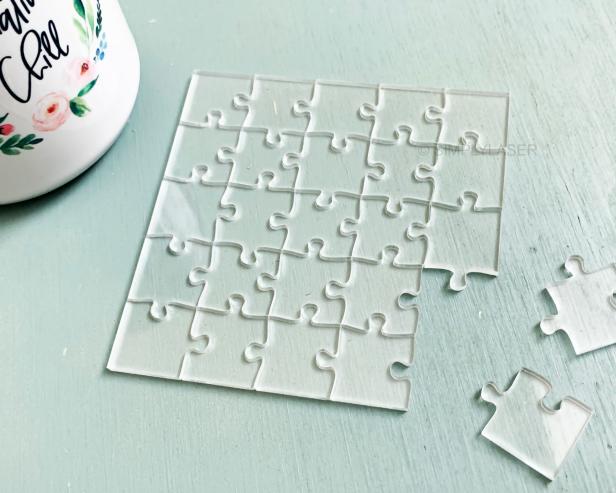 Regular jigsaw puzzles not quite tough enough for you? These clear plastic puzzles from Etsy creator SimplyLaser are available in a wide variety of sizes and piece counts. They'll give you an optional cheat sheet if you ask for it.
Buy It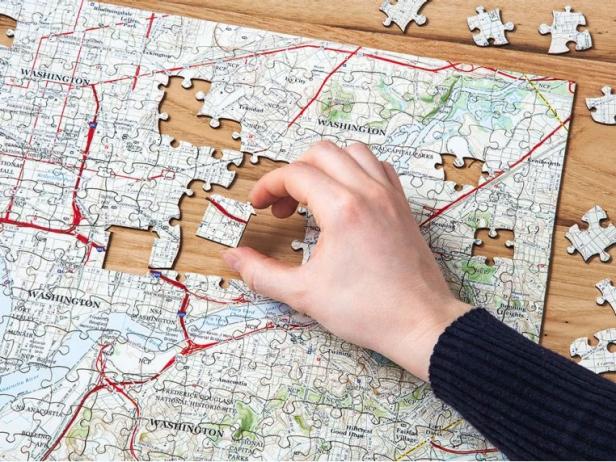 For a tricky puzzle that hits quite close to home, send your address to Butler and Hill for a custom-made hometown map puzzle. The centerpiece of the puzzle is your home, with a piece shaped like a house. Beware: This puzzle doesn't come with a picture of what the map looks like, which makes it extra challenging.
Buy It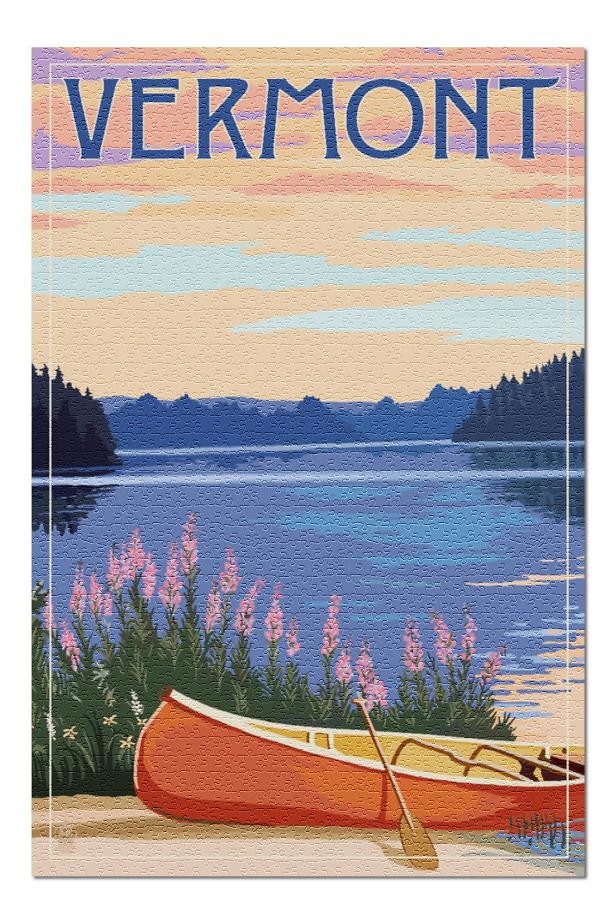 This 1,000-piece puzzle inspired by summer days is sure to be a challenge with its smooth color palette. Lantern Press Artwork offers thousands of puzzles inspired by summer, states, food and wine, and the great outdoors.
Buy It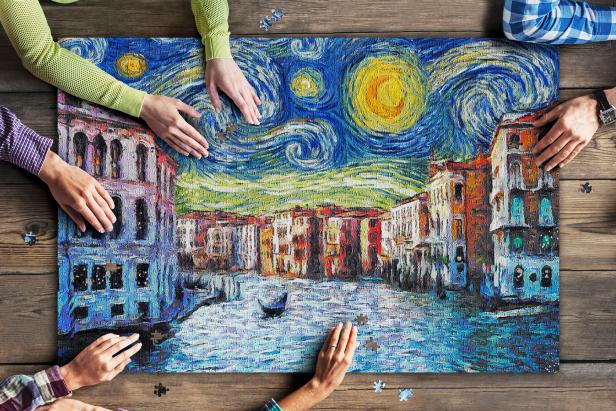 Lantern Press Artwork created this 1,000-piece puzzle inspired in part by Vincent Van Gogh's famous Starry Night painting.
Buy It