Alternative Wedding Registry Options for the Modern Couple
Go beyond bath and bed stores.
I don't know about you, but when I dreamed about my wedding as a young girl, the last thing I thought about was fancy dinnerware, a slow cooker and monogrammed hand towels. Can we all just admit that traditional wedding registries are B-O-R-I-N-G? I don't know any twentysomething engaged couples that want silver trays for display only.
And, since a majority of young people get married later, live with partners before tying the knot and establish careers long before considering marriage, that means most of us already have plates, furniture and blenders.
But wait, there's good news! Modern couples no longer have to feel tethered to nonsensical wedding traditions because, now, there are so many practical options available. Instead of registering for nicer versions of items you already own, why not get creative and register for what you and your S.O. really want, like...
An Unforgettable Honeymoon
My husband and I set up a honeymoon registry, and it was easily the best decision we made. Neither of us had been out of the country, and we each already had plenty of furnishings, kitchen items, etc. It felt wasteful to ask for more of these things when really we just wanted to travel. Online registries like Wanderable, which we used, and Honeyfund make it easy for guests to contribute. If the whole "asking-for-money" thing makes you uncomfortable, set up the registry so that guests can pay for experiences, like a winery tour, breakfast at a cafe or Champagne upon arrival.
A Down Payment on an Actual Adult House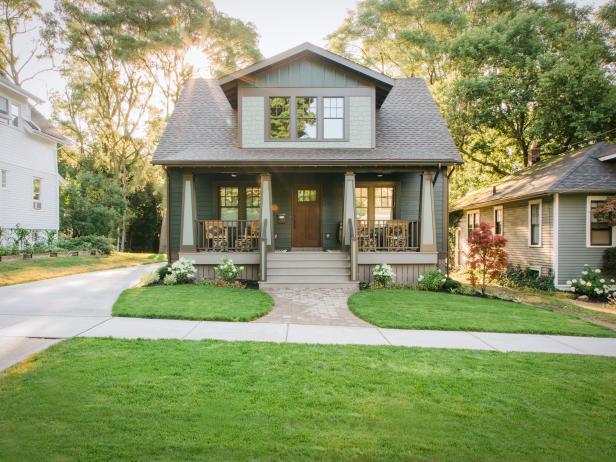 Strong Street Presence
Dark and lighter green paint colors, attractive siding and a roof with high-dimension shingles give the Craftsman home a strong street presence and major curb appeal.
I get it. Weddings and homes are EXPENSIVE. But this registry option offers the best of both worlds. Maybe you're using your savings on the wedding instead of a house, or maybe saving for a house took priority over getting married. In either case, setting up a house registry is a great, practical option. This one might be difficult for traditional-minded guests to wrap their heads around, but, again, if you set up the registry so that guests see what exactly they're paying for, it will ease their minds. Check out Feather the Nest to get started.
Contribution to a Charity
Marriage is all about selflessness, kindness and love. What better way to celebrate those values and "walk the walk" than to participate in a charity registry? For more established couples, the charity registry might be the perfect option. It's a great way to add a personal touch to your wedding by asking guests to donate to a charity that means something to you and your partner. The Knot offers two ways to give back through its registry program - either with a strict, donation registry powered by Crowdrise or with The Knot Gifts Back. Zola also offers charity registry options.
Cash, Subscriptions, Experiences, etc.
Do you ever get annoyed that you have to register at three different places because one store doesn't offer everything you need or want? Well, put down the scanning gun. Registry websites like Zola, Blueprint, WeddingWire and MyRegistry allow you to choose from thousands of local and international retailers to create the ultimate, all-in-one registry. Plus, you can register for more exciting stuff like cooking classes, wine subscriptions, event tickets, and more.