Learn more about Mina Starsiak of HGTV's Good Bones.
Mother/daughter home renovation and flipping duo Karen E Laine and Mina Starsiak Hawk star in the HGTV series Good Bones. Daughter Mina, a real estate agent, and mom Karen, a former lawyer, own an Indianapolis-based home renovation business with a mission to revitalize their favorite neighborhoods one house at a time. The series follows the expert team as they buy homes in serious disrepair, sometimes gut them to the studs and transform them into stunning remodels. Mina is also co-host — along with Leanne Ford, Jasmine Roth and Alison Victorial — of HGTV's Rock the Block, and along with Karen, was a featured participant in the HGTV event-series, A Very Brady Renovation.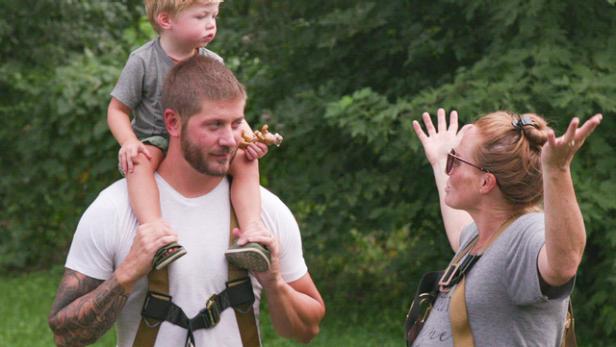 Mina's Journey's to Baby Number Two
3 Videos
In this video series, we see Mina Starsiak Hawk attempt rounds of IVF treatment to IUI treatments to conceive her second child.
An Extraordinary Wedding Album
When it comes to throwing a wedding, Mina does it with style. Indy photog Mallory Talty captured the whole thing in a photo essay that blends atmospheric portraits, impromptu snapshots and skillful documentary style. Presented here with limited captioning. The pictures (and that dress!) speak for themselves. See the Gallery
Spotlight: Mina's Design Style
The Good Bones star has a knack for turning old buildings into gorgeous new homes, but it's the smart details she adds that have wowed us for four seasons now.
See the Gallery
Good Bones: A Crash Course
Mina & Karen's Renos: A Best-Of Collection
Mina and Karen return to Indy's "best-kept secret" neighborhood, Bates-Hendricks, to renovate a dilapidated eyesore on Sanders Street, transforming it into a stylish home with an all-new floor plan.
See the Gallery
Mina and Karen take on the renovation of a 1910 duplex in Indy's historic Fletcher Place neighborhood and, along the way, are obliged to deal with poison ivy, historic zoning restrictions — and a Voodoo doll in the attic.
See the Gallery
In another brave rescue when Mina and Karen commit renovate a miniscule 730-square-foot house that's in serious disrepair and located on the outskirts of a transitioning neighborhood. To appeal to young urban pioneers, they opt for an open floor plan and a few offbeat flourishes. See the Gallery
Mina and Karen take on their biggest project yet — literally — when they renovate a 4300-square-foot house in Indy's historic Bates-Hendricks neighborhood. Their mantra for this ambitious flip: "Big house, big potential."
See the Gallery
From Season 1
In one of their bravest projects, the mother-daughter duo purchases an abandoned eyesore of a house in Indy's historic Bates-Hendricks district for $4,500 (!) then turn it around with a thorough transformation, inside and out.
See the Gallery
From Season 1
Mina and Karen face financial hurdles when they take on a duplex reno in a transitioning neighborhood. But with some creative styling and a few glam touches, they're confident the refurbished home will turn a nice profit — and help bolster the neighborhood. See the Gallery
More Mina: News and Features