Texture and Pattern Energize Contemporary Condo
Design firm Wake + Loom infused this condo with a contemporary style full of texture, pattern and smart color choices. Eye-catching wallpapers are used to great effect throughout, while bright metallics, artwork and live plants add extra layers of personality.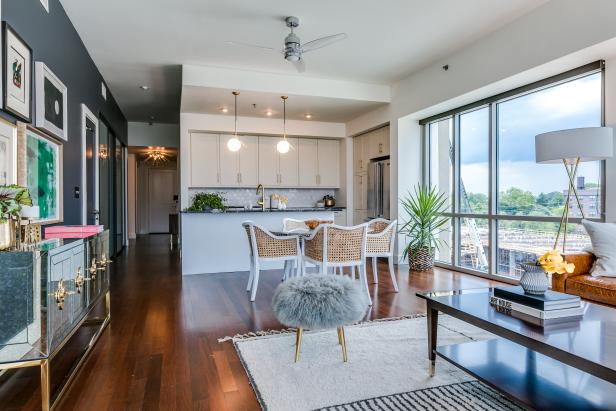 Contemporary Open Plan Condo Kitchen and Dining Area
The open concept layout of this apartment features a kitchen that connects to a small dining area. A rug helps delineate the living area.
What did your client want for the remodeling/redesign of their condo?
The client really needed a complete kitchen renovation and that was one of the main focuses of the project. Our client also loved a clean, modern vibe that felt collected and eclectic.
What was your biggest obstacle on this project?
There was a lot of back and forth on the kitchen renovation. The client wasn't sure if they wanted to do a full gut or just a facelift. In the end we did a hefty facelift with a side of Botox and worked around the original bones of the kitchen.
What was your favorite space to design?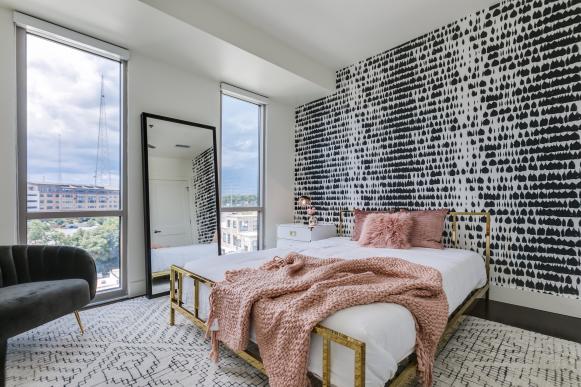 Black and White Contemporary Bedroom With Wallpaper
The furnishings are kept simple and elegant in this condo bedroom, all the better to see the exciting wallpaper and rug.
We loved all the wallpaper we got to incorporate in this condo. In the entry we papered the ceiling, which felt a bit daring and playful. We also added bold accent walls in the bedrooms and the living room. The master bedroom was a tough space because it had a lot of odd corners and it was a challenge getting it laid out at first.
How did pattern and texture play a role in your design?
Our client wasn't afraid of color or pattern, so we had fun with the wallpaper, art and lighting. We could be daring with our lighting choices, which added a whimsical energy to the space.
How did you choose the unique geometric tile kitchen backsplash?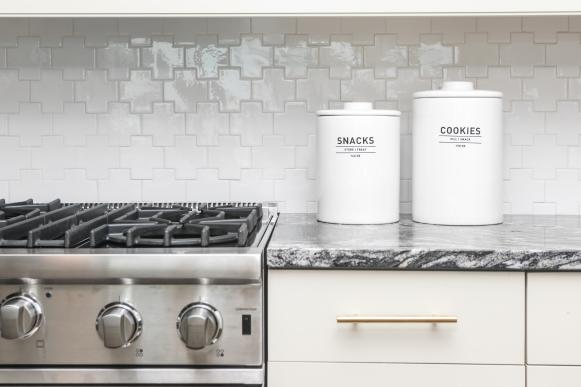 White Cross-Shaped Tile Kitchen Backsplash
This kitchen livens up its backsplash with a twist on the classic subway tile: These tiles are in a fresh cross shape.
We wanted to do something extra rich in the kitchen, so we went with a stunning black marble countertop. We knew that this bold choice in material needed a minimal balance, but something more special than a traditional subway tile. We found this cross geometric backsplash in a pure white and knew it was the perfect balance for the kitchen.
How did you select pieces for the gallery wall?

Our client was an art enthusiast and had an existing collection of art for us to work with. We needed a few more pieces and thought the modern graphic vibe would be a good balance with our client's existing collection.
What's your favorite thing about this condo?
We got to have fun with the wallpaper, lighting and kitchen. Those elements are what stand out to us in this project.
What "hidden gems" are in your design?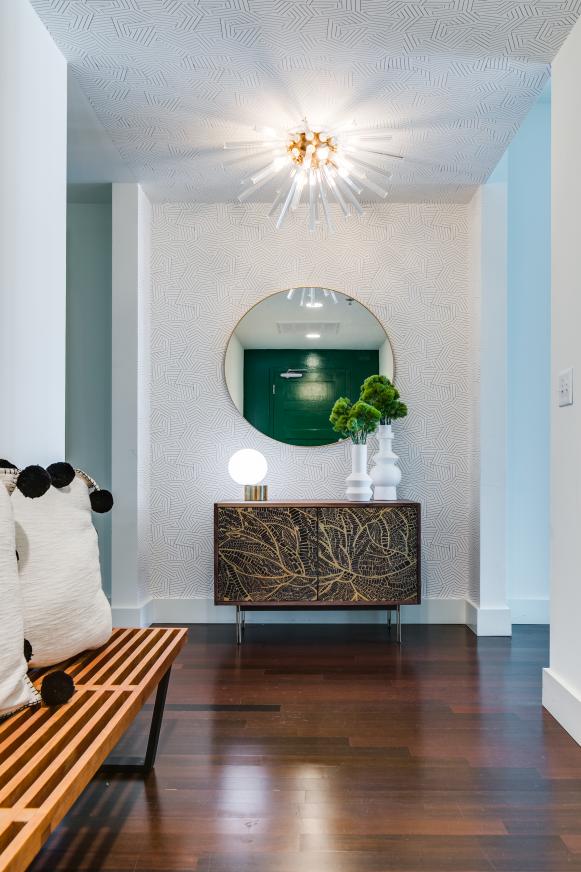 Midcentury Modern Foyer With Round Mirror
Subtle patterns make this foyer look very chic, but don't take away from the serene mood set by the cool gray-and-white palette.
Wallpapering the entry ceiling with a subtle geometric paper. It feels like a vortex in the best kind of way and an inviting moment. We also love our plants — we really feel a home isn't complete until we layer in plants. They add life and warmth and the perfect finishing touch to any space.