Whimsical NYC Bachelor Pad Inspired By Pop Art Collection
See how designer Joe Human took cues from his client's custom pop art collection to transform a stark white condo near Washington Square Park into a colorful, wildly whimsical bachelor pad with eclectic elements.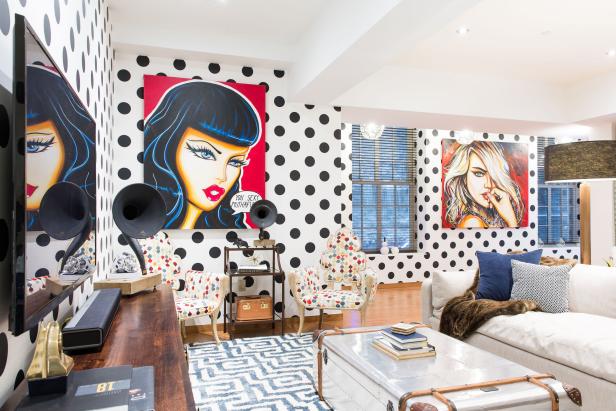 Pop Art-Inspired Living Room
Inspired by his client's custom pop art collection, designer Joe Human packed this modern apartment with bold prints and patterns. In the living room, polka dot wallpaper enlivens the space without competing with the vibrant artwork.
With colorful canvases showcased on walls of polka dots, the interior of this 1,400-square-foot condo looks more like an exhibit at the Museum of Modern Art than a home near Washington Square Park – much to the delight of its owner, says designer Joe Human.
"My client's quite a character," muses Human, principal of Designs By Human in New York, who styled the bachelor pad over a two-month period. "He's very energetic and enjoys a lot of stimulation, both in professional and personal settings."

But while managing two startup companies on the West Coast kept the owner busy during the workweek, coming home to a newly remodeled interior left him feeling restless and uninspired. So the bachelor asked Human to outfit the stark white space with colorful, eclectic furnishings that spoke to his custom pop art collection.

"The whole process was a lot of fun, because he basically approved a style he liked and then gave my team the freedom to decide the rest," the designer says. "It was really refreshing to work with someone like that."

In the spirit of his client's art collection, Human first wanted to enliven the walls with a bold pattern. For the entryway, he chose a polka dot print that complemented portraits of cultural icons like Snow White and Madonna.
As they advance towards the living room and kitchen, the polka dots and paintings transform the hallway into a whimsical gallery. Geometric-style pendant lights further the stimulating display thanks to a fun touch on Human's part.
"I knew the space needed a little definition of height, but my client was hesitant about the fixtures at first," the designer says. "I convinced him with the Phillips Hue bulbs, so he could change the colors of the room at will."
The open kitchen, too, is a case study in deliberate nonconformity, as Human paired sleek modern cabinets and chic copper barstools with cowhide cushions and a playful popcorn maker.
A sultry pink portrait of Marilyn Monroe is on view behind the dining table, sure to ignite conversation about Andy Warhol and celebrity culture over dinner.
Carefully curated kitchen
Though these different pieces seem to fit so effortlessly together, Human admits that arranging them in the same space took careful consideration and planning.
"The art was the most important thing; I wanted it to be very prominent," he says. "So I spent a lot of time researching and choosing patterns that wouldn't compete with the canvases."
His thorough process is evident across the living room, where a comic book-style painting of a femme fatale easily stands out among graphic accents. To keep all eyes on the artwork, the designer limited the room's tables and chairs to a neutral palette and chose smaller patterns that wouldn't attract as much attention.
He then layered modern and vintage decor around the room, pulling in a trunk from Restoration Hardware, record players from thrift stores and a Greco-Roman bust to give the space a carefully curated feel.
A plush sofa stacked with pillows and a small dining area complete the space, ensuring that the bachelor has room to put his feet up or entertain.
Dining area with doors to courtyard
When he finally saw the finished design, Human's client was thrilled with the result: a home that subverts sensible white walls with whimsical color and pattern, capturing the essence of pop art's creation.
"When you start talking about it out loud, people think it sounds like a circus," Human says. "But it's one of the more fun, creative projects I've worked on. It's so stimulating, but it's also very homey and really fits his personality."