High-Rise Condo Offers Escape From Las Vegas Pace
Designer Lisa Escobar draws on Zen-like Asian design to create a calming escape in a Mandarin Oriental condo located high above the Las Vegas Strip.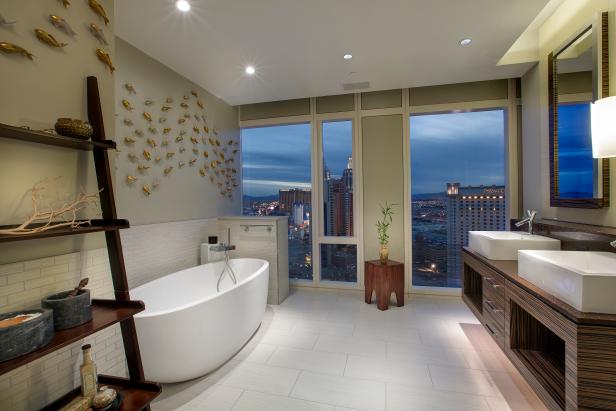 Asian Spa Inspired Master Suite with Koi Artwork and Bamboo Double Sink Vanity
This beautiful Asian spa in spired master bathroom is the ultimate place to relax in this on-the-go city. Twenty six floors above the Las Vegas Strip, this bathroom feels like a quick trip to their orient. The double sink vanity is custom made from zebra wood, which gives the space a more authentic look. A large soaker tub is tucked away behind a small wall so that bathers can still enjoy the view from the sky, but are also given a bit of privacy. The accents in the space also help to give it that private, spa feel. The koi fish on the wall bring in the Asian inspiration, while the cherry ladder shelving houses spa essentials as well as antique Asian accessories.
John Martorano of JPM Studios
The nonstop energy of Las Vegas can make for a fun getaway, but sometimes an escape from the glitz and glamour of Sin City is needed, too.
When outfitting a luxury condo located at the Mandarin Oriental as a second home for a client, designer Lisa Escobar drew inspiration from the luxury hotel's Eastern-themed design to create a Zen-like getaway.
"It's very different and I think the reason for that is because it's not his all-the-time home. He just goes there when he wants to relax and just kind of escape," Escobar says.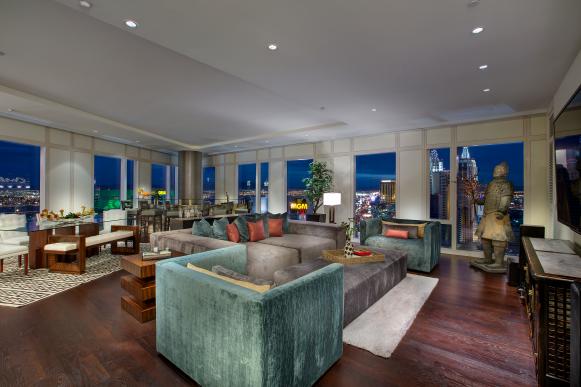 Vegas High-rise with Oversized Furniture
The custom built lounger sofa measures at ten feet wide by six feet deep, plenty of room for one (or several) to lie down without their feet touching the ground. The oversized swivel chairs are wide enough for two to three people to enjoy at once.
John Martorano of JPM Studios
And while the luxury condo inspires a calm atmosphere contrary to its busier surroundings, the home still embraces the big city. Floor-to-ceiling windows turn the view of the Las Vegas Strip into part of the home's design.
"I really took a look at the outside space and tried to not take away from that," Escobar says. "You see pops of color and it's really just to highlight that background of the Strip."
To create a Zen-like environment that fostered relaxation, she turned to subtle Asian style elements, such as using textured grass cloth on the walls and pieces of bamboo.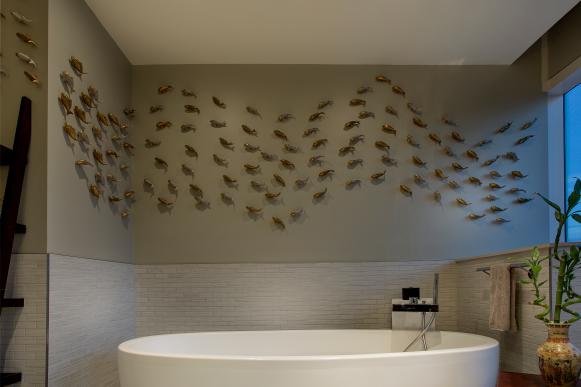 Koi Fish Art Piece Gives the Spa Bathroom a Peaceful Feeling
The pattern of these koi fish gives the bathroom an underwater feel. With the fish swimming above, the rest of the space, clean and neutral, gets a peaceful feeling as bathers soak away their day.
John Martorano of JPM Studios
The Asian influence becomes more significant in the master bathroom. Two hundred brass koi fish swim from the window over the bath in an art installation designed to create a serene sense of movement.
"It just takes you to another place," Escobar says. "Just soaking in the tub and seeing the fish swim by, to me it takes you to that state of bliss."
To further the feeling of genuine Oriental design, Escobar brought in a 6-foot-tall terra-cotta warrior statue from China and used an Asian mural in place of a headboard in the master bedroom.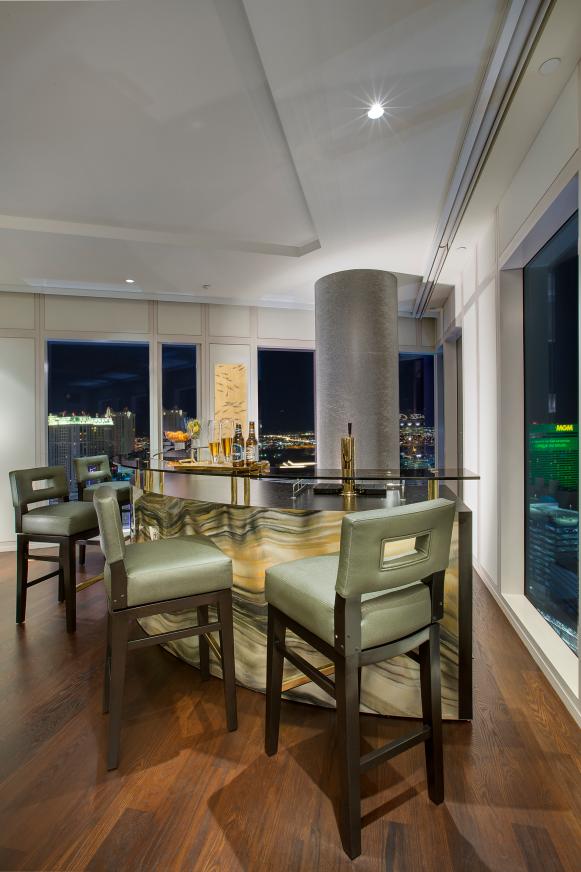 Asian Inspired Condo
A favorite feature of this high rise condo kitchen is the full size keg with brass gold hardware. The bar is perfectly situated to enjoy a drink while taking in the view of the strip.
John Martorano of JPM Studios
The homeowner – described by Escobar as a quintessential bachelor – had a suggestion of his own when it came to creating a relaxing environment: a spot for a kegerator that could store his favorite beers. Escobar turned that request into a sweeping custom bar with a glass countertop, brass tap and view of the Strip below.
"That's how I gave him his keg," Escobar says. "I packaged it up in this beautiful, 14-foot-radius bar which was absolutely stunning. It's a one-of-a-kind piece."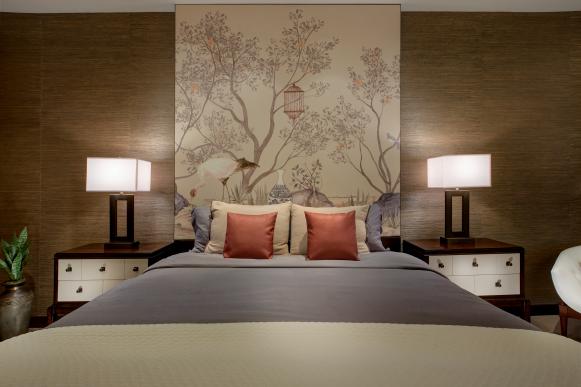 Asian Spa Inpspired Master Suite with Platform Bed and Imported Mural Headboard
This platform bed with soft, inviting linens and pillows is accented by the mural that was made into a headboard. This mural, imported from Thailand, was globally sourced and brings in the Asian spa feeling the couple desired. The end tables on either side of the bed are modern and bring in the dark wood often incorporated in the Asian style, while the lamps on the end tables help give the room light and make the space feel larger. The wallpaper is grasscloth wallpaper, which gives this accent wall a nice, rich texture, All of these elements working together make this space the everyday getaway the couple was hoping for.
John Martorano of JPM Studios
And while Escobar loves the large custom bar, she has a heart for the little details. She likes to incorporate what she calls "hints of yesterday" to give her spaces more character.
"I like giving a new life to something that's already lived before," Escobar says. "So I went downtown to and I shopped at these thrift stores and found this old bird cage and I upcycled it."