Designer Vanessa DeLeon used plush fabrics and deep gray accent pieces to put a glamorous spin on this complete home remodel.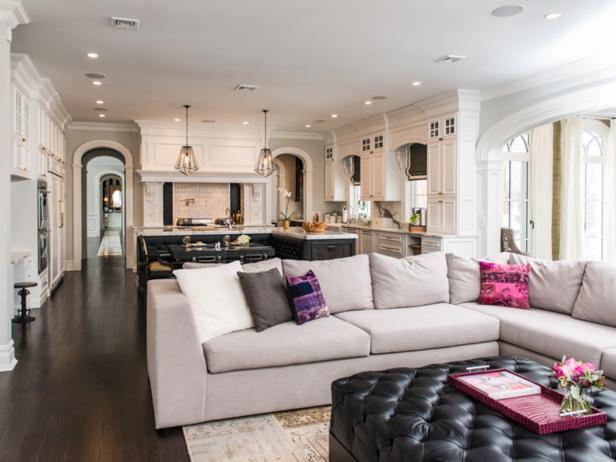 Open Living Room and Kitchen With Sectional Sofa
Furnished with a huge white sectional sofa, this open living room and kitchen has enough space for the largest family gathering. The black ottoman doubles as a coffee table in this transitional space.
Designer Vanessa DeLeon had her work cut out for her when tasked with redesigning this home, giving it a modern look while still keeping it family-friendly. The end result is stunning, proving that a delicate balance of elegant materials and cozy design choices can result in a space fit for everyone.
What were the main items on the family's wish list?
The design intent was to create a classic element with rustic detail for this family. No details in this home were overlooked.
What was your biggest obstacle in this space?
Being that the family has three young children, we had to be aware of the type of furniture and fabrics we choose. We wanted everything to remain sophisticated, modern and stylish with a kid-friendly touch.
How does the end result match up with your original vision for the space?
The home came out even better than anticipated, from the moldings down to the last accent pillow.