Glam Gender-Neutral Nursery
A neutral color palette mixes with graphic prints, luxurious textures and metallic accessories for a unique gender-neutral nursery. Turnstyle Interior Design included built-in bookcases and lots of floor space for a room that will grow with the child.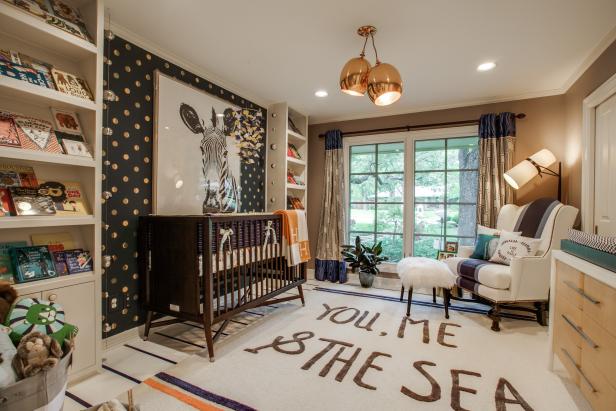 Brown Transitional Nursery With White Rug
The nursery's mood is at once warm, inviting and playful, with animal friends peeking out from the walls and storage bins and graphic prints energizing the serene color scheme. It's a space to love for years to come.
Allison Cartwright/ Twist Tours
What did your clients want for their nursery?
This couple came to Turnstyle wanting something artistic for their child. Knowing how we approach design and what we do, they relied on our creative license to dream up an interesting but real space. Of course, there were practical requests to keep in mind — the general things any nursery needs to help new moms and dads as they start handling a newborn at all hours. But they went into this aware of our experience with child-related spaces and our commitment to and emphasis on creating spaces that help children grow through discovery.

What was the room being used for before? What makes this space unique to your client?
Originally, this room was a home office. This being their first child, we used the change to a nursery to set a more playful tone for the rest of the home. Even though we were mindful of connecting beautifully with other areas in the house, the homeowners have since used our nursery design as a jumping-off point for more boldness throughout the home. This continued spirit is certainly a nice byproduct, since the way they use their home will now shift with the patter of little feet running around. We are always mindful of going full-on fun on any design in a luxurious and more established way; it's necessary to stand the test of time and the constant, fast-changing needs of a family.
What was your biggest obstacle in designing the nursery?
On this project, if anything, I'd say it was time. This little boy arrived much sooner than expected, and given that we are based in Austin, not locally in Dallas where this project took place, lack of time played more of a factor than we are usually up against, even on other out-of-town projects. I will say, though, that this made it a highly engaged project. We are always pleased at the opportunity to help welcome a child into the world, and at our best when there are unusual issues to crack. My team works well together to problem-solve; it's a wonderful thing to watch.
One memorable little moment was the recurring disappearance of the floor-lamp finial. It's a cool geometric shape, but small in size, and in our time crunch, this thing kept vanishing, rolling around under various pieces of furniture throughout the day. We eventually found it, of course, but between each team member it became a bit of a game of tag to hold on to the top finish-out piece of this very cool lamp.
What inspired this nursery's design?
As a designer, I am highly influenced by the lifestyle that a client is aiming to reach. We all have our dream scenarios, and my goal is to help people realize those and educate them on how to get there. Given my European/American background, I draw on all sorts of cultural and historical contexts, thinking about how a space is experienced. It needs to feel unique, it needs to feel sincere and, most importantly, approachable — you want your home to be the best version of you.
For this family, this nursery is the space where they will, in large part, watch their child grow. At Turnstyle Design, we see a child's space as the place they go to ponder, daydream and be silly, so here, too, the room needed to feel engaging.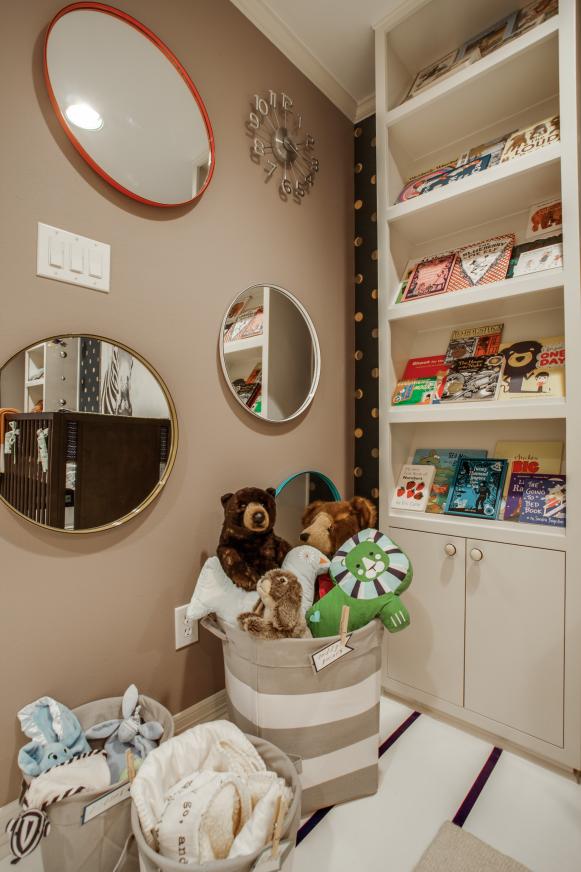 Corner of Kid's Room With Bookshelf
In this cozy corner, bins hold stuffed animal friends and blankets; labels secured with clothespins are a cute and flexible way to tag what's inside. Colorful kids' books become part of the visual fun on a tower bookshelf.
Allison Cartwright/ Twist Tours
The wallpaper from France is a series of moon cycles, all the better for storytelling as a child starts to ask questions about the world. The custom bookcases are meant to help the child see what's available and fall in love with books — their illustrative beauty, their imaginative coloring and their tactile nature. The bold patterns and colors are a signature of Turnstyle's approach to design and serve to open a child's (or an adult's) mind to what's possible in technicolor. Those unusual combinations are what make our spaces unique, just like the people who live in them.
Was there a particular element that tied the design together?
Because it's imbued in my company's philosophy, we believe that any well-designed space is part of a whole. This means we never really go off of one, singular piece. For us, it's important that each item complement another, and that together they lift one another up. We custom-make a lot of our pieces, which allows us to establish a certain synergy between them. Our custom-designed curtains are something we are known for, so those are always a pleasure to bring to any room and a standout for us.
What feature are you proudest of?
That's a great question. What makes me proudest on any project is, without doubt, the client's joy on reveal day. While we are not doing anything as significant as saving lives, we are helping families fall in love with their day to day. We're proud to help them find their best in the little things.
With a child's room, my favorite part is giving them a space to get creative and grow. We all have fond memories of our childhood bedroom; can you imagine if that had in addition been in a haven of color, pattern and engagement? I hope that these children will want to take a few of their favorite childhood room things into their first apartment and then into their first home.
How did you choose the oversized zebra print and decide the room's palette?
The zebra was a find for scale. Its size makes it impactful and is something a child can easily see — great for parent/child discovery conversations. The color palette needed to be soft and sweet for a little newborn. My color choices, however, are always meant to be able to mature with a child since they reach toddlerdom and elementary ages much faster than you think.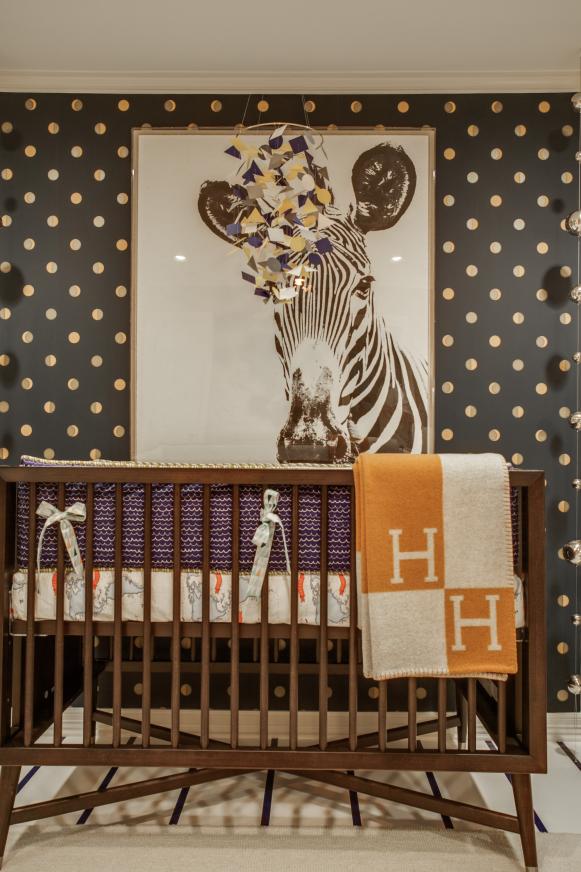 Black Nursery With Polka Dots and Zebra
Black might seem like too strong or dark of a color for a nursery, but perked up with gold polka dots, it's whimsical. Zebra artwork and a geometric mobile are the perfect lively companions.
Allison Cartwright/ Twist Tours
What makes this project uniquely yours?
Turnstyle Design inherently values the intersection of color, pattern and playfulness in the most luxurious way. We approach each project as a unique one so that we can push a client out of their comfort zone and into that place they've always wanted to exist. With material texture and form and things you inevitably want to touch, we seek to create spaces that people love to spend time in and feel most at ease in doing so. This space is cozy and bright without being garish or dumbed down. It's layered and ready for its inhabitants to keep adding to it. It offers a ton of function so that it avoids becoming overwhelming, with a place for everything and everything in its place. It also has lots of soft texture to comfort a little one and a ton of open floor space to allow for hours of on-the-ground fun.
What "hidden gems" are in your design?
Details all the way! We love a few hide-and-seek moments, too. See if you can find the silver ball sculpture detail that will still be cool as this kiddo becomes a teenager. Or the wall-applied child's name meant for identity exploration each time he's on the changing table. We love the distinctive area rug phrasing that will no doubt become nostalgic, and we bet the soft sheepskin stool will find its way into any future homemade fort. One of our favorite flourishes is the hand-painted Marinière stripe — it makes for a very cool custom floor.