Outdated Master Suite Goes Glam
Designer Nile Johnson proves he knows design when he turns a master suite that's stuck in the past into a glamorous getaway full of interesting details.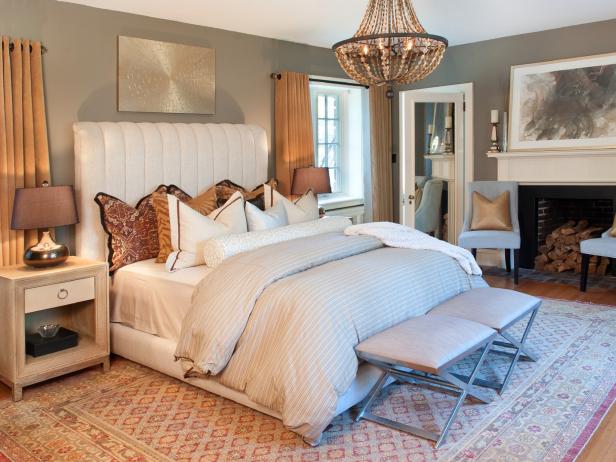 Create a Regal Feel In a Luxurious White and Gold Bedroom
Photo courtesy of Katrina Mojzesz
According to designer Nile Johnson, one wow factor just isn't enough. Read on to see how he made this entire master suite a jaw-dropping, luxurious escape.
Describe the homeowner's wish list.
The main desire for the space was to have it updated in a way that showed off its full potential. Everything else was up for grabs and open for discussion. Therefore, the room came together more organically than other spaces I have done in the past.
What was the biggest issue the design addressed?
The room was very dated. It needed to be caught up by several decades, and that proved to be a little bit of a challenge with the homeowners. They had become comfortable with their surroundings, and the dramatic transformation was a bit of a shocker at first. It was important for me to give them something that had personality, independence and timelessness, while not completely alienating them with design concepts and ideas.
Describe an obstacle in the space.
The budget did not allow for a bathroom remodel (which it desperately needed). I had to figure out a way to give the space an update, while staying in budget and aesthetically matching the rest of the suites elevation in schematics and design. It was through paint and fabrics that I was able to achieve an eclectic yet serene space that worked really well with the master bedroom.
How did the end result match your original vision?
Originally there were plans to have the entire space wallpapered and to have an elaborate molding treatment done on the ceiling. However, it seemed more appropriate to allocate those funds elsewhere, due to the budget. By not using the wallpaper on the walls, I landed on a great color that has sparked a lot of conversation. The chandelier that I used for over the bed was already an interesting piece due to its composition of juxtaposed materials. However, the pattern that its lighting made on the ceiling, once installed, was quite spectacular and something I couldn't have imagined in my initial conceptual phase.
What lessons did you learn from this project?
One of the lessons I learned while working on this project was the importance of staying in the moment with the process and the design. A lot of times, it is easy to become caught up in the process of a project, and I forget to ensure that not only my clients, but myself as well, enjoy the experience. By doing this, I think we all looked at the final designed space with a much greater appreciation for the journey we took to get there.
What are the hidden gems that make a big difference?
I always approach the design of a room with what I like to call the "ensemble approach." So many times I have heard clients request a "wow factor" or a "pop" for their spaces, and while those things are fine, they have their place. I don't believe every room should have one solitary item that provides the wow or pop. It is my belief that a good interior should mirror a symphony. The French horn alone is okay, but the collective ensemble of all the instruments used in harmony creates an even bigger impact. One of the ways I looked to achieve this was through the use of luxurious, yet durable, materials. The window treatments were made of a very sturdy velvet, and the custom bedding had touches of leather, mohair, silk, linen and cotton, creating an interesting composition. I also merchandised the bookshelf with items that were different in look and feel and painted the back of it in a contrasting yet complimentary color, which helped the custom built-in to stand out a little more. Juxtaposing mirrored accents, distressed woods and vintage carpets all helped in the creation of the interestingly serine suite.