Eclectic Black and Yellow Guest Room
Designer Ashley DeLapp used creative furniture choices and funky patterns to maximize space and make over this guest bedroom retreat.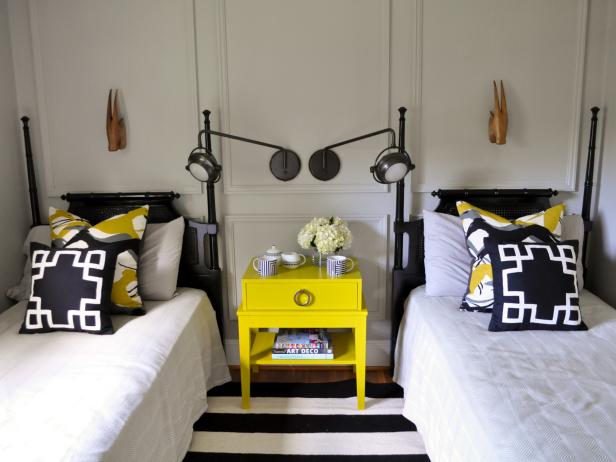 Black and Yellow Guest Bedroom
This eclectic neutral guest bedroom has two matching beds with mismatched black and yellow pillows, a brightly painted nightstand and black and white striped area rug. Matching wooden deer taxonomy and clever wall-mounted lighting bring personality to the space.
Working with a small room can be a challenge for any designer, but with creative furniture choices, designer Ashley DeLapp was able to maximize the space in this guest bedroom. Using a funky black, white and yellow color palette, the overall look of the room is eclectic and contemporary.
What were the main items on the owner's wish list for the redesign of this space?
To make the small, boring box of a bedroom inviting for guests.
What was the single-largest issue you wanted to address for the family?
This family is large, with five children in the house every other weekend. They needed a guest room, but wanted a room that could transition to a bedroom for one of their boys easily, should he get tired of sharing a room with his brother. With only four bedrooms in the house total, it was crucial to incorporate as much sleeping space as possible, which is why I opted for two twin beds in the room.
What was your biggest obstacle in this space?
Again, this room was tiny, and cut up. The house is older, so the bedrooms were on the smaller side. I had limited ways of arranging the furniture, so I took the only uninterrupted wall and made that the focal point. There were no architectural features, so I made my own by adding molding to the back wall. Using two twin beds with a shared bedside table maximized the floor space.
How does the end result match up with your original vision for the space?
This room was a work in progress. It was a bit of a departure style-wise from the rest of the house. I wasn't going for a steampunk look, but that's the look that evolved. My original pick for an overhead fixture was too large, so I had to scale down and find something simpler to tie into the other elements of the room. I chose a simple metal drum fixture; it's understated, but continues the industrial look I was going for.
What surprised you the most about this project?
I learned that things don't have to be set in stone. Design is a process and it's OK to stray from what you originally begin with –– that's part of the fun of design, right? There are so many avenues to go down, you might find a new style you love by taking a chance and stepping out in a new direction.
What are the hidden gems in your plan?
Definitely adding the molding –– it adds a layer of interest. Painting the molding the same color as the walls was important in such a small space. If I had painted it to match the trim, it would have looked choppy and been distracting. Using the wall-mounted lamps was also a space-saving trick. With the beds sharing a bedside table, I didn't want to take up precious space with a table lamp. Repeating the black and white motif really makes a statement and makes that room feel special. The pop of citrine on the bedside table steals the show. I'm not sure the room would have been as impactful without it.