Neutral nursery colors provide a nurturing environment as your child grows and matures.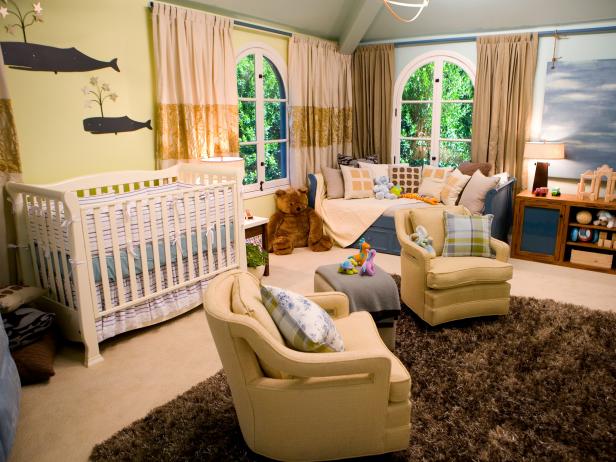 hstar408_nursery-crib-dan-after_4x3
Nurseries can be incredibly arduous spaces to design but Dan shows no fear in tackling this space for actor Jason Priestley and his family. Managing to make it feel both baby-friendly and sophisticated, Dan smartly borrows elements that allude to the sea while avoiding both kitsch and standard nursery fare. A serene painting of the sky graphically hangs from nautical rope above toy storage, while tin whales spouting stars glide across the crib wall. Subtle greens and blues intermingle perfectly while a giant floor mirror (leaning on a wall that has been painted to appear as if the sea is rising on it) beams light back into the space beautifully.
Choosing neutral colors for your baby's nursery will give this special room a nurturing palette that will last as your child grows and matures. Colors ranging from white to brown offer a soothing mix of cool and warm, and combinations of these colors are less trendy than brighter hues. Find a blend of neutrals in your furnishings and walls that creates a look that both you and your baby will love.
Beige, taupe, grey and green can all serve as a backdrop for your baby's furnishings; they work well if you're waiting for the birth of your child to learn the gender. Neutral for a nursery can also mean gender-neutral. You can blend beiges and whites with pops of yellow, green and other bright but soft colors in wall art, quilts, lamps and other furnishings that work well for a little girl or boy. You can also get the foundation of your room ready and add gender-specific touches after the baby is born.
You can play with varying tones of one color, even incorporating softer hues of yellows and greens to maintain your goal of a gender-neutral color scheme. If you know your baby's gender, you can still create a neutral setting with touches of pinks or blues for a classic look that still has personality. Even dark grey can work in a nursery, lightened with white window treatments and furniture. Add a touch of bright pink, blue or green for a nice color pop.
White is a good neutral nursery color that works well for baby girls and boys. Keep a nursery with white walls from looking cold by adding neutral earthy elements such as a jute or sisal rug, bamboo or rattan shades or unpainted wood furniture. Soft bed linens and drapes, even if they are also white, will add warmth to the room.
Whatever shades you ultimately choose, most design experts advise against created a themed nursery with a wallpaper border or a mural in a cartoon character; children outgrow these much more quickly than a room that incorporates timeless style. You can certainly go with a mural, stripe or stencil, but you should stick with subtle looks. For a mural, look to nature—the elegant silhouette of a tree painted in white on a neutral wall is a look that is timeless enough to be appropriate for a child well into grade school.
Other Nursery and Baby Room Colors
Get More Ideas for Bedrooms