Chic West Hollywood Nursery With Bohemian Flair
Wake + Loom infused this nursery with soft and whimsical touches, creating a peaceful space fitting for the new baby.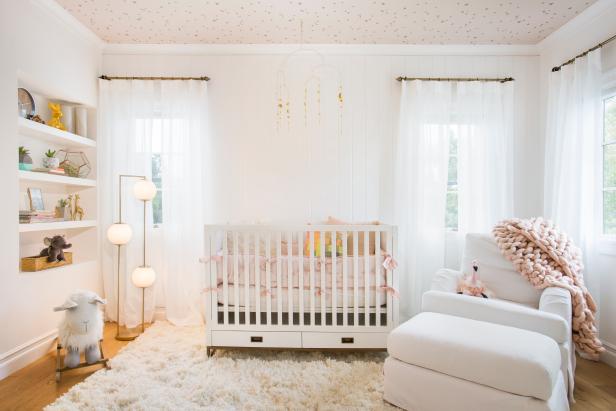 Pink and White Contemporary Nursery With Sheep
A patterned ceiling is a fun idea in this nursery—designers went with palest pink speckled in gold—drawing the eye up and keeping the overall mood peaceful with white walls and sheer curtains.
What were the main items on your client's wish list for the design of their home?
Our client's needs for the nursery aspect of the project were to create a space that felt soft, light and bright with a lot of texture and sophisticated touches that weren't typical nursery choices. The second aspect of the project was to redesign the connecting bathroom, which again was to be light and bright, with feminine hints and brass accents throughout.
What makes this home unique to your client?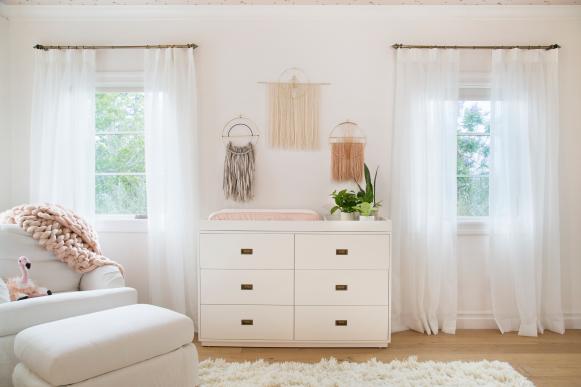 Neutral Bohemian Nursery With Wall Hangings
The palette in this nursery is soft and dreamy, neutral shades that take their inspiration from the natural world. For visual interest, designers layered in inviting textures: a trio of wall hangings over the changing table, a cloud-like rug, a thick crocheted throw.
Our client was a big part of the inspiration, as she has such a soft, sweet energy that we wanted to embody in the space as well. The rest of the house has a lot of whimsical and slightly bohemian touches that we wanted to carry through into the nursery as well.
What was your biggest obstacle in the design of the nursery and how did you address it?
The only real challenge we faced was the timeline. Our client was expecting her first baby and we had to make sure everything was good to go a few weeks before her due date. We worked with Luxe Remodeling on this project, and as always, they worked really fast and definitely made the tight timeline doable.
What was the inspiration for the style of this nursery?
Stuffed Flamingo on Chair
The flamingo sets the tone—think pink—for fun and color in this nursery.
We were really inspired by the idea of creating a space that felt like living on a cloud. We love whimsical elements like wallpapering the ceiling to create a blush and gold starry sky, as well as the plush, coziness of the rug.
How did you select to wallpaper the ceiling in this nursery?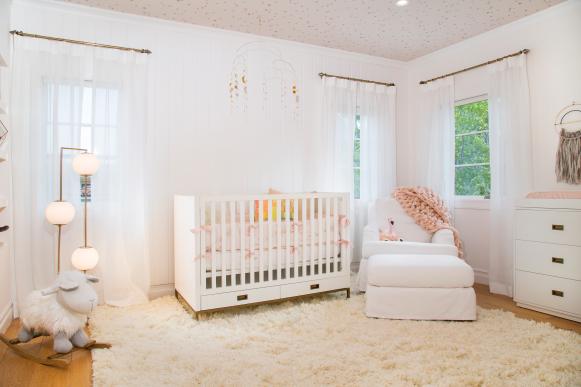 Neutral Contemporary Nursery With Pink Throw
Gold, cream and pink warm up the white walls of this nursery, while still maintaining the room's soft, serene feel. And who wouldn't want to slip off shoes and dive into that feathery shag rug?
Wallpapering the ceiling is something we are always trying to push our clients to do, but it doesn't always happen. It's a bold choice that can really change the vibe of a space, and luckily with this project the risk paid off and turned out rather dreamy.
How did you choose the tile in the bathroom?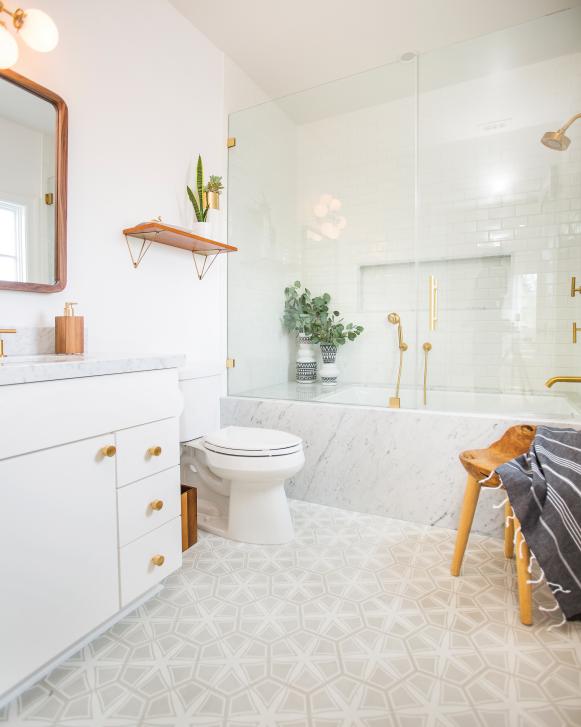 Neutral Small Bathroom With Graphic Floor
In this small bathroom, the floor gets a graphic pattern that doesn't feel at all overwhelming in pale gray and white. For warmth, brass and wood accents are just the thing.
We wanted a fun, bold cement tile that worked well with everything else going on in the nursery and bathroom. There are so many fun options out there these days that it was hard to pick just one.
What are the "hidden gems" in your design?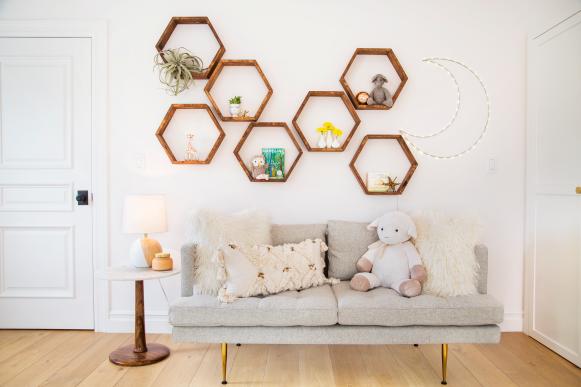 Contemporary Sitting Area in Kid Room
Wood hexagons turn this kid room wall into a honeycomb of fun details, filled with houseplants, kids books and toys.
We loved styling the space… a lot of our favorite gems are in the details. Doing the wall of hexagonal wall shelves was really fun to style, as well as the wall tapestries over the changing table. The delicate brass mobile over the crib felt like a sophisticated way to incorporate a mobile as well.