Gray Contemporary Living Room
Designer Vanessa DeLeon created a contemporary oasis in this Tribeca apartment, leaning on deep grays and modern furniture to complete the look.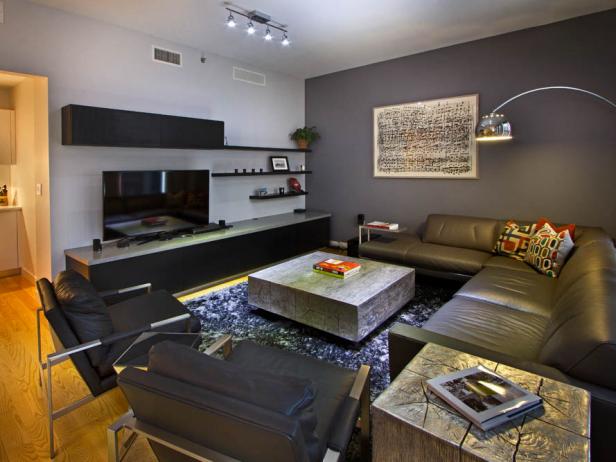 Bits of Texture
A square metal table and plush carpet add texture to the living room space
Designer Vanessa DeLeon created the ultimate contemporary space for this Tribeca apartment, using black leather furniture, deep gray walls and a transitional dining area. The end result is a sleek, modern space fit for the ultimate city dweller.
What were the main items on the owner's wish list?
This apartment was modeled for a musician bachelor. He wanted a simple concept with contemporary details.
What was your biggest obstacle in this space?
If anything the apartment had little lighting, so we had to install lighting fixtures throughout the living room and dining room ceiling.
What are the hidden gems in your plan?
Particular artwork was featured throughout the apartment, and there is character in every section. A great highlight in this space was the black 3-D wall panel in the hallway.