Contemporary Hoboken Living Room
Designer Vanessa DeLeon struck a beautiful balance between modern and rustic in this urban living room.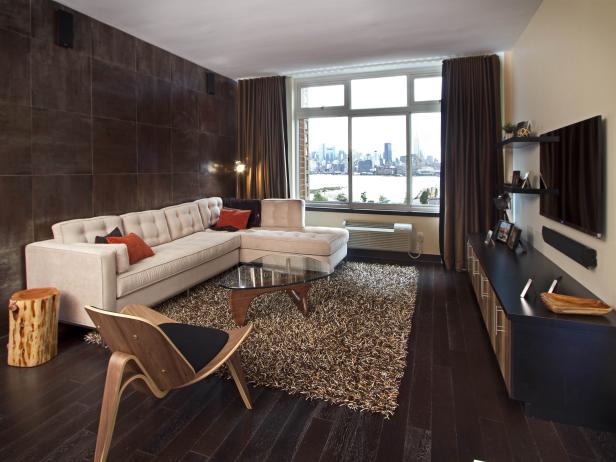 Contemporary Living Room With Slate-Gray Walls
This living room balances rustic and modern elements by pairing a pure white sofa with slate-gray walls. The large, open windows provide a spectacular view of the city.
When this Hoboken homeowner requested a contemporary look with a welcoming feel, designer Vanessa DeLeon used a warm color palette mixed with modern furniture choices to get the look. The end result is an urban yet rustic apartment design.
What were the main items on the owner's wish list for this space?
The homeowner was looking for a modern, rustic feel. He wanted the space to be warm, inviting and clean for great entertaining.
What was your biggest obstacle in this space?
The only challenge had to be creating an equal balance between rustic and modern.
How does the end result match up with your original vision for the space?
Normally when we start a project for a client, we provide renderings that show exactly what the space will look like down to the pillows on the sofa. Doing this leaves no room for error and the client gets exactly what they wanted. At the end of the day everyone is happy.
What are the hidden gems in your plan?
The porcelain we used on the wall was a great feature. We also found great vintage artwork pieces such as the clock and artwork on the dining area wall.