Traditional Style Tuscan Kitchen Makeover
Designer Chantal Devane takes a kitchen from boring and blah to beautiful with a classic, Tuscan design.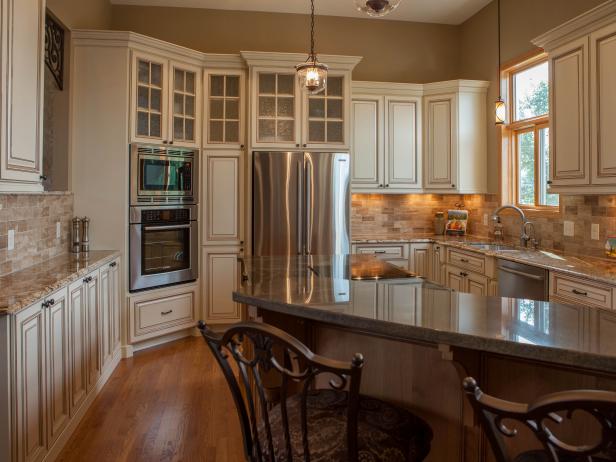 Elegant Kitchen With Breakfast Bar
This elegant kitchen showcases beautiful ivory, glazed cabinetry in conjunction with the maple island, creating a warm and inviting space. A family-friendly breakfast bar adds charm and an additional place to gather for a snack.
Valerie Jardin, Photography by Valerie Jardin
Designer Chantal Devane gives a dull, out-of-date kitchen a major facelift with updated appliances, elegant cabinetry and an easy flow for entertaining. The resulting space is timeless and traditional with a Tuscan flair.
Describe the homeowner's wish list.
The homeowners love to cook and entertain. They wanted a space that could accommodate more than one cook at a time, and it could have multiple stations for performing various tasks simultaneously. And while they were preparing the meal, they wanted their friends to be able to hang out and engage in conversation and enjoy some wine before moving into the dining room.
What was the biggest issue the design addressed?
The ceiling height started out at 13-feet, 8-inches high! It was too open, and the added height created issues with both venting and lighting. We lowered the ceiling to a more manageable 12-foot height, which also helped with the overall feeling of the room in addition to the added function.
Describe an obstacle in the space.
The ceiling height was the main issue and a problem we typically don't see in homes in this area. We didn't even have scaffolding tall enough to tackle it!
How did the end result match your original vision?
Our plans stayed on track, but we had a snafu with the appliances. We had some pieces on backorder, which delayed our project; and then when they finally did arrive, the whole delivery was damaged! We had to re-order everything, and it was a big headache for both the homeowners and the contractors.
What lessons did you learn from this project?
I really wanted to make this space something that the homeowners really dreamt about. Some of the original ideas seemed a bit over the top for space, and I wanted to be sure to keep the budget in check and consider resale value. We simplified some concepts to keep everything cohesive to the rest of the home but still managed to make the space shine with uniqueness and original features. As a designer, I am reminded that in addition to making the clients happy I should always trust my instinct and make a point of explaining why something will or will not work well in a space. It's a matter of trust, but it makes for a successful outcome.
What are the hidden gems that make a big difference?
When we opened up the pass-thru into the dining space, it needed an element to add personality to tie in the two spaces; so we custom created a tableaux insert to add visual interest. It really helped carry over the feel of the kitchen into the rest of the living area, and it is a lovely feature seen from the front entry. We also had some smaller, angled base cabinets located near the patio door. We fell in love with the clients' two dogs while we were working with them, so we were happy to hear that the space was put to good use and made into the dogs' treat storage.