Mediterranean-Inspired Backyard
Landscape designer Michael Glassman creates an outdoor oasis with beautiful plantings, a flagstone patio and al fresco dining.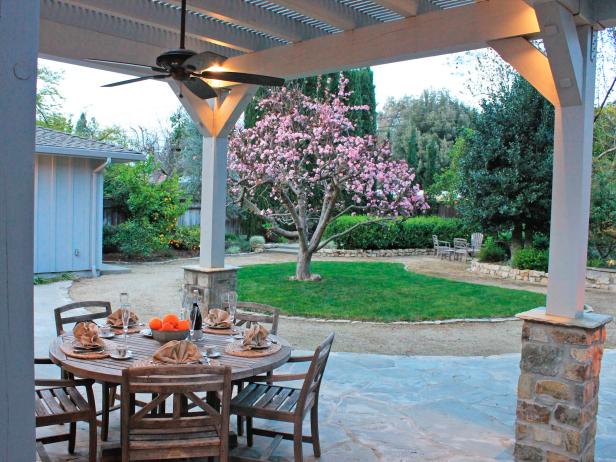 Elegant Patio With Wood & Stone Pergola
An outdoor ceiling fan adds a much-needed breeze when entertaining on this stone patio. A wood dining table and chairs have a rustic elegance, while stone columns dress up the white pergola overhead.
Landscape designer Michael Glassman takes a formerly concrete backyard and transforms it into a unified, Mediterranean-designed landscape with a wood-burning fireplace at center stage.
Describe the homeowners' wishlist.
They desired for a new patio, fireplace, shade and cohesive design. Before, there was an unattractive concrete, which was chipped and falling apart, and there was no shade. The husband likes to barbecue so the fireplace was made to be a cooking facility with racks.
What were the homeowners' design problems?
The major problems were lack of cohesive design, usable space, unification of entire landscape, which had a small area out back with a few cypress trees and decomposed granite. The space was unified with cypresses along the back for privacy. The decomposed granite was used as a walkway around the yard. We got rid of the aggregate patio and built a natural flagstone patio in golds of decomposed granite and raised up planter walls to contain planting areas. We built an overhead structure for shade to pare the strong afternoon sun.
What was your biggest obstacle in this space?
Finding the proper materials and timing of work. They started the project, then had problems with the siding of the house and had to reside it. By the time they restarted, they couldn't find the decomposed granite, so we had to search for the right materials for that and the flagstone, too.
How does the end result match up with your original vision?
We had problems finding appropriate materials.
What lessons did you learn?
How long a project can take to complete. The contractor had timing problems and finding materials was tough. In the future, we'll buy extra materials and store it from the get-go, even if in a warehouse.
What are the "hidden gems"?
The fireplace was designed to cook. The homeowner loves to cook bread and fish outdoors, so we installed racks. It is a wood-burning fireplace with a gas assist, so when burning wood is outlawed it will have a gas line.