Modern Dining and Living Room
Designer Benjamin Cruz mixes a gray-and-white color palette with low, streamlined furnishings for a fresh, contemporary living area.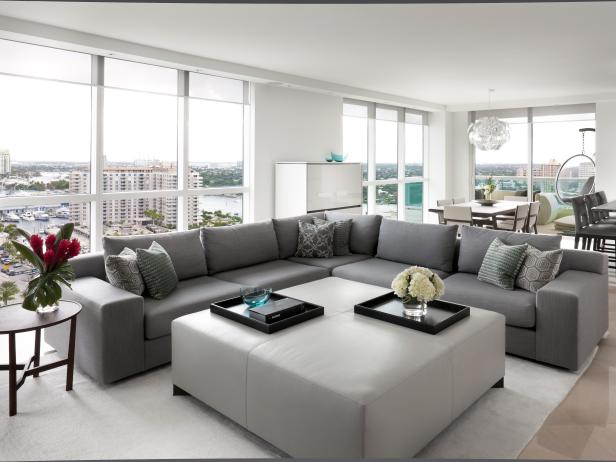 Open Concept City Living With View
This open-concept living space keeps the magnificent view obstruction-free from all angles. The low sight line furniture helps to keep it even more unobstructed creating the perfect venue to enjoy the view or entertain. The soft gray and white hues make the space inviting and cozy.
For this Fort Lauderdale, Fla., design, designer Benjamin Cruz gives an open-concept high-rise a sleek yet comfy style perfect for a weekend getaway.
Benjamin shares with us his biggest obstacle and favorite design elements from the project.
Describe the homeowner's wish list.
The client is from New York and purchased the condo as a winter weekend getaway.
While he wanted a stylish space, it still needed to be comfortable. A place where wet bathing suits and sandy feet were as welcome as cocktails and high heels.
What were the homeowner's design problems?
The main issue was the client's other homes were very traditional. Given that this unit was in a new, modern high-rise, I wanted to make sure the client was on board with a clean, contemporary look that was appropriate to the space but still achieved his request for comfort.
What was your biggest obstacle in this space?
Lighting. There was no overhead lighting in the living and dining area. I had the contractor build a soffit around the entire perimeter of each space and had recessed lights installed. This provided the necessary lighting but did not look like an obvious add-on. It looked natural and discrete in the space.
How does the end result match up with your original vision?
The end result was as planned except for the sofa placement. Originally, the large corner sofa was to face the windows for the view. However, once delivered it cut off the room awkwardly. I turned it so one side had its back to the windows. This opened up the space and provided a natural division of the living and dining areas, while still allowing for a view.
What lessons did you learn?
What surprised me most was with such a clean, almost white box palette to work with, the importance of proper color, texture and finishing choices are enhanced and even more crucial to the overall design success.
What are the "hidden gems"?
The hidden gem was the color cohesion. I had to maintain the clean gray and white palette I had agreed upon with the client. I kept the wall white, but did the trims in high-gloss to give some shine and contrast. I used a walnut wood on some furniture to add warmth and included pops of color via accessories and graphic, textured pillows.