Open, Contemporary Georgetown Flat
Designer Andreas Charalambous remodels a Georgetown flat, creating an open floor plan that transforms the space into a sleek and modern retreat from the city.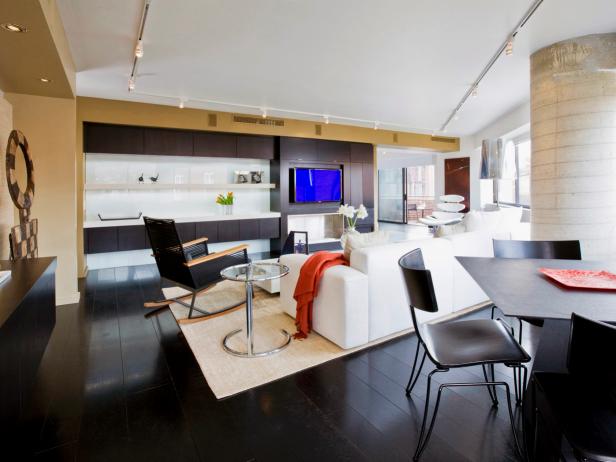 Contemporary and Sleek Living Room
Designer Andreas Charalambous uses ebonized wide plank wood flooring throughout the Georgetown flat to create cohesion in the different rooms. Custom cabinetry provides plenty of storage for electronics, allowing for a clean, streamlined look in the living room.
Designer Andreas Charalambous of FORMA Design Inc. tackled an apartment with an awkward layout and design obstacles, in the form of concrete columns, to create a functional and stylish second home for his clients.
We asked Charalambous how he conquered design challenges and achieved his goals in this remodel.
Describe the homeowners' wishlist.
The clients, a South American couple, commissioned FORMA to totally redesign this 1,500-square-foot, two bedroom, two bath flat on the canal in Georgetown to be used as their United States pied-a-terre. The difficult floor plan is triangular in shape with large exposed concrete columns marching through it, and it incorporates a second balcony off the North facade as interior space.
What were the homeowners' design problems?
The space was very disjointed and dark. FORMA's approach was to open up the interior spaces, especially the kitchen, and use mirrors, translucent resin and reflective panels in key locations, in order to create longer vistas throughout and make the space feel bigger.
What was your biggest obstacle in this space?
All the rooms were strangely configured because of the triangular shape of the apartment. The goal was to create other focal points and furnish the rooms accordingly, so the focus was off the awkward shape of the space.
How does the end result match up with your original vision?
A duct in the kitchen that could not be moved actually became a design inspiration. By replicating it and extending it, it framed the chandelier above the breakfast table and added to the wow factor.
What lessons did you learn?
The use of the finishes throughout the apartment unites the space and makes it feel bigger. The contrast between the dark doors throughout and the white finishes in the bathrooms give the feeling of a spa-like escape.
What are the "hidden gems"?
Ebonized wide plank wood flooring, custom cabinetry, back-painted glass panels and beautifully textured wall panels come together to create an amazing environment that is flooded with daylight during the day, but becomes intimate and sublime once the sun sets.