Architects Stuart Cohen and Julie Hacker were determined to capture a garden view in remodeling a suburban Chicago kitchen.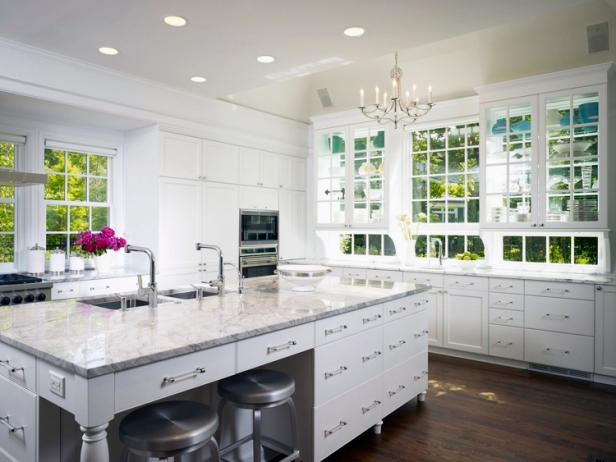 Timeless White Design
To play up the light and the home's traditional decor, architects Stuart Cohen and Julie Hacker pair classic white cabinets and crown molding with marble countertops and a rich wood floor.
The big challenge for this kitchen was how to bring in views but not block them with cabinetry and equipment. Architects Stuart Cohen and Julie Hacker created an innovative solution to hang the hood in front of a bank of windows and use see-through glass cabinets on another windowed wall.
To play up light and the home's traditional decor, they paired classic white cabinets and pulls, crown molding, marble countertops, a rich wood floor and a chandelier.
Describe the homeowners' wish list.
The homeowners wanted to open the kitchen to views of a newly purchased lot with new gardens to the north and the existing rear yard to the east. They also wanted to open the kitchen to a newly designed breakfast area and an existing family room to the south.
What were the homeowners' design problems?
The largest issue for us was how to get views of both gardens without losing storage space in the kitchen.
What was your biggest obstacle in this space?
The space was existing, and the homeowners wanted a sizeable kitchen with views of their outdoors and connection to the newly designed breakfast room and an existing family room. The biggest challenge was meeting these different needs while maintaining the traditional character of the house and the room.
How does the end result match up with your original vision?
Originally, the design called for large windows on either side of a stainless steel hood facing the new garden to the north, but the clients felt there was still not enough connection to the exterior space. We ended up hanging an island hood in front of continuous windows, which along with the see-through glass cabinets on the east wall added to the transparency and success of the entire design.
What lessons did you learn?
This project proved to us once again that we can successfully pair contemporary appliances with traditional detailing and cabinets, as well as create an open floor plan within a traditional home.
What are the "hidden gems"?
The double-sided glass cabinet is detailed so that it uses the exterior windows as its back surface. The glass window, in effect, becomes the back of the glass cabinet, allowing the viewer to imagine the cabinet as a window to the garden beyond.