Eco-Friendly Materials Inspire Kitchen
Designer Mary Beth Hartgrove creates a contemporary kitchen by combining natural materials with minimalist design.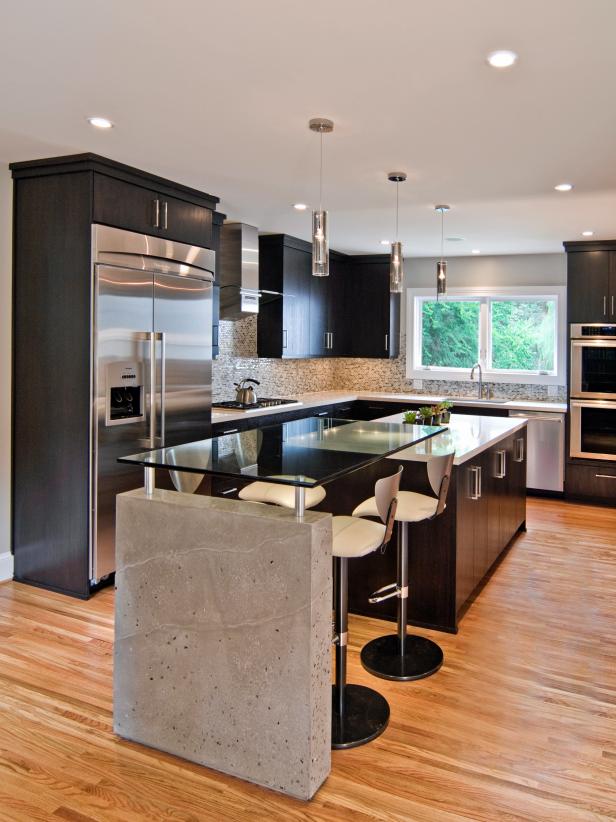 Black and Gray Contemporary Kitchen With Glass Dining Table
White quartz countertops, lyptus wood-veneer cabinetry, square trim and pendant lighting make a contemporary statement in this striking kitchen.
Homeowners turn to Mary Beth Hartgrove of Metropolitan Kitchen & Bath to open up their kitchen for cooking and entertaining. Using contemporary design elements, Mary Beth reworked the floor plan to create an open kitchen that includes a stunning bar area with seating.
Mary Beth shares how she used eco-friendly materials to complete the contemporary look.
What was on the homeowners' wish list?
The first objective was to enlarge the kitchen and create a flow between adjacent living areas. The second task was to achieve an overall contemporary design aesthetic while incorporating eco-friendly materials. The homeowners specifically wanted a seating area and an integrated bar with sink.
What was an issue the design addressed?
We needed to integrate a contemporary aesthetic into the existing 1940s ranch-style home that bridged the gap between the traditional and modern architectural styles of the home.
What was the biggest obstacle?
Space. In order to create an efficient kitchen layout that combined a bar area and seating into one multifunctional space I needed to enlarge the footprint. By combining existing rooms and eliminating others, the kitchen more than doubled in size.
How did the end result match the original vision?
It was amazing — this project didn't change from the original design other than material choices.
What lessons did you learn?
For this project, one design solution that I thought was particularly successful was the use of non-traditional squared trim molding on both the cabinets and the door and window casings, which added contemporary detail to a traditional convention.
What are the hidden gems in the design?
The hidden gems in this plan all involve texture. The island top is a raised glass table. For the table support, the concrete sculpture has a gradation of crushed backsplash tile in the aggregate.