Caribbean Blue Contemporary Bath
Using smart, eco-friendly materials and a fun, Caribbean color palette, designer Catherine Nakahara delighted her clients with this sleek, contemporary California guest bath, highlighting their all-time favorite color – blue!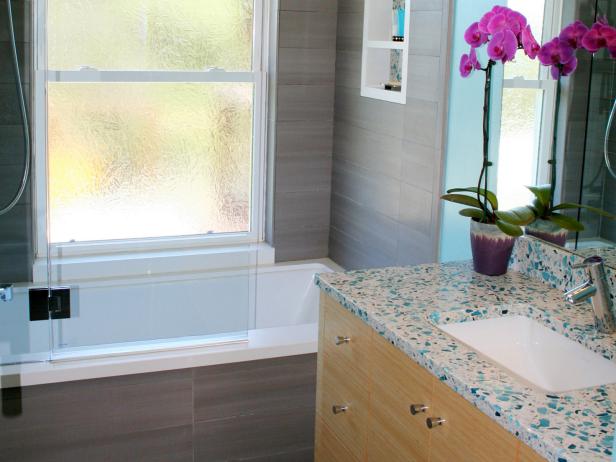 Caribbean Blue Contemporary Guest Bath
The perfect shade of Caribbean blue was a key to creating this clean and contemporary guest bathroom. Warm gray tile starts at the floor and continues onto the tub surround and wall in one clean sweep. Glass doors enclose the gray tiled shower, bath combination.
Picasa, scripps Networks, LLC
On her quest to bring the island life to this California guest bathroom, designer Catherine Nakahara drew inspiration from the bright colors and easy lifestyle of the Caribbean. The result? A stunning blue bathroom that is just what the clients ordered.
Describe the homeowner's wish list.
Our clients wanted a fresh, clean and contemporary new guest bathroom that featured recycled materials and showcased their love for the color blue.
What was the biggest issue the design addressed?
The room was very dark and cold, so to brighten it up we brought in warm, neutral colors that would blend beautifully with the rich colors of the Caribbean.
Describe an obstacle in the space.
The owners wanted a deep soaking tub, so we chose a Jason specialty bathtub, and then went with an undermount application for the tub, which added an additional 1.5 inches of overall height. The final depth of the bathtub is approximately 22 inches deep.
How did the end result match your original vision?
This project turned out exactly as I'd envisioned it! The warm gray tile beautifully compliments the Caribbean blue walls, custom bamboo natural cabinetry and blue recycled glass countertops. And the natural light, now warm instead of cool, shines in and gives the bathroom a fresh, contemporary look and feel.
What was the most surprising thing about this project?
Paint – finding the perfect Caribbean blue color. We tried several before settling on "the one."
What are the hidden gems that make a big difference?
The custom shower niche was made with remnants from the tub deck and countertop. The suspended vanity gives the room a lighter, brighter feel. The shower glass partition is hinged for easy access to the controls. There's a mirrored medicine cabinet tucked into the side corner above the vanity. The towel rack is hardwired so towels are always warm and toasty!