Old World-Inspired Estate
A Houston estate has a minimalist, unique aesthetic highlighted by architectural details. Designer Marie Flanigan embraced Old World, rustic and contemporary furnishings, accessories and artwork to create a truly singular -- and beautiful -- home.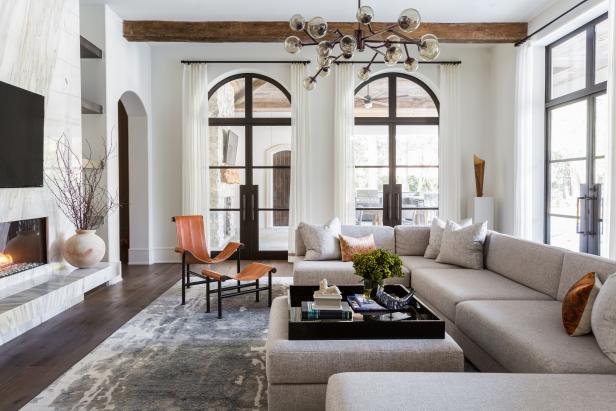 White Transitional Living Room With Oversized Sectional Sofa
A gray oversized sectional and matching ottoman anchor the seating area in this spacious transitional living room. The white palette is complemented by a marble fireplace and earth-toned accents, with large arched windows filling the space with natural light.
What did your clients have on their home wish list?
The couple who owns the home emigrated from Vietnam to Houston in 1975. They fell in love with the booming Bayou City and decided to make it their new home. Today, more than 40 years later, they are enjoying all Houston has to offer from the comfort of their newly constructed Piney Point home. They are admitted perfectionists who desired to work closely with their designer and builder to bring this new home to life. They selected a team that places a powerful focus on highly functional spaces, unique architectural detailing and texture-rich design.


The clients have a busy household and expressed how much they love to entertain. They wanted a home filled with spaces that feel grand, yet intimate, and were also passionate about their growing contemporary art collection. We wanted every detail to feel thoughtful so that we could share their interests and passions in a meaningful way. Though the home is quite large, we considered each space equally important and selected finishes, fixtures and furniture with that in mind. We played with scale and mixed contemporary styles with Old World textures to bring a sense of depth and story to each space. A nuanced color palette inspired by nature and strategically layered lighting created a home that feels timeless, fresh and undeniably romantic.
What makes this home unique to your client?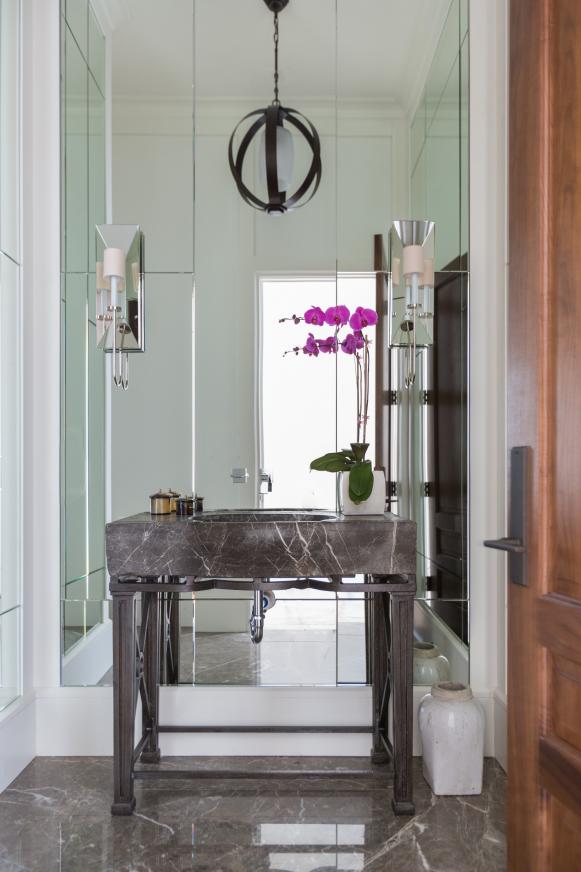 Transitional Powder Room With Marble Sink
This transitional-style powder room looks larger than it is thanks to a tall mirrored backsplash. The glossy marble floor is complemented by the striking marble sink, which has open space beneath, contributing to the space feeling roomier than it actually is.
In one word, this home is smart. Visually and functionally, each space serves up a welcome dose of minimalism, with every design element playing up its essential role. Not an inch of space is wasted, no unnecessary ornaments can be found, and there is something appealing and unapologetically sexy about that kind of simplicity.


What was your biggest obstacle on this project, and how did you address it?
We were actually surprised by how smoothly the entire process moved along. The most significant challenge was working with massively sized slabs, like the Calacatta marble fireplace surround, which required more complicated installation processes.
As far as style is concerned, we faced a small hiccup in the kitchen. The husband prefers a more traditional kitchen cabinet while the wife prefers modern, so we worked together to develop a plan that would suit both. In the end, we found what we were looking for at Eggersmann: uppers in a sleek modern finish and lowers in a traditional wood finish, and it's a joy to see how well the two styles marry.

What inspired the style of this home?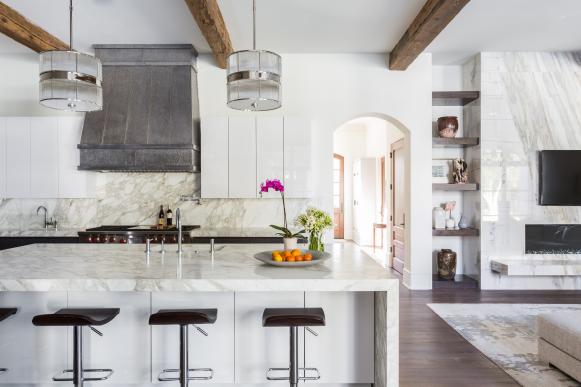 Neutral Transitional Kitchen With Waterfall Island
The large island in this transitional kitchen makes an attractive option for casual dining. Black barstools provide welcome contrast to the richly veined white marble that makes up the island's waterfall countertop and matching range backsplash.
The home's color story is mostly neutral with bright, well-edited bursts of color that play off the vibrant hues found in the abstract artwork that adorns the walls. Hard finishes were selected for their unique ability to make a bold statement without the use of intense hues. Particularly noteworthy is the kitchen countertop selection, which features intricate veining and a thick waterfall edge, serving as the picture-perfect backdrop for cooking and entertaining. Although many of the furnishings and accessories display a more modern, streamlined aesthetic, the home's ceilings, adorned in rough-hewn wood beams and paneling, infuse a raw, rustic vibe that plays nicely with the more contemporary pieces below. Light streams in through steel doors and windows, highlighting those rustic elements, bringing warmth and balance to this regal Houston estate.
What was your favorite room to design?
The lounge at the front of the home was such a joy to design. It's the first space you see when you walk through the front door, and I fell in love with the limestone fireplace, steel doors and wealth of natural light.

What's the best thing about this house in your opinion?
The light! Whether it's a distinctive fixture or the abundance of natural light streaming through the home's steel doors and windows, every space feels warm, open and inviting.


How did you select the sitting room chandelier?

I was looking for a fixture that would balance out the highly structured pieces below, and the construction of this chandelier, aptly named the Ringmaster, had a whimsical edge I couldn't walk away from.


What does the stone wall in the dining room add to the space?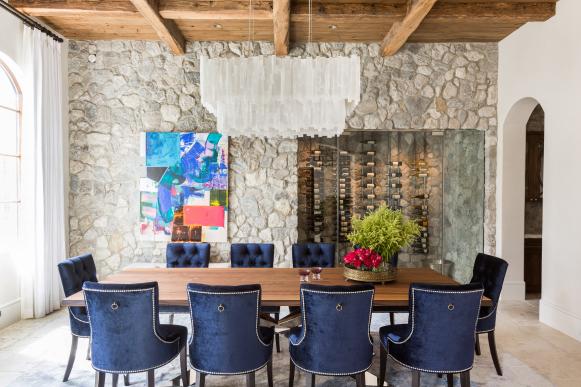 Transitional Dining Room Features Stone Wall and Wood Ceiling
A stone wall and rough-hewn ceiling beams add and Old World sensibility to this transitional dining room. The neutral palette is dressed up with colorful artwork and plush navy-blue dining chairs. Wine storage built in to the room makes choosing the right vintage for meals a snap.
The stone wall serves as an anchor in the dining space, playing off other organic elements in the room, like the selenite chandelier, hemlock ceiling beams and stone flooring. United with rich velvet upholstery, colorful contemporary art and a soft wool rug, the entire space celebrates a refreshing sense of juxtaposition.
What makes this project uniquely yours?
My education is rooted in architecture and I've always been drawn to the relationship that exists between interiors and structure. I celebrate that union through the use of rich textures, color and light, and playfully blend design styles, creating timeless moments that share a compelling story. In this particular home, we fully embraced the joy found in juxtaposition by uniting rich, earthy elements with those that are sleek and more highly refined, and through that process, we unveiled a minimalist style that manages to feel uplifting and refreshingly unexpected.