Transitional Family Kitchen
Designer Kerrie Kelly shares her story of a kitchen remodel that features an open floor plan for everyday family use and entertaining.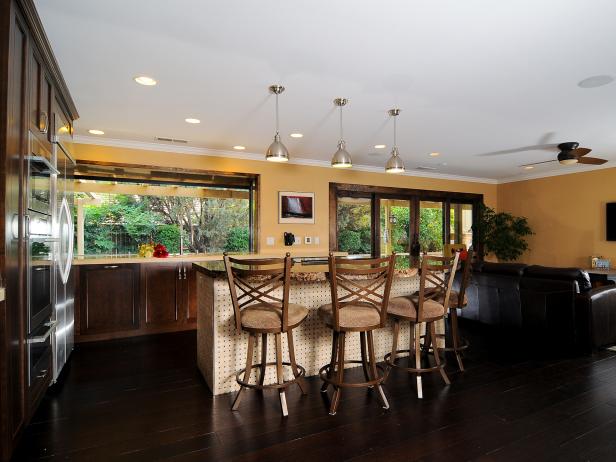 Transitional Family Kitchen With Island
A row of cabinets is removed to open up the kitchen to the living room, creating a large, family-friendly space. The hardwood floors are stained a deep brown, and the walls are painted a buttery yellow.
For this California kitchen remodel, designer Kerrie Kelly worked with a $45,000 budget to create a functional space that's truly the heart of the home.
The designer reveals how she conquered design challenges and achieved her goals for this kitchen design.
Describe the homeowners' wish list.
This family is on the go! They needed a space for homework, feeding dogs and entertaining. They wanted something that was easy to clean and maintain too.
What were the homeowners' design problems?
The single largest issue in this space was setting realistic expectations for a kitchen remodel. Dust, lots of trade contractors and a bit of time are all part of the recipe of remodeling a kitchen.
What was your biggest obstacle in this space?
Our biggest obstacle in this home was finding a slab that was large enough for the kitchen island. We wanted to eliminate the need for a large seam and have it serve as artwork for the space.
What lessons did you learn?
Planning the little details is a large part of a successful interior design. Because we took the time to measure cereal boxes, understand how appliances were used and the true need for pantry space, they were set up for success. We will continue to do this for our kitchen and bath projects going forward.
How does the end result match up with your original vision?
We are thrilled with the new space and so are our homeowners. Because we took extra time to plan for the homeowners' needs in the kitchen, the space functions beautifully for all.
What are the "hidden gems"?
My favorite hidden gem in this space is the laptop/phone/iPod charging station that is tucked inside flip-down drawer fronts in the desk area. I also really like the hidden wine refrigerator and recycling center. All of these areas just look like plain 'ole cabinets, but the function behind them is fabulous!