From Boring to Stylish Bachelor's Pad
Designer Ebonee Bachman transforms a young man's bland space into the ultimate bachelor pad, full of color and stylish accessories.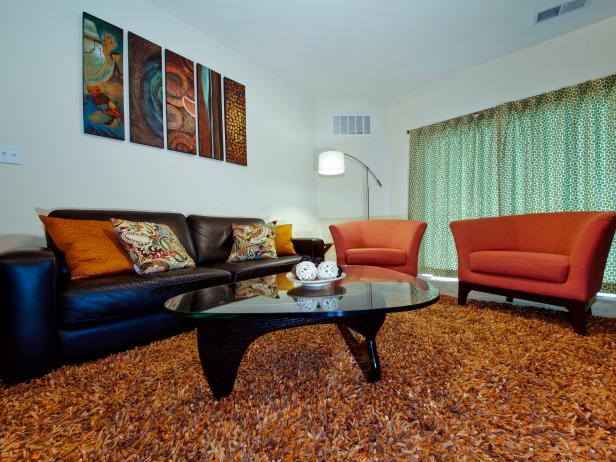 Color Enlivens Living Room in Maryland Apartment
Photo Courtesy of Duane Talley
Designing within a rental unit comes with a unique set of challenges. See how designer Ebonee Bachman takes a basic apartment and gives it a total makeover, creating a vibrant bachelor's pad filled with personality.
Describe the homeowner's wish list.
My client's wish was to transform his urban dwelling into a modern bachelor pad and create a home environment that would reflect his lifestyle, personal taste and vision.
What was the biggest issue the design addressed?
Before its transformation into a vibrant and cheerful space, the apartment had a very bland and generic feel. Although prewired to install light fixtures, there were no customized features or sufficient light fixtures. And the window treatments were functional but not aesthetically pleasing. To address this, I decided to liven up the space by choosing a mix of bright color schemes, vivid decor and customized features that would ultimately transform his living space into a cheerful and relaxed environment.
Describe an obstacle in the space.
Just as many property management firms have certain restrictions when it comes to renovation and painting practices, residents often face limitations when it comes to paint installations. For this project, I was limited to only one wall that could be painted in each room. I overcame this challenge by painting the accent walls with bright and vivid colors and by complementing the space with bold color decor—meeting a happy medium for both the client and the property management company.
How did the end result match your original vision?
At the beginning of this project, my plan was to replace the existing window treatments. Again, I learned that the property management did not allow for the removal of their blinds. To provide a simple solution, I chose custom drape panels to add additional accent colors and disguise the industrial look of the vertical blinds.
What lessons did you learn from this project?
As an interior designer, I must be able to generate the best design solutions to fit the project. While this project presented some challenges, I was able to find appropriate solutions and transform the bland space into the vibrant modern bachelor pad that my client envisioned. Lesson learned: bland spaces can be transformed by using bold colors and custom features.
What are the hidden gems that make a big difference?
The finishing touches of a living space are key to tying the design together. For this project, I decided to place an area rug in the living room over the wall-to-wall carpet to define the seating area and add color and texture to the room. In the kitchen, I added simple swivel bar stools from the Home Decorators Collection that I had covered in a custom fabric. The ceiling lighting fixtures were also replaced with a new modern chandelier design (that can be easily removed and replaced with the old ones if the client moves out).