French Country Kitchen Makeover
Designer Bonnie Pressley takes this kitchen from its dated '70s design to a classic French country style, complete with new appliances, antique accents and hand-painted tiles.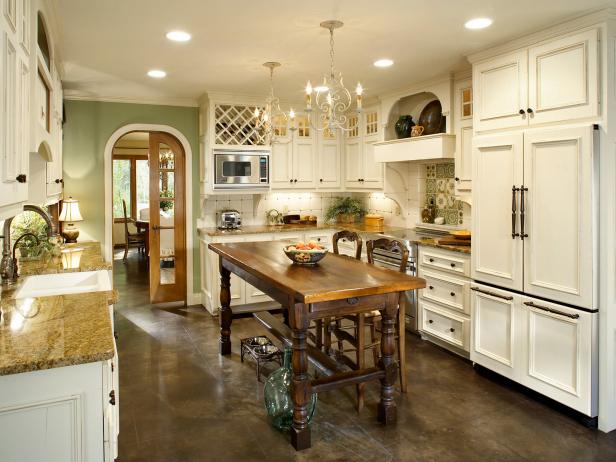 French Country Kitchen with White Cabinets and Chandeliers
This beautiful French Country kitchen is classically decorated with off-white cabinetry and an island that has the look of antique furniture. The large, built-in French door refrigerator, elegant double chandeliers, and the built-in wine rack above the microwave are showstoppers.
Once an old laminate kitchen, designer Bonnie Pressley transforms it into a classically beautiful French country kitchen with timeless design choices and stunning details.
Describe the homeowners' wish list.
They wanted to change it from a 1970s laminate kitchen to as authentic a French country kitchen as we could, which is the style of the rest of the home. The home dates back about 40 years.
What was the biggest issue the design addressed?
One issue was trying to incorporate all the details, including an antique cabinet. We had one custom-made to look old, so it doesn't resemble a standard kitchen cabinet. The owner also wanted more of the modern conveniences with custom drawers.
Describe an obstacle in the space.
We didn't really have an obstacle. This was a dream client. But she wanted a gas range, and we couldn't get a gas line into the space. Instead, we selected a microwave, electric oven and electric cooktop.
What lessons did you learn from this project?
It was worth the time it took for all the details. It took three months, including having tiles hand-done and changing them twice to get the exact shade of green we wanted. The bottom line: All the tiny details took time.
What are the hidden gems that make a big difference?
The small details include the hand-painted tiles, which were done on irregular porcelain tiles to make them look authentic. The wood island is an antique French farm table. My painter beat it up, stained the legs and raised them to counter height. We worked hard to find German-seeded antique glass for some upper cabinets.