Designer Jennifer Jones opens up a small bathroom with a white color palette, glass and stunning mosaic tiles.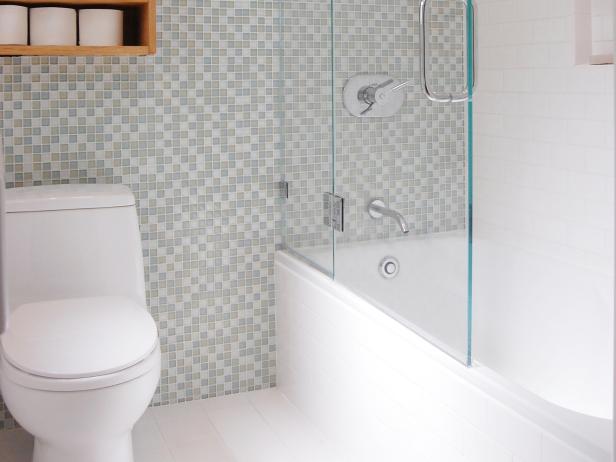 Sleek Modern Bathtub
The homeowners needed to keep a tub since they're planning on starting a family soon. Jones selects a contemporary option with glass doors that will fit their needs without looking clunky in the space. White subway tile, mosaic tile backsplash in ocean greens and blues and chrome shower fixtures create a clean, bright and modern bathroom.
For this San Francisco, Calif., bathroom remodel, designer Jennifer Jones of Niche Interiors transforms a tiny bathroom that needs to work for the homeowners and their future kids. White tiles in a variety of sizes lighten the space, while a wall of mosaic glass tiles brings interest and variety to the room. A wall-mounted sink and tub/shower combination with glass doors help give the illusion of more space.
Describe the homeowners' wishlist.
The cramped floor plan and odd placement of the toilet made this a tricky space to use. Since it's the only full bathroom in the house, the homeowners really wanted a more functional, modern space.
What were the homeowners' design problems?
I wanted to create a comfortable bathroom that had the illusion of space, even though it's one of the tiniest bathrooms I've ever seen. Relocating the toilet to the rear wall and adding a wall-mounted sink and a skylight helped achieve this.
What was your biggest obstacle in this space?
The clients were planning on starting a family soon so they needed to keep the tub. That was the toughest challenge: how to fit a standard tub, toilet and sink in a bathroom that was less than 6x6 feet. Thoughtful space planning was the key to this project's success.
How does the end result match up with your original vision?
Luckily, in this project everything went pretty close to plan. The accent wall of tile extends to the ceiling and is highlighted by the natural light streaming in from the skylight. We used white tiles for the rest of the space to keep it cohesive and bright.
What lessons did you learn?
I learned that every little inch counts. We spent so much time sourcing a sink, faucet and mirror in just the right size. When it comes to a space this small, you really have to stick to the dimensions in the floor plan. I would allot more time for sourcing next time.
What are the "hidden gems"?
A medicine cabinet was a must-have since the sink has virtually no place to store anything. We found this oval inset cabinet that stores all the essentials and has a mirror for primping. Also, the skylight brought in much-needed natural light – a great way to make a smaller space feel brighter and bigger.