Hollywood Glam Powder Room
Designer Shelley Rodner gave this half bathroom a glamorous touch by using fun textiles, vintage finds and custom-made pieces to add unique flair.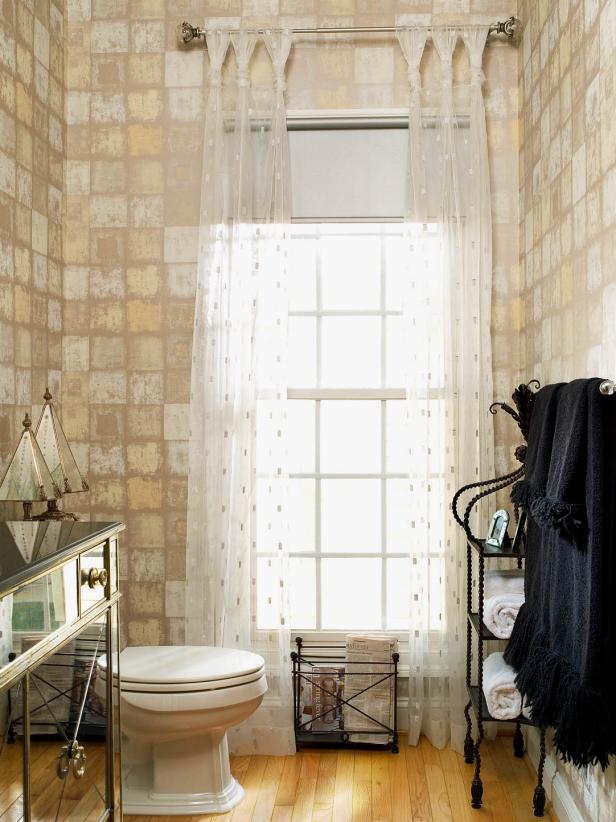 Glamorous Powder Room
Gauzy curtains and mirrored vanity help give the powder room the bling the clients desired.
Because they're small, they're a good place to get adventuresome and go with expensive materials, clients otherwise might not want to splurge on but here there's less square footage, and this powder room gained lots of sparkle and glam.
What were the main items on the family's wish list?
To transform a production-built powder room into a space with a signature custom look. In addition, the client's requested a touch of Hollywood glam.
What was the single largest issue you wanted to address?
Finding a vanity that would have storage and be functional as well as look good.
What was your biggest obstacle in this space?
Coming up with a design that would not only look great but would also be high performance and serviceable. The clients' active family, which included two young grandchildren, would also use this powder room on a regular basis.
How does the end result match up with your original vision?
The hardwood flooring was originally going to be removed and replaced with tile. After my clients fell in love with the wall covering, which had the look of tile, it was agreed that a tile floor would compete with the overall design of the paper and was edited out from our design plan.
What surprised you the most about this project?
The vanity sink that was ordered for this project was greatly delayed in shipping, resulting in the powder room not being completed on a timely manner. Because of this. I now always have a back-up option available for this type of item if we discover the availability will take longer than the clients wish to wait.
What are the hidden gems?
One of the client's favorite things in this space was the drapery hardware. The crackled glass finials gave the room extra sparkle and shine. I was excited to have found this special hardware for them, and it really made them smile.