Designer Karen Kettler creates a transitional kitchen to complement a newly renovated living area.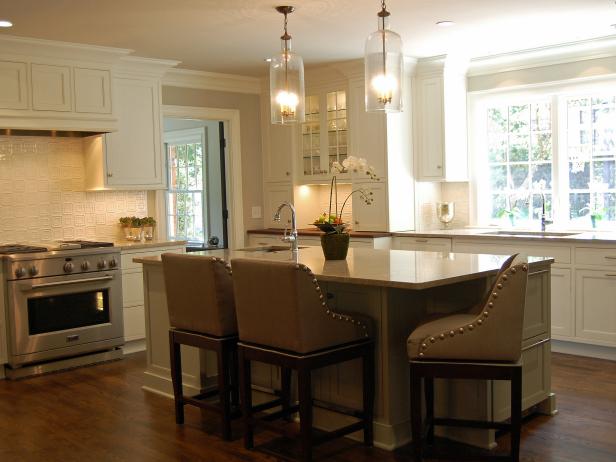 White Transitional Kitchen With Island Seating
An oversized island with seating for three is the focal point in this transitional white kitchen.
A plumbing disaster was the catalyst for an entire house remodel for this family of five. The homeowners turned to designer Karen Kettler of Metropolitan Kitchen & Bath to create an elegant, state-of-the-art kitchen that would flow into the newly remodeled living area.
Karen shares how she approached the design with a mixture of modern and traditional elements.
What was on the homeowners' wish list?
This renovation was the result of a flood caused by a plumbing malfunction on the second floor. The family needed to minimize the amount of time they would be out of the house for the renovation. They also wanted an island large enough for three seats, refrigerator doors, a microwave and a prep sink.
What issue did the design address?
The original kitchen was a small, self-contained room, typical of houses built in 1963. The homeowners wanted to reconfigure and open the kitchen to the living space.
How does the end result match the original vision?
The tile we selected for the backsplash presented a challenge because four tiles were required to complete the raised relief pattern. In order to keep the integrity of the pattern, we had to widen the casing between the cabinet and the window.
What are the hidden gems of the design?
The main sink surface is 30 inches deep with increased depth on the wall cabinets for easy access. The double trash pullout opens with a hands-free bump mechanism. The hutch hides a coffeemaker and a mixer while making them easily accessible.
What lessons did you learn?
Mixing wood and solid-surface countertops requires an even surface, which needs to be addressed before the cabinets are installed.