Modern Kitchen With Warmth
Designer Therese Kenney transformed an outdated kitchen into a sleek contemporary space with warm woods, pro-quality appliances and quartz countertops.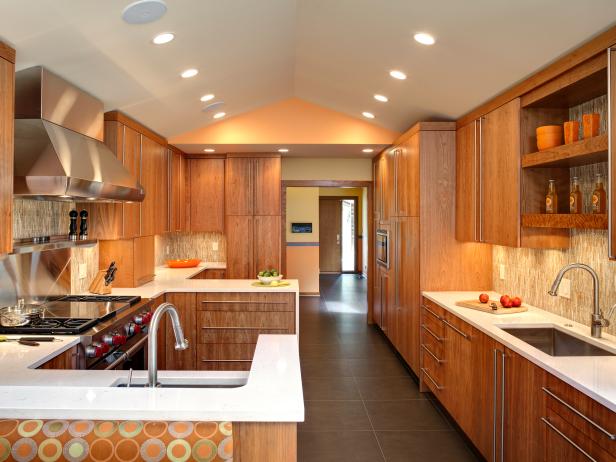 Midcentury Modern Kitchen With Warm Wood Cabinetry
This midcentury modern kitchen features warm woods, pro-quality appliances and white quartz countertops. A slightly vaulted ceiling with recessed lighting illuminates the space, highlighting the beautiful wood cabinetry.
With a budget of $100,000, designer Therese Kenney of Drury Design created a modernized yet warm kitchen in Clarendon Hills, Ill.
Therese shares with us how she tackled the homeowners' biggest problems and how the end result was exactly what everyone wanted.
Describe the homeowners' wish list.
They wanted separate work areas for cooking, cleaning and family management, as well as a contemporary sleek design and no interruption of views from the front door or to the family room.
What were the homeowners' design problems?
The eating area. They are a family with three young children, so seating for dinner all together was important, but it needed to be flexible for entertaining. The built-in banquette was the perfect solution for everyone.
What was your biggest obstacle in this space?
While open concept is wonderful and everyone loves it, sometimes designing in it is difficult. I didn't want the "bowling alley" effect from front door to kitchen, so utilizing a very consistent large-scale porcelain tile helped reduce that while keeping the continuity in the space.
How does the end result match up with your original vision?
I have to say that this homeowner was very good at making decisions and keeping her eye on the end result. As we worked through solutions, she was able to eliminate what didn't work easily. We were able to accomplish all of her goals by working together. There really wasn't anything that didn't match up in the end with the goals or vision from the beginning.
What lessons did you learn?
The past few years have been full of traditional-style projects. When this contemporary project came along, I had to exercise a muscle that hasn't been used in a while. I was surprised at how easily the design came to me. I was pleased I could provide a comprehensive design for the homeowners and keep the focus on the function while providing the look, too.
What are the "hidden gems"?
The banquette seating and table. The table was custom-designed using Cambria quartz, trimmed in the same cherry as the cabinets and mounted on a stainless steel cube. This area tied the kitchen with the family room utilizing color and function.