Antiques Inspire Master Bedroom
Designer Cecilie Starin transforms an outdated study into a chic master bedroom complete with a canopy bed, a Chinese Coromandel screen, and exceptional high quality art and antiques.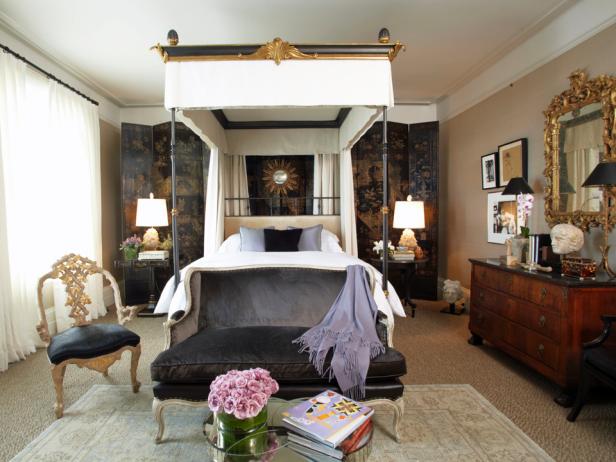 Beautiful Victorian Bedroom
Create the perfect Victorian style bedroom with dark, rich colors, and intricately detailed accent pieces. Soften the look just a bit by bringing in some lovely peonies from the garden.
Designer Cecilie Starin transforms an outdated study covered in wood paneling into a luxurious master bedroom. She decorated the space with an eclectic blend of antiques including a 12-panel antique Chinese Coromandel screen and an antique European campaign chair. She was able to save and repurpose the Koa wood paneling, so it wasn't simply discarded. The bedroom is now a spacious retreat to escape to at the end of a day.
What were the main items on the homeowner's wish list?
The owner has a spacious early 20th century home without an appropriate master bedroom. There was a large upstairs study with great views that the owner wanted to convert into a bedroom. The room adjacent to this study could be used to create a master bath and dressing room.
What were design issues you wanted to address?
How to transform a dark wood paneled study into a luxurious and spacious master bedroom. Previous designers were not able to offer a solution for how to deal with the oppressive wood paneling so I created a win-win situation for the homeowner; the design solution of carefully removing the paneling and using it in other ways.
What was your biggest obstacle in this space?
I was able to convince the owner to allow my colleague, who is a talented wood cabinet maker with a deep appreciation of fine wood, to painstakingly remove the valuable Koa wood paneling. Each piece was numbered and cataloged so it could be re-used in the mountain home. This resulted in a "green" re-purposing of valuable wood that could be enjoyed in another location.
The time and expense of re-purposing the wood had to be considered but my design vision was to remove this paneling along with the pot belly stove. Additionally, a chimney flue and an asymmetrically placed window had to be hidden so the bed could be placed on this wall. I blacked-out the window and placed a large 12-panel antique Chinese Coromandel screen nearby.
What did you learn from this remodel?
This project taught me the importance of suspending all assumptions going into a project and not settling for the first and often most obvious solution. As an outsider I had the opportunity to look at the challenges of the room in a new and creative way. The other lesson here is the importance in re-purposing beautiful, old materials.
What are the "hidden gems" that made a big difference?
Using symmetry and creating interest through the use of dark against light and texture bring excitement to the room. The room is furnished with exceptional high quality art and antiques. A spectacular antique Chinese Coromandel screen is a key focal point behind the canopied bed. A fireplace, with an 18th century French city-style mantle, is placed opposite the bed where there had been a built-in Koa wood paneled bar. An antique European campaign chair sits near the fireplace. A small closet to the right of the fireplace became an inset bookcase with space for a writing table.