Outdoor Fireplace Design Ideas
Get all the info you'll need on outdoor fireplace design ideas, and prepare to create a stylish and cozy outdoor gathering space in your outdoor living area.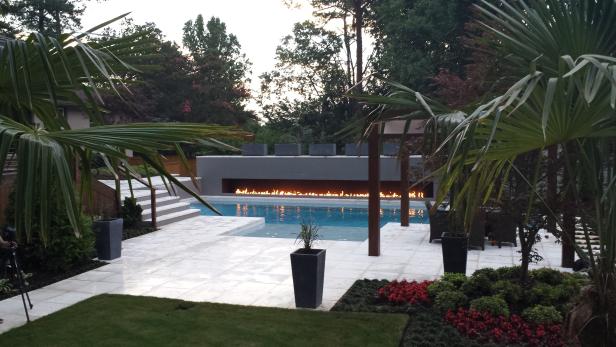 Landscape Studio Project: Create a Dazzling Outdoor Space
Who wants an ordinary swimming pool when you can combine it with an outdoor living room that includes a covered dining area, garden paths and a fireplace design that is an architectural marvel and showstopper? Landscape Studio of Atlanta shows you how it's done, step by step.
Image courtesy of Landscape Studio Group
If you're planning to install an outdoor fireplace on your deck or in your backyard, you'll have many options for outdoor fireplace design. Outdoor fireplaces can be a great addition to any home, offering a natural gathering space for friends and family to enjoy meals or just each other's company, whether on a late summer night or in the midst of winter. Deciding on a design for your outdoor fireplace can be a daunting prospect, but your choice will most likely be defined by the overall style of your outdoor living space, your budget and the ways you'll use the fireplace, whether for cooking and meals or simply for gathering and entertaining.
Your first consideration when deciding on a design for your outdoor fireplace is whether it will be an immobile fixture of your backyard or deck design or, alternatively, a portable fireplace you can move around your outdoor living space. A clear benefit of a portable outdoor fireplace design is that it can offer almost limitless choices in terms of where it will be located within the space (with some caveats regarding common sense safety guidelines—for example, an outdoor fireplace, portable or fixed, should never be located too near to low-hanging tree branches or shrubbery). Another benefit of a portable outdoor fireplace is that these products are now available in a wide array of designs, so matching the overall aesthetic of your home and backyard or deck design should be relatively simple.
Your options will be just as varied if you decide that a portable outdoor fireplace isn't a requirement for your outdoor living space design. Permanent outdoor fireplaces can be designed to your exact specifications (likely with the help of an expert contractor/stone mason, unless you have some serious stone-working skills). An important benefit of an installed outdoor fireplace is that it can contribute to a more luxurious feel for any backyard or deck. Because of the requirement for construction and stonework, built-in outdoor fireplaces generally require a larger budget than their portable brethren, which can often be purchased relatively cheaply at any neighborhood hardware retailer.
When deciding on materials for a portable or installed outdoor fireplace, you'll come across several that are quite common choices, including stone, stucco, tile and brick. Metal outdoor fireplaces and wood-burning stoves are also available, though it should be noted that any metal design can get considerably hotter than its stone or ceramic counterparts. Once you've decided on the materials you'll use, it's time to turn your attention to the design. There are a tremendous number of options, ranging from simple and straightforward brick and stone designs to more ornate gothic approaches. Ultimately, the design you settle on is most likely going to reflect the overall design approach you've selected for your home and the rest of your outdoor living space.
One important note about outdoor fireplaces, whether they're freestanding or built in, is that they must always be located away from any potentially flammable backyard elements, like trees, shrubs or other landscaping. Additionally, you should always use a spark guard and flame-resistant fire mat when your fireplace is in use (this is particularly important if your fireplace is located near your home and/or on a wooden deck). Lastly, be sure to check with your local fire department regarding their outdoor fire codes before installing your outdoor fireplace.
More Outdoor Fireplace Design Ideas