Outdoor Heaters: Options and Solutions
Get all the info you need on outdoor heaters, and transform your outdoor living space into a warm and welcoming hot spot for any time of year.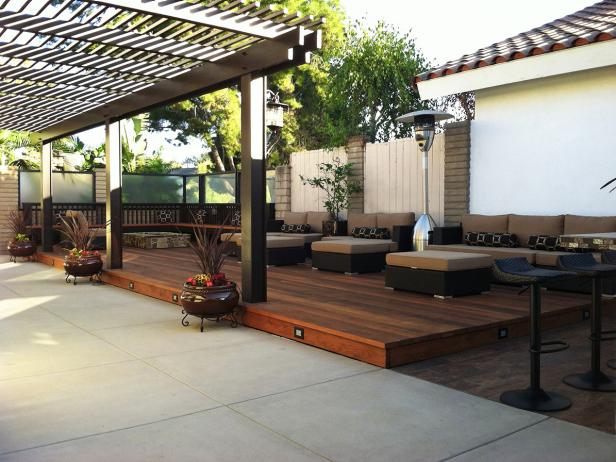 Asian Outdoor Lounge With Pergola
The large pergola allows for plenty of shade in this outdoor space, while the lounge area is perfect for those looking to soak up some sun. This outdoor lounge includes plenty of seating and is perfect for large crowds.
One of the frustrations of outdoor living spaces in colder climates is that they can become little-used in the colder months. As you consider deck and patio design ideas, be sure to explore options and solutions for outdoor heaters that can help you extend the utility of your deck or patio year 'round.
You've probably encountered of the most common options for outdoor heating while seated outside on a chilly night at a restaurant. The free-standing "mushroom shaped" outdoor heater is a great option for heating sections of a large outdoor space. Available in a variety of styles from most home improvement stores, these heaters generally run on propane, gas or electricity, and are an efficient and effective way to warm up your outdoor space.
Another option for outdoor heat is the infrared heater. These heaters are generally electric-powered, and tend to heat more efficiently than propane or gas heaters. They come in freestanding or "attachable" formats—meaning that some can be attached to deck railings or even umbrella stands for a smaller, more inconspicuous heating option.
Finally, if you're looking for a more low-profile option, there are also "tabletop" propane, natural gas and electric outdoor heaters to consider. These can sit on a table, bench or even on the ground, and they'll provide enough heat to make a small space comfortable in the colder months.
More Ideas for Your Outdoor Living Space
Other Outdoor Living Inspiration