How to Grow a Balcony Garden
Here are tips for turning a balcony into a botanical paradise.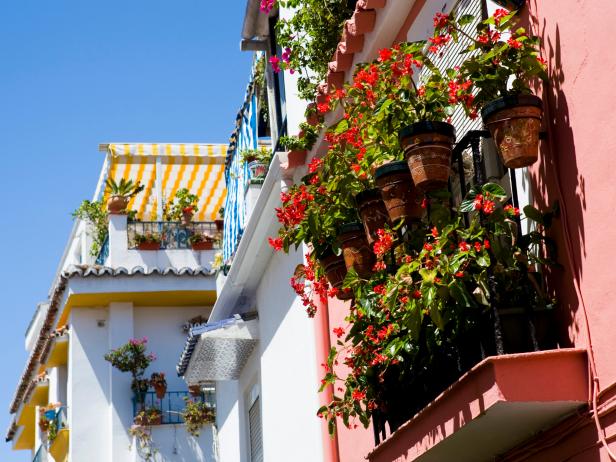 Spanish-Style Balcony Gardens Overflow with Beauty
It doesn't have to be big to be beautiful as seen from the exterior of these balconies, which use potted plants and window boxes to their full effect. The greenery, colorful flower combinations and the bright-striped awnings all create a bold statement against the white walls of these balcony homes.
No matter where you live, you can find space for an outdoor garden. If you're a city dweller, you can transform your balcony into more than just barbecue or bike storage. You can create a soothing outdoor retreat by selecting containers and plants that use every available bit of growing space.
Carol Senderowitz, who specializes in growing gardens in small spaces, suggests these design principles and growing tips:
For balconies that are long and narrow, smooth out corners with groupings of multileveled trees, shrubs and plants.
Repeat a plant, or plant grouping, throughout the garden area.
Feature trees and shrubs, and use colorful flowers mainly for accents.
Create focal points by using bright colors or interesting shapes and textures.
Consider the view from inside your home when placing plants outside.
Choose trees and shrubs that have four-season interest: ones that flower in spring, are green in summer, change leaf color in fall and display interesting bark in winter.
Consider the conditions of your patio when choosing plants: wind, weight of containers, water access and drainage.
In cold weather climates, line wooden containers with 3/4-inch builder's foam to protect plant roots.
When planning for your own space, start with a diagram that is to scale. Include the architectural features of your balcony: windows, doors, railings and walls. Use this initial diagram to get a sense of how much room you have for plants, containers and any furniture. Be sure to leave plenty of room for people to move around and enjoy the space, too.
Although annuals are a common choice for balcony gardens, you can also plant perennials and bring them indoors for the winter to avoid any damage from cold weather. You can also try to over-winter plants on the balcony by wrapping the container in packing material. However, you may have to replace less hardy plants or plants that have been exposed to extreme conditions from year to year.