Space-Saving Balcony Bench
Take advantage of the tiny balcony you never knew how to utilize... until now.
We're sorry, there seems to be an issue playing this video. Please refresh the page or try again in a moment. If you continue to have issues, please contact us here.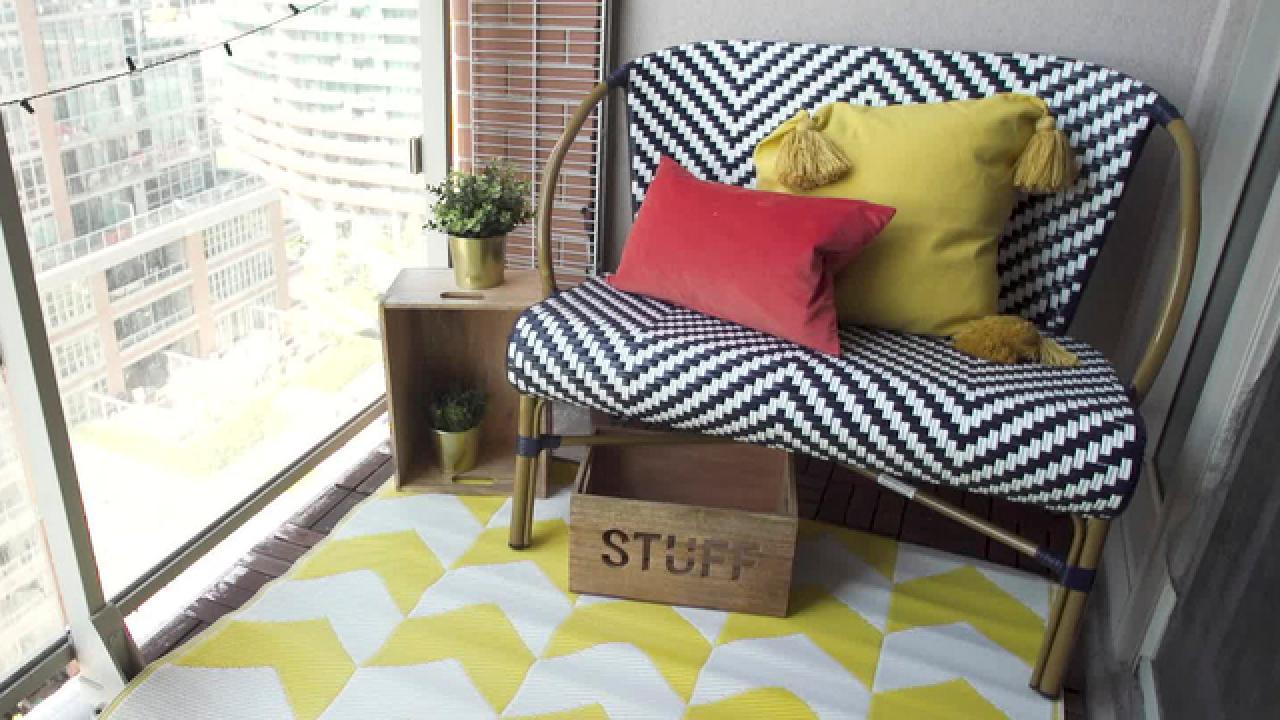 Small balconies can be a tough space to arrange seating in. With this quick and easy DIY, you can build a beautiful bench custom-fitted to your balcony that will maximize the space you DO have.
(1) 4x4 x 10' pine board
(9) 1x4 x 8' pine board
(3) 2x4 x 8' pine board
(1) 1' x 8' lattice privacy panel
miter saw
brad nailer
drill
waterproof wood glue
1" brad nails
2" brad nails
3" wood screws
1/8" drill bit
paint
(2) wood crates
(4) 22" x 33" rugs
fabric glue sticks
glue gun
(2) 26" x 26" pillow inserts
s-hooks
planters
awl
hammer
1" industrial hook-and-loop tape
measuring tape
(15) 1x4 x 40"
(3) 1x4 x 24"
(9) 4X4 x 12"
(3) 2X4 x 62.5"
(2) 40" strips of lattice
Cut all boards to the following dimensions listed above using a miter saw. Take three 4x4 cuts and stand them up vertically in front of you. Give the boards a light sanding on the edges to remove any rough bits. Use a measuring tape and mark out 40 inches. Place the first and last piece on each end and the middle piece centered at the 20-inch mark.
Take one 40-inch 1x4 and place it horizontally across the top of the 4x4 blocks you measured out. Using 3-inch wood screws, secure the board to the 4x4 blocks. Pre-drill using 1/8-inch drill bit to ensure you don't split your board. Secure the wood piece with two screws per block. Repeat these steps two more times with the remaining six 4x4 blocks and two 40-inch 1x4 boards. When you're finished, you should have three separate "E" shaped pieces.
Take the three "E" shaped brackets and turn them upside down with the 1x4 boards lying flat on the ground. Place them all horizontal to each other. Measure out a depth of 24 inches and place two brackets on each end and one bracket centered at the 12-inch mark. Next, take the three 24-inch 1x4 boards and attach them across the three brackets. This time, you should be securing your boards in the opposite direction as your bottom pieces. Repeat this step for the remaining two 24-inch boards. By the end, your base should be one connected piece.
Using the remaining 40-inch 1x4 boards, attach them horizontally across the top of your base using 1-inch brad nails. The actual width of a 1x4 board is 3–1/2 inches, so six boards will span the 24 inches of space with 1/2-inch gaps between each board.
Pro tip: Brad nailers are fast and easy, but don't always provide a long-term joint (especially outside). A quick dab of waterproof wood glue provides a weatherproof joint that will stand the test of time. If you don't have a brad nailer, you can simply use wood screws or flat head finishing nails.
With the three 2x4 cuts, attach each board vertically to the 4x4 blocks in the back of your bench. Use three 3-inch wood screws for each board. This is going to act as your back brace, so you want to make sure it is secured and sturdy.
Take the remaining six 1x4 boards and attach them horizontally across your vertical 2x4s (Image 1) using 1-inch brad nails and a dab of glue at each joint (Image 2). Following the same process as before, allow a 1/2-inch gap between each board. Complete the backing by attaching the two lattice pieces horizontally with brad nails and glue Image 3). Do your best to align the lattice for a polished look.
Finish however you like. Simply choose the paint or stain of your choice and apply to as much or as little of the bench as suits you. Tip: Before painting, ensure that you used non-pressure treated lumber. If it is pressure-treated, stain is a better option.
Source four cotton rugs of your choosing (select the rug size based on the size of the seat — you can even use bath mats). Load your glue gun with fabric glue and secure two rugs together at the seams leaving a 12-inch gap at the top so you can fill it with pillow inserts (Images 1-3). Once inserted, finish off the seam opening with industrial strength hook-and-loop tape. Voila! Just like that,your outdoor pillows are finished (Image 4).
As a fun final DIY, source inexpensive tin planters. If they don't already have holes in them to hang an S bracket off of, simply use an awl and a hammer to create a small hole on the edge. Be sure to add rocks in the bottom on the tin for optimal drainage before adding soil and, finally, a plant.