How to Make a Carpenter Bee Trap
How to build a carpenter bee trap that will put an end to their destructive doings.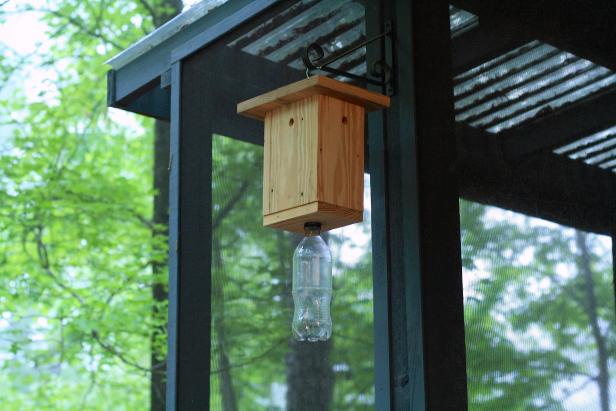 STEP TEN Add a hook or sting to the top for hanging purposes and thread bottle on to trap bottom. Hang securely along facia, in an area where carpenter bees have been seen previously. When trap is full, bottle may be discarded and replaced.
An easy-to-build trap will help control a growing carpenter bee population.
An easy-to-build trap will help control a growing carpenter bee population.
An unwelcome buzz is in the air. Spotted hovering along deck rails or under house eaves, an all too familiar pest has returned. Often mistaken for bumble bees, carpenter bees can be distinguished by its smooth and shiny-black abdomen. Although the males have no stingers, they aggressively patrol the area around their nests as the females busily prepare their favorite nesting spots. It's those nests that make the carpenter bee a true pest for homeowners.
The handiwork of these illustrious borers becomes more and more apparent through late spring. Holes. Holes in houses, decks, patio furniture or chicken coops. Seeking out bare wood or even treated wood that has been softened though weathering, the preferred nesting location for the carpenter bee is deep inside that exposed wood, chewing holes roughly half an inch wide into the wood and producing tunnels three to four inches deep under the surface in which to lay her eggs.
Cells are created within those tunnels, each containing eggs and a packet of gathered pollen on which hatching bees can feed. Offspring will stay in these cells until next spring when they emerge, ready to repeat the cycle.
Left to their own devices, populations will rise and the unsightly holes left in siding, decks or other wood structures will multiply exponentially as new bees emerge. If your garage is starting to resemble Swiss cheese, steps can be taken to put an end to a troublesome carpenter bee occupation.
A fresh coat of paint on exterior wood structures is a good deterrent from new construction. Barring that, repeated treatment of exposed wood using an appropriate insecticidal will help reduce an existing adult population and discourage further damage.
Existing nesting holes must be destroyed and sealed. Using a piece of flexible wire, thread the wire down the hole, piercing the egg cells of existing nest and then spray an insecticide into the hole. Once spraying is complete, plug the hole to prevent further occupation. Although male carpenter bees cannot sting, females may defend if provoked and care should be taken when approaching active nests.
Now to deal with those pesky adult bees in search of exposed wood in which to nest. I've known a few people who take great pleasure in wiling away the afternoon, tennis racquet in hand, taking them on one at a time. Nice work if you can get it, but when the bee population is high, other measures may be in order.
When a friend described a carpenter bee trap she had seen at a neighbor's house, I was instantly intrigued. There are plenty of designs found online for building your own carpenter bee trap. Some are better than others, but most are based on the same principles. Appealing to carpenter bees, half inch holes are drilled into a wood box at an upward angle that prevents direct sunlight from shining in. A clear, tapered bottle is attached to a hole in the bottom of the box. Once the carpenter bees have entered the box, the hole at the bottom of the box is the obvious exit. Once trapped, the tapered shape of the bottle prevents them from escaping. Pretty darn clever and every bee trapped is one less hole chewed into the gazebo next year.
Step-by-Step Instructions
Easy How-To
Get step-by-step instructions on how to make your own trap for these destructive visitors.
Build It in a Few Hours
Click here for step-by-step instructions on how to make your very own carpenter bee trap. Construction is simple and the bottle o' doom is easy to swap out once it's full.Your picnic table will thank you.