Versatile viburnum bring garden flowers in the spring and colorful berries and leaves in the fall.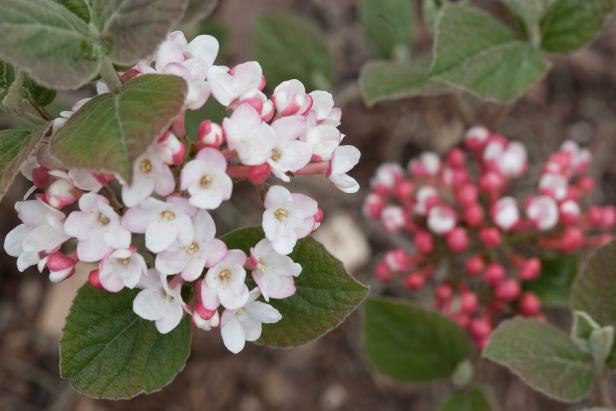 Korean Spice Viburnum
Korean spice viburnum is beloved for its wonderful fragrance that can perfume an entire yard in mid-spring. You just need one branch in a bud vase to unleash the perfume indoors, but cut a few stems for a stunning bouquet. Flower clusters start with pink buds that open to reveal white blossoms. Korean spice viburnum has good fall color with red leaves. This viburnum grows 6 to 8 feet tall and wide. Hardy in Zones 4-8.
Viburnum are a garden classic, beloved for their fragrant flowers and hardiness.
But this diverse group of flowering shrubs brings you more than flowers in the spring. Viburnum produce ornamental berries in the fall, and colorful red or orange leaves in the fall. Some viburnums are evergreen and will bring color to your leafless winter yard. What's not to love about these utility infielders of the landscape?
There are more than 150 species of viburnum and scads of varieties within the species, so you can find a viburnum that will thrive in your garden. Large or small, shady or sunny, wet soil or well-drained, there's a viburnum for the spot.
Our Favorites
'Anne Russell' viburnum made this list of lovely fragrant shrubs.
Viburnum can be grown as a shrub or a small tree, depending on the variety you choose and how you prune it. They can be deciduous, evergreen or semi-evergreen, depending on species. Butterflies love their flowers and birds love the berry-like fruit, so they'll attract wildlife to your yard.
They have two basic types of flowers: flat-topped clusters that look like lace-cap hydrangeas, and snowball types with dome-shaped clusters of blooms. Bloom colors range from white to pink. Their berries can be red, pink, blue, purple and black.
Botanical Name: Viburnum spp.
Common Names: Viburnum, snowball tree, American cranberry bush, hobblebush
Hardiness Zones: 2 to 9
Bloom Time: Spring
You can grow viburnum from seed, but it's more trouble than it's worth. Your best bet is to buy an established plant that's a few years old and transplant it.
Plant in spring or fall.


Viburnums aren't picky about soil, but they generally do best in dirt that's rich and well-drained. If your soil is poor, add organic material like compost when you plant the tree.


Viburnum generally make the most blooms and berries in full sun, but some varieties can tolerate light shade.


In the southernmost areas of their range, they may need protection from the blaze of afternoon sun.


Most viburnums are not self-pollinating, so for a lot of fruit, you'll need to plant several viburnum so they can cross-pollinate.


Mulch around the plant to keep the weeds away and the soil moist.
Viburnum grow well without a lot of help from you. That's why they're so beloved. But they still need help to look their best.
Prune to prevent legginess and encourage branching. Evergreen varieties can be sheared.


Prune to shape immediately after flowering.


To train a viburnum to be a tree, prune the lower branches off to create a trunk. You can also buy tree form viburnums from a nursery and save yourself a lot of shrub-shaping.


Water virburnum when rainfall is less than 1 inch per week.


Fertilize when you plant and each year after it blooms
Viburnum are considered pest-free plants, but they can still have problems.
Powdery mildew can show up on leaves, but don't spray with sulfur-based sprays lest you damage the leaves.


The viburnum leaf beetle is an invasive bug from Asia and Europe that was introduced to North America in the late 1970s in Canada. It's making its way south and causing a lot of damage to viburnum, devouring every leaf on a tree. Spray the larva with pesticide as soon as you spot them on the foliage.


Viburnum are deer-resistant.
Viburnums range from 3-foot-tall shrubs to 15-foot-tall trees. Here are some of our favorites.
'Blue Muffin' viburnum is a compact type of Arrowwood viburnum. It gets 4' to 7' tall and produces intense blue fruit in the fall.
'Anne Russell' grows 6' to 8' high. It's a type of Burkwood viburnum that produces white snowballs of flowers with a spicy scent in the spring and red fruit in the fall.
'Korean Spice' viburnum is native to Korea and Japan but is an old Southern favorite. It's a bushy shrub with very fragrant white flowers in spring and dark green leaves that darken to red in the fall. It grows up to 6 feet tall.
'Chinese Snowball' viburnum is another Southern favorite, beloved for its fragrant white flowers that measure 5" to 8" across. It grows to 12 feet tall on average but can reach 20 feet in the warmest parts of its growing range.
'David' viburnum is an evergreen with glossy, dark green leaves. It's a small variety that gets 3' to 4' tall and is best suited to mild climates like the Pacific Northwest.
'Nanum' is a dwarf variety that stays under 3 feet tall. It makes white snowball flowers but rarely produces fruit.
Garden Design Suggestions
Use taller varieties of viburnum as a screen or tall hedge.


Use smaller varieties for a low hedge along a walkway or to define a space with a landscape.


Grow viburnum for height in the back of a border.


Plant in containers, along with annuals, and place a pair on either side of an entrance.


Plant varieties known for fragrant blooms near an outdoor seating area so you have a flower-scented place to sit in the spring.


Viburnum can thrive in deep shade, so train them as a tree and use them to naturalize a woodland edge or to create an understory in your yard.


Use as a foundation planting.


Use in a butterfly or wildlife garden since winged creatures dine on their flowers and fruit.


Use as an anchor in a border, or as a specimen plant.