Learn how to grow and care for this traditional holiday bush.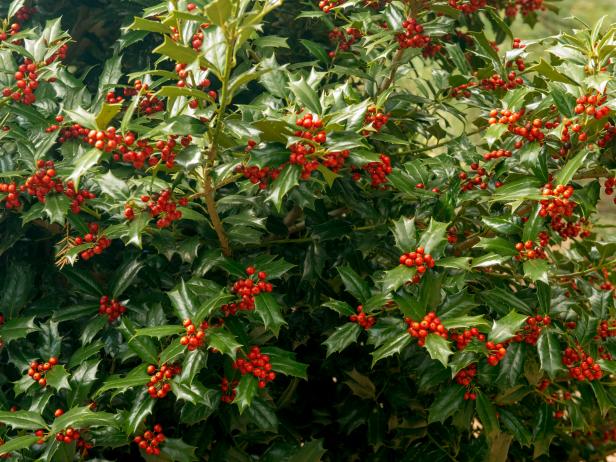 Holly Bush
Hollies bring an eye-catching display of evergreen leaves that is often punctuated with bright red or gold berries.
2013, HGTV/Scripps Networks, LLC. All Rights Reserved.
From its waxy, pointy green leaves to its signature bright-red berries, the cheerful, festive holly bush is often associated with Christmas. But the popular plant is just as gorgeous at other times of the year, creating a lush, dense backdrop with a pop of color.
Fortunately, once your holly bushes are established, they are easy to maintain. If you'd like to plant your own holly bush, just follow these steps:
1. Location, location, location. Holly bushes do best in well-drained, moderately acidic soil, in full sun. They don't like to be transplanted, so think carefully about where you'll plant.
2. Pick the right time to plant. Plant when it's cool out. Late fall, early winter, or early spring are generally the best times to plant, depending on your climate and the holly variety you'll be planting.
3. Variety matters. When choosing your holly bush, keep in mind a few things:
The bright red berries that make holly so attractive don't grow on the male plants of many varieties. Look for a variety that does not need a male plant in order to produce berries, or else plant a female and male plant close together.
Some holly bushes grow to about 6 feet tall, while others can reach 50 feet and higher! Make sure you choose a plant that's the right size for your landscape — and that will thrive in your climate. The quintessential Christmas variety, for example, is English holly, which grows best in Zone 6.
Caring for your holly bush:
Water daily for the first week after you plant your holly bush, then twice a week afterward until they are established. After that, the bush should receive at least 2 inches of water per week. Fertilize once a year.
Weed often, and prune regularly so that the holly doesn't choke itself out.
Don't cut too much. If you want to decorate your home with holly next Christmas, plant an extra bush or two so you don't have to take too much from one.