American Beautyberry: A Fall Stunner
Looking for some fall color? Add beautyberry to your yard. This low-maintenance native doesn't disappoint.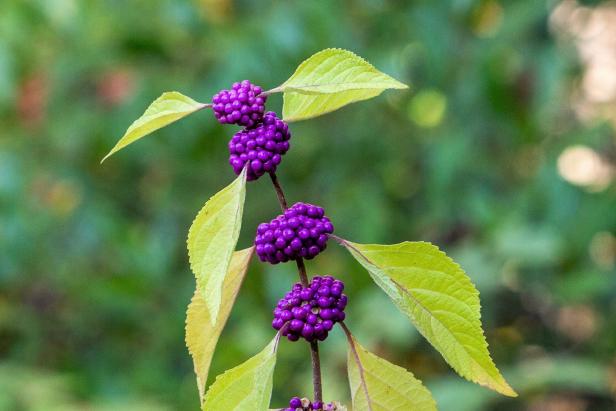 Mt. Cuba Center at MtCubaCenter.org
Give your yard a touch of fall fireworks with the bright fruit of American beautyberry. This native shrub is known botanically as Callicarpa americana, and its autumn color lives up to its name with purple berries that are just beautiful.
During the growing season, a beautyberry bush is pretty generic: green leaves on long, weeping branches. Beautyberries flower from early to midsummer, but the tiny blooms are easy to overlook, clinging tightly to stems and hidden by leaves. They're a big hit with pollinators, though, beckoning bees and other beneficial insects. It's the work of those pollinators that yields the blazing purple berries that stay on stems even after leaves drop.
Botanical Name: Callicarpa americana
Common Names: American beautyberry
Bloom Time: Early to midsummer
Bloom Color: Lavender-pink flowers
Special Features: Fall berries in purple, also found in white or pink
Plant Type: Perennial shrub
Size: 3 to 8 feet tall and wide
USDA Hardiness Zones: 6 to 11
Typically, American beautyberry (Callicarpa americana) grows from 3 to 8 feet tall and wide. It's naturally hardy in Zones 6 to 11. If purple is too bold for your color palette, you can also find beautyberry bushes that have paler berries of white or pink.
Mt. Cuba Center at MtCubaCenter.org
American beautyberry is deciduous. Once the leaves fall in autumn, colorful berried stems take center stage. Plant it with ornamental grasses for a striking seasonal show.
If you're looking for low-maintenance fall color, beautyberry delivers. It also fits easily into large or small yards. Learn what you need to know about growing American beautyberry.
Planting American Beautyberry
Choose a sunny location for your American beautyberry. Plants should receive at least four to six hours of sun each day. Although beautyberries tolerate and can grow in light shade, they'll tend to have fewer berries.
The ideal soil for American beautyberry is well-drained and rich, having plenty of organic matter. If you have clay soil, it's a good idea to add organic matter — such as compost or composted manure — to help improve soil drainage.
Mt. Cuba Center at MtCubaCenter.org
During the growing season, American beautyberry is a rather non-descript shrub. Stems tend to grow long and arch downward. Leaves are pale green. But don't be fooled by its plain appearance. When fall arrives, the color show begins with beautiful purple berries.
Plant American beautyberry any time of year. In most regions, spring or fall is the ideal time for planting an American beautyberry bush. In areas with fall frost, get plants in the ground at least 6 weeks prior to your zone's first average frost date. If you plant in spring, make sure you remember to water your beautyberry when the summer heat arrives.
Growing American Beautyberry
Once a beautyberry bush is established in the landscape, it boasts some drought tolerance and can usually survive on regular rainfall. During excessively hot, dry episodes, though, it's a good idea to water beautyberry plants occasionally. Water newly planted American beautyberry bushes regularly during the first growing season (once a week unless there's an inch of rainfall) until plants have started growing new stems and leaves.
Mt. Cuba Center at MtCubaCenter.org
American beautyberry blooms in early to midsummer, opening lavender-pink flowers. The blossoms are tiny and easily overlooked, hidden among leaves, but they're a favorite among pollinators.
Maintain a 2- to 3-inch-thick mulch layer in the dripline area beneath the shrub to help the soil retain moisture. Use organic mulch, such as triple shredded bark, pine needles, fir bark fines or whatever is available in your region.
American beautyberry is low-maintenance, and you really don't have to feed these plants. If you do, you risk having a beautyberry shrub that produces lots of leaves and very few berries. The best way to nourish your beautyberry is to prepare the soil prior to planting by amending it with organic matter and to mulch annually with compost or other organic matter.
With most flowering shrubs, the pruning rule is to cut the plant right after it blooms. If you do that with American beautyberry, you'll be removing the berries. So, the way to handle this native plant is to prune it in late winter to early spring, just before plant growth starts.
Cut plants back to 6 inches and American beautyberry bush will respond by pushing out lots of new, vigorous shoots. For plants in full sun, this type of pruning results in a beautyberry bush that's rounded with long, arching stems loaded with flowers and berries.
In addition to American beautyberry, there are other non-native beautyberries that grow well.
American beautyberry (Callicarpa americana) — This is the beautyberry that's native to North America. Plants grow 3-8 feet tall and wide. Stems arch and tend to bend when they're laden with berries. Hardy in Zones 7-11.


Pearl Glam beautyberry (Callicarpa x 'NCCX2') — Deep purple leaves paired with bright purple berries make this beautyberry a statement piece in any garden. Plants grow 3-4 feet wide and 4-5 feet tall. Hardy in Zones 5-8.


'Welch's Pink' American beautyberry (Callicarpa americana 'Welch's Pink') — Bubblegum-pink berries blanket branches in fall. Plants grow 4-6 feet tall and wide. Hardy in Zones 6-10.


'Duet' Asian beautyberry (Callicarpa dichotoma 'Duet') — White-edged green leaves pair well with white berries. Variegated leaves look great during the growing season. Plants grow 4-6 feet tall and 5-7 feet wide. Hardy in Zones 5-8.


'Profusion' Bodinier beautyberry (Callicarpa bodinieri 'Profusion')—A Dutch selection dating to 1887, this is a true heirloom plant. Blue-purple berries are always abundant. Grows 6-8 feet tall by 5 feet wide. Hardy in Zones 6-9.
ProvenWinners.com
Pearl Glam Beautyberry is a hybrid of American beautyberry (Callicarpa americana). It has deep purple leaves throughout the growing season, which contrast nicely with a crop of bright purple autumn berries. Hardy in Zones 5 to 8.
How to Use American Beautyberry in the Landscape
American beautyberry is an undemanding shrub in terms of care, and it's really versatile in the landscape. The No. 1 trick to using it is to place it where it will have ample room to grow. Give it enough space to fill out to its maximum size according to the plant tag. American beautyberry is a short-lived shrub, typically growing for 10-15 years. Keep that in mind when choosing where to use it in your landscape.
Some of the best ways to use American beautyberry include:
Screening or natural hedges
Wildlife gardens
Mixed planting beds with perennials and shrubs
Specimen plant for fall interest
Paired with evergreens to give the berries a solid backdrop
Japanese gardens
American Beautyberry as a Bug Repellent
Historically, farmers have used beautyberry leaves to repel biting insects from horses and mules, rubbing crushed leaves on coats and under harnesses. Researchers at the National Center for Natural Products Research note that investigations into such folk remedies led to the discovery of a chemical called callicarpenal that's been proven to repel bugs. Currently, however, there are no commercially available all-natural recipes using beautyberry as an insect repellent.
American Beautyberry FAQs
Is there a way to make a beautyberry bush produce more berries?
The top way is to site it in full sun. Prune annually to promote new growth; berries form on new growth. Also, plant more than one beautyberry. Although the plants are self-pollinating, American beautyberry will cross-pollinate when planted in groups, and that can lead to higher berry numbers.
Is American beautyberry a good shrub for a wildlife garden?
Yes, this native shrub opens flowers that nourish butterflies, bees, flower flies and other pollinators. The berries beckon birds, including cedar waxwings, robins, cardinals and catbirds.
Are beautyberries edible?
Although beautyberries are edible, they're rather bitter. You can cook and sweeten them to make jelly or fruit sauce.
Do deer eat American beautyberry plants?
Typically, deer ignore a beautyberry bush.
Is American beautyberry invasive?
American beautyberry can spread by seed, helped along by the birds that eat its berries. Check with your local extension office to learn if American beautyberry bushes might be a problem in your area.