Glean some tips and tricks for making more of your favorite hosta plant.
What's better than one hosta? More hostas! It's not hard to tackle transplanting hostas, either from divisions or fresh-from-the-nursery pots. Dividing hostas is another easy process, although with large, established clumps it can require a little elbow grease. Learn what you need to know for splitting hostas successfully.
Transplanting hostas is a quick and easy chore. Maybe you're moving plants because they're not in ideal growing conditions and looking a little less than picture-perfect. Hostas that have brown leaf margins or odd color spots on leaves are candidates for moving. To dig a hosta for transplanting, if you're working in early spring, simply dig as much of the rootball as possible.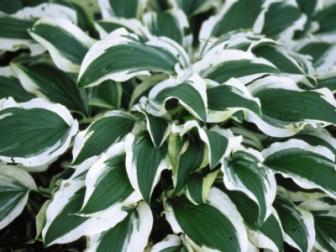 More Advice
If you're transplanting hostas when they're fully leafed out, tie leaves up with string or cut them a few inches above ground level (they'll regrow later). Then dig as much of the rootball as possible. Tuck hostas into planting beds with soil that's rich and well-drained. Add some kind of organic matter to planting holes and beds. Set a hosta plant into soil so the rootball is at the same depth in soil as it was in the pot. Firm soil around the plant, and water well. Add mulch to help suppress weeds and maintain soil moisture.
When dividing hostas, first ask yourself why. Hostas are a perennial that grows best when it's left alone. The longer a clump stays in the ground, the bigger it becomes. Hostas don't typically need dividing unless they have outgrown a space. In most cases, even when a hosta has filled it growing area, the resulting root restriction doesn't damage the plant but simply reduces the growth rate.
If you're considering splitting hostas because your plant isn't doing well, the growing conditions probably aren't ideal. Other perennials, like yarrow, garden mums or coneflower, send out a clue they need divided when the center clump of the plant dies. Hostas don't work that way. Many of the giant types actually need about five years to come into their own. Dividing hostas like these sooner simply reduces their growth potential.
Splitting hostas is best done in spring or early fall. Ideally, plan on dividing hostas before spring or fall rains arrive. Hostas suffer most when they lose roots, so dig as much of the rootball as possible. If you just need a few divisions, dig small clumps that have formed beside the larger parent clump. If your goal is dividing large hosta plants into several viable clumps, insert a spade into soil outside the dripline of leaves. Use a sharp spade, cutting into soil in a circle surrounding the entire plant.

Pry the plant out of the ground. With mature hostas, you may have to dig 18 inches down to get the roots. Unearth clumps onto a tarp. Pull apart clumps with your hands, or use a knife to slice crowns or growing points away from the mother plant. An easy method for dividing hostas is cutting a clump into thirds or fourths and replanting those pieces . Using this method, in one growing season plants fill in so much that it's tough to tell they were divisions.